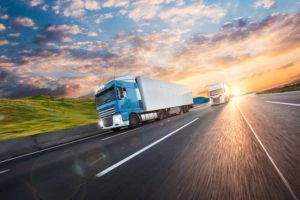 Every day, thousands of Walmart trucks take to the road to transport America's favorite goods and products. While most of Walmart's drivers are responsible and follow the rules of the road, some are less concerned with the safety of others. If you've been injured in a crash caused by a negligent Walmart truck driver, you need the assistance of a reliable attorney.
The Edwardsville Walmart truck accident attorneys at Morelli Law Firm can help you pursue a claim or lawsuit for the injuries and losses you've suffered. Our team has successfully litigated dozens of claims against Walmart, and we're ready to use our unique experience to help you pursue justice and financial compensation.
Our Attorneys Are The Best Choice For Your Walmart Truck Accident Case
Filing a claim or lawsuit against a retail giant like Walmart is a challenging task. Large companies always have attorneys and insurers who are trained to reduce liability and delegitimize honest claims. To get a fair settlement, you'll need a lawyer who has taken on Walmart before.
Our lawyers are arguably the most qualified legal team in the country to work on your Walmart truck accident case. That's because they've gone up against Walmart and secured high-value settlements numerous times in the past.
They'll draw on all the knowledge and skills they've gained throughout their impressive careers to help you get the financial remedies you need to cover medical treatment expenses and any other losses you've taken on due to the collision.
Walmart Truck Accident Damages Available To Claimants In Edwardsville
When you first meet with one of the Walmart truck accident attorneys in Edwardsville, they'll ask you about the losses you've endured due to the crash. They'll review your medical bills, vehicle repair invoices, and any other expenses related to your accident.
They'll also assign a monetary value to any emotional damages and physical pain you've experienced as a result of the incident. Once your attorney has evaluated all the costs and inconveniences you've experienced, they'll know which damages you're eligible to receive. They'll make sure you get the correct amount for each of the following damages:
Medical Expenses
The force of impact of a truck collision can leave those involved with serious brain damage, broken bones, and a number of other conditions. If a negligent Walmart truck operator has hit you, you may need hospital treatment, rehabilitative therapy, surgery, prescription medications, and assistive devices to treat and manage your injuries effectively.
These damages can cover the cost of any treatments or prescriptions you need to regain your health. If your injuries are expected to require medical care in the future, your attorney will request an additional payment to cover those expenses.
Vehicle Repair
Colliding with a massive commercial truck is guaranteed to leave your car with a considerable amount of damage. Fortunately, an attorney from our team can secure compensation to cover your vehicle repair bills.
Lost Income
During your recovery, you'll probably have to miss a few workdays to attend follow-up medical appointments and get the rest your body needs to repair itself. These damages can make up for lost income.
Decreased Earning Ability
Sadly, some truck accident victims are injured so badly that they're permanently unable to perform simple workplace tasks. If your injuries are preventing you from going to work and making a living, these damages can help you afford basic necessities.
Pain And Suffering
You can also receive financial remedies for the physical pain and suffering you've experienced due to your truck accident injuries. To get compensated for your suffering, simply tell your attorney about the pain you've been having, and they'll add these damages to your claim.
Mental Distress
Many truck accident victims struggle with mental health disorders for months and years after their collisions. If you've been diagnosed with anxiety or PTSD after getting into an accident with a large commercial truck, a lawyer from our firm can obtain these damages for you.
Walmart Truck Accident Injuries An Attorney Can Get You Compensated For
At Morelli Law, we've helped clients recover from a variety of different truck accident injuries. Throughout the years, we've learned how to get clients the damages they need to afford quality medical care and cope with the conditions they've been forced to live with.
Here are some of the injuries our Walmart truck accident lawyers can help you recuperate from:
Concussions
Broken bones
Spinal cord injury
Soft tissue damage
Internal injury
Cuts, bruises, and lacerations
Accident victims with serious injuries deserve serious compensation. If you've sustained one of the above-mentioned injuries or a different condition in a collision with a negligent Walmart truck driver, our team will help you get the funds you need to get back on your feet.
What An Edwardsville Walmart Truck Accident Attorney Can Do For You
Our Edwardsville Walmart truck accident lawyers will do a lot to make your life easier during this stressful and confusing time. Here are some of the benefits you'll enjoy when working with our experienced Walmart truck accident lawyers:
Clear Communication
Nothing is worse than an attorney who keeps their clients in the dark and fails to explain what's going on with their cases. That's why our attorneys will provide you with clear and consistent updates throughout the entirety of your case. They'll answer any questions you have along the way and let you know when a settlement offer is expected.
Deadlines Always Met
Our lawyers are aware of all the rules and deadlines that apply to your Walmart accident case. They'll make sure your lawsuit is compliant with ILCS § 5/13-202, which allows auto accident victims two years from the date of their collision to submit a suit.
No Out-Of-Pocket Fees
Worrying about legal fees is probably the last thing you want to do after a serious accident. That's why our team operates on a contingency fee basis. In other words, they'll take on your case in exchange for a percentage of the settlement you receive for your losses.
The average contingency fee is about one-third or 33% of the compensation awarded to the client. If your attorney fails to secure compensation for your injuries, you won't be expected to pay any out-of-pocket fees.
Contact A Walmart Truck Accident Attorney From Edwardsville
The Edwardsville Walmart truck accident attorneys from our team are ready to take on your case. Their unique experience is exactly what you need to stand up against Walmart's powerful attorneys and obtain the settlement you need to make a full recovery.
Contact Morelli Law Firm today to schedule a free case evaluation. If we decide to take on your case, a lawyer from our firm will get started on your accident investigation ASAP. They'll collect relevant evidence, build your claim, negotiate with insurers, and secure an ample settlement as quickly as possible.