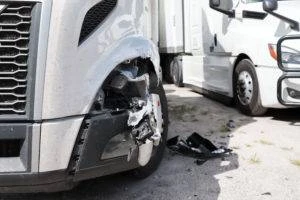 Walmart trucks are a common sight in Long Beach and other parts of New York. These 80,000 lb big rigs are meant to exercise extra precautions when they're around other vehicles. Unfortunately, that's not always the case.
According to reports from the Federal Motor Carrier Safety Administration (FMCSA), there were over 550 Walmart truck crashes across the country in the last 24 months. Of those crashes, 165 caused severe injuries, while 17 were fatal. That's way too many wrecks for these semis and 18-wheelers.
Unfortunately, because of their sheer size and weight, accidents between these big rigs and smaller vehicles are almost always catastrophic. If you or a loved one has suffered catastrophic injuries from a truck crash, Morelli Law Firm's Walmart truck accident attorneys in Long Beach can help you recover compensation.
Filing a Claim in a Walmart Truck Accident Case in Long Beach
If you want to file a Walmart truck accident claim, you'll need to establish liability. This means that you'll have to prove that the truck driver was negligent in their actions. And that because of their negligence, errors, or malicious actions, you and/or your loved ones were hurt badly.
To do this in New York, you'll have to first prove the elements of negligence. These are:

Duty

: You must show that in keeping with New York's laws, the at-fault party had a responsibility of acting in a reasonably safe manner around you or others. For example, Walmart truckers have a

duty

to adhere to traffic laws while on the road so that they don't endanger themselves and other road users.

Breach of duty

: If the Walmart trucker overspeeds or drives in a careless manner that causes an accident, this is known as a

breach of duty

. It means that he or she didn't act in a manner that was reasonably safe for other road users.

Causation

: If the accident was due to the driver's negligence and resulted in catastrophic injuries or fatalities, this means that their failure to act in a safe manner

caused

the victim's injuries and possible loss of life.

Damages

: If the wreck led to significant injuries, medical treatment, property damage, and other losses of a financial and emotional nature, this is known as

damages

.
All four components must be present before you can file a Walmart truck accident claim in Long Beach. If even one element is missing, it may be hard to successfully recover damages. If you'd like to know more about this, talk to Morelli Law Firm's truck accident attorneys.
Who Is Liable in a Long Beach Walmart Truck Accident?
Unlike passenger car accidents or crashes involving vehicles of a much smaller size, truck collision cases are often more complex and lengthy. This is due to the possible number of liable parties.
Some of the potentially liable parties in a Walmart truck collision include:

The truck driver

The trucking company or employer (in this case, Walmart)

The truck's parts maintenance and safety company

The truck owner (Walmart)

Contractor or subcontractors
In the average Walmart truck crash compensation claim, your lawyer will not only have to determine the driver's fault in the accident, but they would also have to see if other third parties are partly liable.
For example, if a Walmart trucker travels out of their lane into another lane or runs off the road as seen in 32% of truck crashes, your lawyer will find out why that happened in the first place:
Was the trucker forced to exceed the established

hours of service

, thus resulting in driver fatigue which in turn caused the crash?

Were the truck parts faulty?

Was routine maintenance carried out on the truck? If yes, by who? And how frequently?

Was the driver adequately trained?

Did the trucker have the relevant experience?

Was the truck overloaded, thus leading to a loss of control when the driver tried to stop?

Or was the cargo improperly secured, causing the truck to jackknife or lose its brakes?
As you can see, there are so many scenarios to consider. And a skilled Walmart truck accident lawyer in Long Beach, NY, will consider them all to find all liable parties.
Understanding Comparative Negligence in New York
New York is a pure comparative negligence state, which means that the plaintiff's actions will also be considered in the final verdict. And their final settlement will be less the degree to which they were at fault.
For example, if you, the claimant, were found to be 15% responsible for the accident, and the court awarded a compensation amount of $1 million, you will eventually receive $850,000, or 15% less than the $1 million.
Talk to our lawyers about this if you need more information about how your degree of liability can play into your settlement payout.
Damages You Can Recover in a Walmart Truck Accident Case
Your truck accident lawyer will be able to file a claim for economic and non-economic damages. These two fall into the broad, unofficial category of compensatory damages.
Economic damages you can recover include:
Lost wages

Cost of medical treatment

Property damage

Diminished earning capacity
Non-economic damages that you can recover are:
Emotional damage

Mental anguish and distress

Disfigurement and scarring

Loss of consortium

Loss of enjoyment of life
There's a third kind of damage that injured victims can claim. This is known as punitive or exemplary damages.
Punitive Damages
Punitive damages are meant to serve as punishment to the at-fault parties and prevent others from repeating the same wilful or malicious actions that led to the victim's catastrophic injuries. Please note that, although Walmart truck accident cases can attract hefty settlement offers, how much you'll eventually receive may be affected by your role in the accident.
Contact an Experienced Walmart Truck Accident Lawyer
When a Walmart truck crashed into Tracy Morgan's limo, it left Tracy Morgan in a coma for two weeks, killed fellow comedian James McNair (aka Jimmy Mack), and severely injured a few others. The case was represented by none other than our firm's founder, Benedict Morelli.
That case was settled for an undisclosed but very satisfactory amount of money. While truck accidents are nothing to joke about, and money won't solve all the problems that the accident brings, the reality is that being able to recover a sizable compensation can help you begin the process of getting your life back together.
And there's no better law firm that can help you like Morelli Law Firm can. We're experienced, relentless in our pursuit of justice and satisfactory compensation for our clients, and have the resources to go against big corporations. We've done it several times and won.
Let us help you get a new lease on life. Contact Morelli Law Firm today to speak with our highly skilled Long Beach Walmart truck accident lawyers during a free case evaluation.