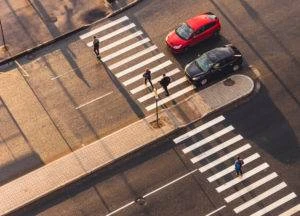 Walking on the street shouldn't be dangerous. But unfortunately, it can be when drivers don't obey traffic lights or crosswalks. That's when a pedestrian accident attorney can help.
Our Newark pedestrian accident lawyers at the Morelli Law Firm are dedicated to winning compensation for our clients to help them recover. We'll work with you to determine the best course of action for your case. We offer a free case evaluation so you can have an idea of how much you may be able to recover.
What Injuries Can You Get From a Pedestrian Accident?
There is a wide range of injuries that you can sustain when you are hit walking across the crosswalk or on the sidewalk. The weight of any car or even truck can cause severe and life-threatening injuries. If you manage to survive, you'll likely need extensive medical care for a significant amount of time. Some of the most common injuries in a pedestrian accident include:
Spinal cord injury
Full or complete paralysis
Traumatic brain injury
Loss of limb
Internal bleeding
Nerve damage
Bone fractures
Deep lacerations
Disc and spine injuries
Severe muscle sprains and strains
Even if you don't see your injury above, you are likely to be eligible for compensation. Most injuries that victims of pedestrian accidents sustain qualify. If you'd like to assure that your case qualifies for compensation, a Newark pedestrian accident attorney can give you a free case evaluation along with an estimation of your damages.
What Is New Jersey's Statute of Limitations for Pedestrian Accidents?
New Jersey gives victims of pedestrian accidents two years to file a claim against the negligent party. Depending on the details of your case, you may have more or less time to file your claim. A sure way to know how long you have to file your case is to meet with a Newark pedestrian accident attorney.
In addition to telling you the time you have to file, an attorney can also help you actually file your claim. They can help you fill out any paperwork for the claim correctly and help you complete any other additional tasks.
What Damages Can I Recover in a Newark Pedestrian Accident?
When you get hit by a vehicle as a pedestrian, you're likely to need money to cover various costs associated with your injuries. Some of the damages you can receive compensation for include:
Current and future medical bills
Physical therapy
Loss of income
Loss of future income
Pain and suffering
Loss of ability to enjoy life
Our Newark pedestrian accident attorneys are passionate about getting you all the damages you are eligible for. After enduring the amount of pain you have, we are dedicated to helping you recover even the most obscure damages.
How Can a Pedestrian Accident Attorney Help Me?
Our pedestrian accident lawyers have many years of experience working with people who were hit as a pedestrian. This wealth of experience gives you and your lawyer an advantage because you'll have the best resource on your side: a knowledgeable lawyer that gets results. This allows you to have the answers to any questions you may have along the way.
A pedestrian accident attorney can also help gather evidence to build a strong case against the negligent party. Having a lawyer on your side can help you access important documents that you would not have been able to access without a lawyer's help. This can include evidence such as:
Traffic cams
Accident reports
Witness testimonies
Our pedestrian accident lawyers in Newark can give you a free case evaluation to assess the amount of damages your case qualifies for. In a free case evaluation, an attorney will examine your case and determine the damages you qualify for. If you choose to pursue a case against the negligent party, you and your attorney will start building your case.
Contact a Newark Pedestrian Accident Attorney at the Morelli Law Firm
With the help of a pedestrian accident attorney in Newark, you can get the compensation you need to recover from your injuries. Our pedestrian accident attorneys at the Morelli Law Firm have the passion and experience to win your case.
If you're ready to get started on your case, we look forward to hearing from you. Call us or fill out the form on our website to start your free case evaluation.