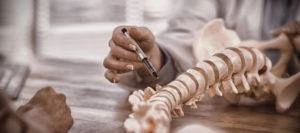 Our team understands how drastically a spinal cord injury can change your life. Whether you're contending with temporary discomfort or long-term paralysis, you deserve financial support. Our Newark spinal cord injury lawyers can help you assess the extent of your losses and present them to the appropriate parties.
If you're ready to fight back against injury-inducing negligence, get in touch with Morelli Law Firm. We can discuss your spinal cord injury case during a free case consultation and explore the ideal legal avenue for helping you to obtain compensation.
Proving Liability in a Spinal Cord Injury Case
Spinal cord injury cases can seem straightforward. Assigning liability is a matter of determining who bears responsibility for your losses, after all. That said, that party may be an individual or a corporation. Distinguishing between the two has a significant impact on what your case looks like, regardless of whether or not it makes it to trial.
Personal Injury Cases
Spinal cord injuries most often impact people who've been in car accidents. That said, slip and fall accidents and assault can also result in damage to the spinal cord. That's why these incidents, among other physical incidents, all fall under the category of "personal injury" cases.
Spinal cord injury lawyers in Newark can file personal injury cases against either an individual or an institution. For example, if you slip and fall on someone else's property, your premise liability case may target a business. Comparatively, your car accident claim may address an individual.
You can even hold government officials liable for your spinal cord injuries. If roadway conditions led to a car accident, you can address the representative who failed to repair the road in your complaint. You can schedule a case consultation for more information about liability in personal injury cases.
Product Liability Cases
Product liability cases tend to involve production companies or manufacturers. In cases highlighting a person's spinal injuries, a complaint can highlight how an inappropriately-installed product violated the duty of care owed to the consumer.
Most of these cases involve damaged airbags or seat belts. That said, you can also discuss the role of strict product liability or breach of warranty in your accident's case.
Medical Malpractice
Medical malpractice tends to involve negligence. Medical professionals may not intend to overlook someone's condition. Rather, stress or even ignorance may keep them from spotting signs of danger. However, that ignorance does not relieve these professionals of their responsibilities, though.
Similarly, medical professionals who deliberately ignore or misdiagnose a patient can face the consequences for their actions. However, these cases are classified as medical malpractice cases instead of personal injury cases.
In some instances, this classification can benefit the injured party. In medical malpractice cases, injured parties have two years from the day they discover their condition to take a claim to a court clerk. You can work with one of our medical malpractice attorneys to determine whether or not your case fits into this category.
Your Spinal Cord Case Compensation
Spinal cord injuries can be debilitating for a myriad of reasons. Not only can these conditions leave you paralyzed or contending with uncooperative muscles, but they can also be financially devastating. After you've received the medical care you need to recover, you may face medical bills that you can't afford.
Fortunately, this is where liability comes into play. Spinal cord injury cases can help you fight for financial support based on another person's negligence. When you calculate the extent of your economic and non-economic losses, you can request that the liable party support you in your time of need.
Spinal cord injury losses can include all medical bills related to the accident, future, and present. You can discuss non-economic losses, including pain and suffering, with one of our personal injury lawyers.
Filing a Spinal Cord Injury Claim in Newark
The process of filing a spinal cord claim doesn't have to be complicated. In most cases, our Newark, NJ, spinal cord injury attorneys will recommend turning over the bulk of filing stress to them. While we tackle this process for you, you can focus on rehabilitation or taking care of injured family members.
Our legal team can do more than fill out legal documents for you. We can also help you:
Gather evidence to establish liability

Build an argument for liability targeting either an individual or an institution

Communicate with that liable party and their representation

Manage interactions between bystanders, professional witnesses, and other relevant parties
Our team can represent your best interests whether or not your case goes to trial. You can ask us any questions you may have about your complaint during the filing process. All the while, we'll work to ensure the documentation we have reflects your interests and needs.
New Jersey Personal Injury Statute of Limitations
You're not able to file a spinal cord injury complaint indefinitely. Rather, both you and your attorney must abide by New Jersey's statute of limitations. This statute, as noted in New Jersey Revised Statute §2A:14-2, gives you two years to file your complaint.
Note that the deadline for your complaint begins on the same day you suffer your injury. This only changes if you want to pursue a medical malpractice case. If you believe medical malpractice contributed to your losses, you have two years from the day you discover your injury to file your complaint.
For more information about New Jersey's statute of limitations, you can consult with us. Our team can help you get a comprehensive complaint to a county clerk before your deadline passes.
Reach Out and Schedule a Consultation With Morelli Law Firm Today
Spinal cord injuries rarely resolve themselves quickly. Even if your injury isn't severe, the effects of an accident can stay with you for a significant amount of time. Even the financial strain of treatment can make your life more difficult to manage.
That's where our team comes in. If you endured a spinal cord injury in an accident, call on Morelli Law Firm's spinal cord injury attorneys in Newark, NJ. We're ready to help you establish liability, calculate your compensation, and get your life back on track. Call or use our online form to contact us today.