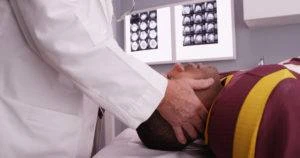 An injury severe enough to cause brain damage will have an invasive and costly impact on your life and the lives of the people you love. While you cope with your changed circumstances or help a loved one through their recovery, Morelli Law Firm can go to work. We'll prove the cause of your brain damage, establish the at-fault party's monetary responsibility, and assign an accurate value to your case.
You have a legal right to seek compensation for your potentially lifelong pain and suffering caused by brain damage that resulted from someone else's negligence. Our Newark brain damage lawyer will review your medical records and consult brain injury specialists. We also work hard to understand how your medical prognosis will affect you, your family, and your future. Finally, we ensure your compensation request reflects these forced changes to your life.
The Life-Changing Impact of a Brain Injury
Mild cases of brain damage can have a short-term effect on your overall health. However, your prognosis often includes a complete recovery.
However, Centers for Disease Control and Prevention (CDC) researchers study the long-term impacts of moderate to severe brain damage. Their research indicates that traumatic brain injury (TBI) victims and other adults and children diagnosed with brain damage can face the following outcomes:
Chronic unemployment

Varying degrees of disability

Needing help coping with routine tasks

A lower life expectancy
The impact of a severe brain injury is rarely minimal. Therefore, when we represent you, we take the entire scope of your injury into account and seek compensation for its full impact on your life and future. We thoughtfully assign a value to your injuries and the resulting aftermath, and we'll fight for a monetary award that ensures you get the care you need.
Commonly Reported Causes of Brain Damage and Injuries
The types of brain damage you may suffer in an accident caused by another person's negligence include:
Closed head injuries that result in swelling of the brain

Concussions that can impair normal brain function

Open or penetrating head and brain injuries

Birth injuries that result from a lack of oxygen to the brain
According to Cleveland Clinic research, accidental falls and car accidents of any severity are two leading causes of brain injuries. If you or someone you love sustained brain damage because of a preventable injury, or your infant's brain damage is due to a birth injury, we can help you seek financial compensation from the at-fault party.
Recover the Costs of Your Ongoing Medical Care
The nature and extent of your brain damage will dictate the types of recovery you could receive. When we talk about recovering your medical expenses, we include the following:
Emergency services

Hospital stays

Surgical procedures

Physical therapy

Occupational therapy

Rehabilitation

Modified furnishings

Assistive medical devices

Treatment-related travel expenses
You can also request compensation for required medications such as pain management and seizure control drugs. Some medications will require a lifetime prescription. Therefore, when we seek compensation for you, we ensure that your request includes the lifetime care that TBIs often need.
Receive Compensation for Other Damages Related to Your Accident
With our legal guidance and support, you can build a compelling case for financial compensation after an accident. In addition to the costs of ongoing medical care, you can recover damages for a wide range of expenses and losses related to the incident. These can include:
Lost income and loss of future earning capacity

Physical pain and suffering

Ongoing mental and emotional stress and trauma

Long-term physical disability and disfigurement

Loss of enjoyment of life

Loss of consortium with your spouse and loved ones
If the injured party is a minor, we consult with medical experts to help us understand the impact of brain damage on their lives from childhood to adulthood. If someone you love succumbs to brain injuries resulting from an accident, we can file a wrongful death claim that helps you recoup the costs of their funeral and burial, among other damages.
Get Help Fighting for Compensation from a Newark Brain Damage Lawyer
When we work with you to resolve your brain damage case in Newark, we aim to negotiate an out-of-court settlement that allows you to get back to your everyday life as soon as possible. However, we will continue to fight for the compensation you need in the appropriate court if we cannot settle your case.
The statute of limitations, or filing deadline, determines when we must decide to file suit. NJ Rev Stat § 2A:14-2 generally sets the deadline to file a personal injury lawsuit in New Jersey to two years from the accident date. If the brain damage that resulted from a negligence-based accident led to your loved one's death, NJ Rev Stat § 2A:31-3 generally limits your right to file a wrongful death lawsuit to two years.
Give Your Case the Morelli Law Firm Difference
When our team advocates for you, we never stop fighting for the compensation you deserve for the harm you've suffered. Previous clients say:
Janice Miles: They were helpful, patient, & kept me informed in all steps. I would hire them again.

J Moses: Michael was empathic, smart, helpful and a great communicator… I am so appreciative.

Brian Busche: I will be forever grateful…for your help and understanding and caring ways. Thank you to all at Morelli Law Firm.

Thomas Weber: I was truly impressed by the talent of Mr. Morelli to interview potential jurors and…reveal where they were currently standing regarding the case.
Our client testimonials page has additional accolades from clients who entrusted their personal injury cases to our dedicated team members.
Get Help from Our Personal Injury Team
Our brain damage lawyer helps injured clients and their families in Newark seek financial compensation after sustaining injuries in an accident. Contact one of our Morelli Law Firm team members today at (212) 751-9800 to start building your personal injury case.