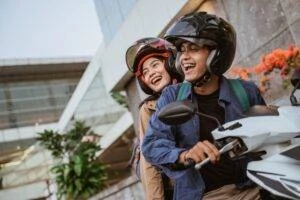 A St. Louis motorcycle accident lawyer can help you after you've suffered injuries in a motorcycle crash. It's hard to pursue legal action alone, and but you don't have to.
At Morelli Law Firm, our team of personal injury lawyers in St. Louis can help you get compensation and justice for your losses. We'll guide you through the legal process and fight for your rights every step of the way.
What Are the Common Causes of Motorcycle Accidents?
As someone who rides a motorcycle, you are vulnerable to collisions compared to fully enclosed vehicles. Unfortunately, many people who drive cars fail to give riders the respect they deserve, which can result in severe accidents. Here are some of the most common causes of motorcycle accidents:
Driver Inattention
Motorcycle accidents often involve distracted drivers. Drivers may be on their phones, changing the radio, or distracted in other ways.
When a driver takes their attention away from the road, they put you at risk. A momentary lapse in focus can result in a serious crash between a vehicle and your motorcycle.
Others Failing to Yield
As a motorcyclist, you frequently have the right of way, but some drivers fail to see or properly yield to you. Vehicles may turn in front of your oncoming motorcycle or pull into your path when merging or changing lanes. These right-of-way violations are a primary collision factor in many accidents, just like yours.
Aggressive Driving
Speeding, tailgating, and risky maneuvers cause accidents. When vehicles or motorcycles drive too fast for conditions or cut others off around you, it greatly increases the chances of losing control or a collision.
Aggressive behaviors are especially dangerous, considering your motorcycle has less stability than larger vehicles. If an angry driver hits you, the impact will likely knock you over and cause severe injuries.
Poor Visibility
Crashes occur when a driver has difficulty seeing your motorcycle due to its smaller size or position within traffic. You are more difficult to spot than larger vehicles, so drivers must take extra precautions, like merging or turning at intersections around you. Glare from the sun or vehicle lights can also reduce the visibility of your motorcycle at times.
Road Conditions
Debris, potholes, slippery surfaces, or uneven pavement all pose hazards that can lead to an accident. A small obstacle that a car drives over could cause you to lose control or be thrown from your bike.
When combined with speed or cornering, common road defects become more likely to factor into accidents. Hitting a pothole with a motorcycle can blow out your tire and cause you to sustain injuries.
Improper Turns
Some drivers fail to properly check their mirrors and blind spots before turning left into your path. Others misjudge gaps when turning right across multiple lanes, putting you directly in the path of their turn. Executing turns while distracted or without properly yielding sets the stage for turning violations and "right hook" collisions.
What Is the Statute of Limitations in Missouri?
According to Mo. Rev. Stat. § 516.120, you have five years from your accident date to file your claim. To make sure that you file your claim on time, you can meet with one of our St. Louis motorcycle accident attorneys. We'll look at your case for free and tell you exactly how long you have to file.
It's essential that you file your claim on time. If you don't, your case will be dismissed, and you'll no longer be able to receive compensation.
Then, you'll have to pay the full amount of your medical bills while still being out of work. But when you contact Morelli Law Firm, you can avoid doing so.
What Determines a Motorcycle Accident Settlement Amount in St. Louis?
Several key factors determine the value of settling your motorcycle accident case in St. Louis. Our thorough analysis allows our motorcycle accident attorneys in St. Louis to accurately assess the potential settlement value for you. We'll consider factors such as:
Liability
We will work to establish the proportion of fault between all parties involved. The clearer the evidence shows the defendant violated traffic laws or failed their duty of care, the more their insurance will be responsible to compensate you.
Even small reductions in attributed liability can significantly decrease an offer. Also, the more parties that are liable, the more compensation you can recover.
Injury Severity
Both the immediate harms you suffered, like fractures, lacerations, or necessary hospitalization, as well as long-term prognoses for your recovery or lasting functional impairments, will carry significant weight. More extensive, complex, or chronic injuries you face naturally warrant higher damages and increase your settlement amount.
Insurance Policy Details
While circumstances dictate value, higher available policy payouts afford greater potential for reasonable resolution, whereas minimum coverage may exhaust your ability to recover a higher settlement. We leverage all available resources to achieve the best outcome.
Damages You Can Recover After You Suffer Injuries in a Motorcycle Accident
After you've been in a motorcycle accident, you've likely suffered several losses, some economic and others non-economic. Our St. Louis motorcycle accident attorney can help you recover losses such as:
Medical expenses

: Past and future costs for medical care, treatments, surgeries, rehabilitation, prescriptions, medical equipment, and more directly related to injuries from the accident.

Lost wages:

Past lost income and future loss of earning capacity if the injuries prevent you from working or reduce your ability to work.

Pain and suffering

: Compensation for physical pain,

mental anguish

, scarring, disfigurement, loss of enjoyment of life from accidents and injuries.

Property damage

: Repair or replacement costs for a totaled motorcycle, gear, or accessories damaged in the crash.

Disability or impairment

: Ongoing losses and life impacts related to permanent disabilities or loss of bodily function from accident injuries.

Loss of consortium

: Damages for loss of companionship or affection due to the injuries and changed relationship with your spouse.
Contact Us Today for a Free Motorcycle Accident Case Evaluation
At Morelli Law Firm, we go after the people or entities that have treated you wrongly. We're here for you and ready to go after them and recover all the damages you're eligible for.
Contact us today to schedule your free case consultation with one of our motorcycle accident lawyers in St. Louis.