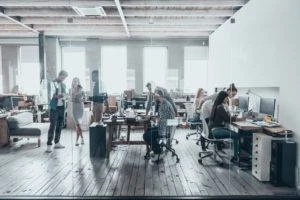 When one person faces down a corporation, the fight for justice can seem impossible. Add another person or a few additional plaintiffs to a petition or case, though and suddenly, the odds seem more manageable. This is how class action lawsuits work, and Morelli Law Firm can help.
You and your peers can bring forward a complaint regarding your mistreatment or injury, and together – alongside a Newark class action attorney – you can fight for compensation. That financial support can help you throughout your recovery, but the justice you receive can also make your day-to-day life more manageable.
When to File a Class Action Lawsuit
Class action lawsuits allow groups of people – mutual employees, an audience of consumers, or even university students – to pursue collective legal action against a larger institution. This ability to collaborate with other injured parties serves two purposes. Firstly, it makes it more difficult for a larger group to intimidate injured parties out of legal action.
Multiple plaintiffs also have opportunities to build on one another's evidence. When you have peers that you can collaborate with, you can bring a pattern of mistreatment to light. In turn, both you and a class action lawyer from Newark may have an easier time requesting compensation for your losses.
How to File a Class Action Lawsuit in New Jersey
You file a class action lawsuit by submitting a document known as a complaint to your local county clerk. Your complaint details your injuries and why you believe a specific group of people contributed to those losses.
A class action complaint will further identify the lead plaintiff, or the party helming the case. This party may be responsible for more of the legal legwork related to the case. However, this party may also receive a greater percentage of the compensation in such a case.
Class Action Lawsuit Complaints: Essential Information
Drafting a complaint, especially with multiple plaintiffs on the docket, can be a time-consuming process. It's easier to bring these documents together when you know what kind of information it is you need to identify. For example, more class action complaints should detail:
The losses the plaintiffs endured
The means through which those losses came about
The name of the group, institution, corporation, or similar party believed to be responsible for the plaintiffs' losses
The duty of care owed to the plaintiffs and the ways in which it was violated
An estimate of the compensation owed to the plaintiffs
New Jersey's Statute of Limitations on Class Action Lawsuits
While class action lawsuits make up their own category of suits, there are lawsuit subcategories that you need to be aware of. These subcategories can dictate how long you have to file your civil claim.
For example, N.J. Stat. Ann. § 56:9-14 gives you four years to file an antitrust class action suit. However, N.J. Stat. Ann. § 2A:14-1 gives you six years to pursue a class action suit involving breach of contract, provided that said breach didn't involve the sale of commercial goods. Other factors, including your employee or consumer statute, can change your deadline further.
This variety of statutes can make it difficult to pin down how much time you have to take legal action. If you're unsure as to whether or not you can still pursue a lawsuit, reach out to our class action lawyers in Newark, NJ. We'll classify your case, compare it against New Jersey's laws, and do our best to bring it to a county clerk.
Corporations' Duty of Care
While corporations' status as individuals varies from state to state, corporations still owe their employees and consumers a duty of care. This duty is backed by today's consumer protection laws. In other words, corporations must fulfill certain obligations to keep everyone who interacts with them as safe as is reasonably possible.
Corporations that don't take these steps can subsequently be held liable for a group's losses. However, you must prove a corporation or similar group owed you a duty of care at the time of your injury and violated that duty, resulting in your harm.
The easiest way to do this is to turn to an attorney. We can work with third-party investigators to establish your relationship with the liable corporation. When you present the evidence to establish cause and correlation early in the legal process, a county clerk – and other applicable legal parties – is more likely to move your case forward.
Asking for Your Desired Compensation
When you put forward a class action complaint, you may not know what kind of compensation to which you may be entitled. Some plaintiffs underestimate how much they can ask for.
This, however, is where our class action attorneys in Newark come in. We'll help you break down your losses into economic and non-economic categories. This way, you can more accurately estimate the value of your case, especially considering how precedent has swayed similar cases in the past.
In general, you can expect your class action compensation request to consist of losses related to you:
Group-caused medical damages
Property damage
Workplace-based illness, temporary disability, or permanent disability
Lost opportunities to pursue additional work
Lost hours or wages
Pain and suffering
Emotional distress
Loss of consortium and/or wrongful death
Class Action Negotiations and Trials
Not every class action complaint leads to a trial. Instead, your claim may make it easier for you to arrange negotiations out of court. Because you'll legally have the right to summon the party you believe to be liable for your losses, you can arrange a meeting and discuss your estimated compensation.
Many negotiations tend to lead to settlement offers. While a settlement offer may not be as comprehensive as you like, you can negotiate for ample coverage for both yourself and your other plaintiffs. An attorney can help you through this process, even communicating with the liable party on your behalf.
What to Expect From a Class Action Trial
Of course, there may be instances in which communications break down. If the party liable for your losses is resistant to your claims, you can move your case to court. Here, you'll undergo a process including:
Discovery
Opening statements
Witness testimony and cross-examination
Closing statements and verdict
You'll have fewer opportunities to negotiate for your compensation during a trial. However, if the damage done to you and your fellow plaintiffs seems particularly egregious, a judge and jury may award you punitive damages, or additional compensation for your losses.
Morelli Law Firm Goes to Work on Your Class Action Lawsuits
Many hands make hard tasks all the simpler. This is the case on a day-to-day basis and from a legal perspective. When you have friends and colleagues you can rely on throughout a class action civil suit, you can more effectively contest the behavior of large corporations.
Newark class action lawyers only make this easier. If you want to discuss beginning a class action lawsuit, you can schedule a case evaluation with our team at Morelli Law Firm. You can share information regarding your losses over the phone or through our online form.