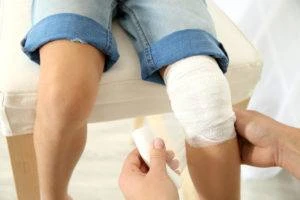 Was your child injured because of an accident caused by someone else's negligence? Our personal injury law firm helps the parents of injured children seek monetary recovery from the at-fault party. At Morelli Law Firm, our familiarity with personal injury laws, insurance laws, and the statute of limitations as it applies to child injury cases mean we can help you prepare a compelling case for compensation.
Our Newark child injury lawyer starts preparing your case by listening to you—and your child, if possible—explain the circumstances that led to their injury. From there, we identify the at-fault party, determine the financial impact of your child's injuries on your entire family, and collect evidence to prove your right to recovery. While you focus on your child's recovery, we take care of building your case and ensuring it is filed on time.
Recovering Compensation for an Injured Child in Newark
When a child is injured in an accident, the degree of the injuries and their impact on your child's mental health help us determine their value. In this case, recoverable damages can include:
Current and future medical expenses until your child's recovery is complete

Loss of future earning capacity, depending on the severity of the child's injury

Physical and emotional pain and suffering throughout your child's recovery

Compensation for lasting scars or disfigurement your child lives with

Payment of funeral expenses if your child did not survive their injuries
Our team works hard to accurately assess the current financial consequences of your child's injuries. We also work hard to ensure your child's expected prognosis is clearly stated in writing by their medical team. This evidence lets us ensure an accurate calculation of the care they will likely require in the immediate and distant future.
How the Statute of Limitations Works for Minors
The state determines how much time you have to file a personal injury lawsuit. In most cases, the personal injury statute of limitations is generally two years from the date of the accident, according to NJ Rev Stat § 2A:14-2. However, the statute of limitations works differently for children.
Because they were a minor at the time their injury occurred, the date the statutory clock starts ticking may not be the same as it would for an adult. We will explain how the statute can be tolled (or paused) for your child and how this will affect your case.
For example, the statutory clock may not start ticking until their 18th birthday. On your own, it can be difficult to understand the relevant statute and how it will apply to your child's case. Not only does our team clarify the length of time you have to seek compensation, but we also ensure compliance with the filing deadline.
Compassionate Legal Support for Injured Children
It can be difficult for parents to build an objective legal case. In addition, it can be hard to understand and interpret the many laws and legal principles that apply. When you hire Morelli Law Firm, our Newark child injury lawyer will manage your case and:
Review the evidence and assess your case

Advocate for you and your child

Explain your rights and responsibilities

Negotiate with the at-fault party's insurer
At Morelli Law Firm, our personal injury team puts decades of combined legal experience behind the fight for compensation for your son or daughter. If your case cannot be resolved with the monetary settlement you deserve, we are always ready to go to court for you.
Morelli Law Firm Reviews and Testimonials
Our team values every client we represent and works hard to build relationships that show how much we care. Previous clients say:
"

I highly recommend hiring Morelli Law Firm. David Sirotkin is a phenomenal personal injury attorney who handled my daughter's case. He was professional, very responsive to any questions, and always kept us in the know throughout the entire case.

" – JD Mayes

"

Their services were exactly as expected. They were helpful, patient, & kept me informed in all steps. I would hire them again

." – Janice Miles

"

I contacted the Morelli law firm regarding a personal injury case. They were super fast and professional in answering my questions.

" – Thomas Weber
These are just a sampling of the reviews posted by recent former clients. You can read more on our testimonials page and in our Google reviews.
Common Ways Children Sustain Injuries
As parents and guardians are aware, children can sustain injuries in numerous ways. When your child is injured because of another person, that person should be responsible for the subsequent cost. According to Centers for Disease Control and Prevention (CDC) statistics, car accidents are a common cause of negligence-based injuries to children. Other causes include:
Dog bites

Birth injuries

Accidental falls

Bicycle accidents

Pedestrian accidents
A member of our child injury team will talk to you and your child about the accident that caused their injury. We will carefully note details to help us build your case and create a list of your recoverable damages.
Identifying the Responsible Party
Very young children might not be able to clearly express how their injury occurred and are unlikely to be able to identify the at-fault party—this is where our team comes in. We use the following information to find and pursue the person responsible for compensating you:
Police reports

Incident reports

Medical records

Photos and videos
Most personal injury cases are resolved out of court once the evidence is assessed. Our team does not put you to work. Instead, we obtain these documents for you and present them to the at-fault party.
Call Our Child Injury Team Today
If your child was hurt in Newark and you need help getting compensation for your family, our child injury lawyer will fight by your side. Find out how we can help build your case and negotiate a settlement for you by calling Morelli Law Firm. Our case review team is ready to review your case for free when you reach out at (212) 751-9800 today.