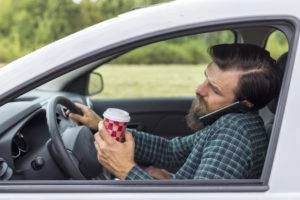 Drivers know better to keep their attention on the road and their driving, yet so many get into crashes every year due to a momentary lapse in judgment. Some drivers might excuse a "quick second" to check their devices or reach for something in the car, but when a driver's negligence leads to someone else getting seriously injured or killed, there might be little room to forgive.
If you or a loved one were injured in an accident caused by a distracted driver, you might be eligible to receive compensation for your damages. At Morelli Law Firm, we can assign a Long Island distracted driving accident lawyer to work on your case and help you pursue compensation. Call us at (212) 751-9800 today to get started.
Different Distraction on the Road
Drivers can be distracted by several things, but many people might think of "texting and driving" as the number-one example. Though a common pastime for many, texting can be dangerous when combined with driving, which is why it is an illegal act in most states.
According to the New York Department of Motor Vehicles (DMV), it is against the law to use a hand-held mobile electronic device while operating a vehicle. Doing so may be punishable by law, with penalties including fines, driver violation points, and license revocation.
However, other distractions exist when a driver is on the road. According to the Centers for Disease Control and Prevention (CDC), distractions can come in three forms:
Visual distraction: These distractions take a driver's eyes off the road. Examples include people or animals on the side of the road, road signs, and sun glare.
Cognitive distraction: These distractions take the driver's attention off driving. Examples include daydreaming, road rage, fatigue, or driving while intoxicated.
Manual distraction: These distractions take the driver's hands off the wheel. Examples include changing the radio station or AC level, changing coordinates on a GPS device, texting, or reaching for an object in the car.
Building an Argument Based on Negligence
If you believe the driver who caused the car accident was distracted at the time, one of the first things you might discuss with your legal team is how the other driver's negligence might have led to the accident specifically. The reason being is that a common argument in personal injury cases involves proving the at-fault party's negligence.
Building an argument based on negligence may include the following four main elements:
The defendant had a legal duty of care to drive safely on the road.
However, the defendant breached this duty when they engaged in a distracting activity.
This breach then caused a car accident with you, the plaintiff.
As a result of the car accident, you suffered injuries and other damages.
Your lawyer may request several forms of evidence to back up these claims, such as photographs or videos of the accident and your injuries, medical records, cell phone records of the other driver, and witness statements.
Shaping legal arguments might feel intimidating if you do not know what to expect to hear as a defense from the opposing party. A Long Island distracted driving accident lawyer from our firm can help you build your case and act as your advocate during negotiations and/or hearings, so that you can focus on your recovery and well-being.
At Morelli Law Firm, we want our clients to feel secure. If you have more questions about the litigation process, feel free to call our team at (212) 751-9800. A team member can address any concerns about your case and let you know what your legal options are.
You Might Be Entitled to Receive Compensation
Once you establish how to build your case, you and your lawyer may calculate your losses to determine how much compensation to pursue from the negligent driver. You may be able to get compensated for the following types of damages:
Medical expenses, such as costs for emergency room visits, surgeries, or imaging exams
Costs to repair or replace your vehicle
Income you lost due to your injuries or not having a functioning vehicle
Pain and suffering you experienced after the accident
Permanent disability if your injuries are not expected to improve
If you lost a loved one in an accident caused by distracted driving, you may be eligible to receive compensation for their wrongful death. You may discuss these damages with your legal team.
Keep Track of the Statutory Deadline Relevant to Your Case
In New York, plaintiffs have a limited amount of time to file a personal injury case against a negligent party. According to New York Civil Practice Law & Rules (CVP) §214, you generally have three years to file your lawsuit against the distracted driver. Should you miss this deadline, you might become ineligible to file your case or risk having your case be dismissed by a judge.
Surviving family members who lost a loved one in a distracted driving accident may file on the decedent's behalf. According to New York Estates, Powers, & Trusts (EPT) §5-4.1, family members generally have two years to file a wrongful death lawsuit to pursue compensation.
Morelli Law Firm Wants to Lead Your Case
You might have grounds to pursue compensation if a distracted driver crashed into you and caused you to suffer injuries. Whether you want compensation to pay for the financial losses you endured in the past or will need to face in the future, our legal team is ready to present your case to the other party and fight for your terms.
If you are interested in learning more about what kind of legal assistance we can provide, call Morelli Law Firm at (212) 751-9800 today. We may be able to answer any questions you have about potentially working with a Long Island distracted driving accident lawyer on your case.