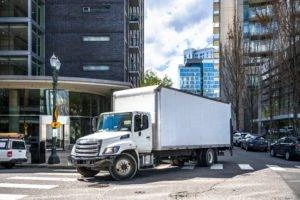 Have you been involved in a delivery truck accident that was someone else's fault? After sustaining serious injuries in a collision with a large truck or van, there's a good chance you will face mountains of medical expenses and months or even years of pain and suffering.
If someone else's negligence caused the crash that resulted in your injuries, you need an experienced truck accident attorney on your side. As Edwardsville delivery truck accident attorneys, we want to help you receive the compensation you need to be made completely whole.
Pursuing Compensation for your Truck or Van Accident
After sustaining injuries in a crash with a commercial vehicle, it is crucial that you contact a lawyer right away. Trucking companies are often self-insured and may even have their own investigators on staff.
After hearing that one of their vehicles was involved in an accident, a company representative is often first on the scene, tampering with evidence and coming up with their own version of events. As your Edwardsville truck accident litigation team, we thoroughly investigate truck and van accidents to determine the cause and hold the liable party accountable.
We will work hard to recover your damages, including medical bills, lost wages, pain and suffering, and other expenses you may have incurred as a result of the accident. We are dedicated to getting justice for those injured in truck wrecks caused by carelessness on the part of truck drivers and their employers.
Getting your Questions Answered
Truck and van drivers have an obligation to drive safely to protect those in smaller vehicles. In many cases, that obligation is not fulfilled because drivers in a hurry to make deliveries often speed or drive while fatigued. As a result, truck accidents happen, and they frequently result in serious injury or death.
In the aftermath of an accident, it is normal to have questions about:
Getting your medical bills paid

Property damage to your car

Paying for a rental car

Providing for your family
An experienced truck accident lawyer can address these concerns and help you find answers that lead to practical solutions for you and your loved ones.
Completing an Investigation to Get to the Bottom of Your Case
As truck accident experts, we take an investigative approach to our accident cases, looking for signs of negligence by delivery drivers or trucking companies. As part of our thorough investigation, we can review the truck driver's logbooks and see how many hours they spent on the road during the days leading up to the crash.
We can also investigate the company's maintenance practices and how the truck was loaded or unloaded. We'll work closely with an investigator to determine how and why the accident occurred.
Delivery Van Accident Attorneys Serving Madison County
As your Madison County accident injury attorneys, we fight relentlessly until the insurance companies of the parties responsible for your accident agree to pay you the full value of your losses. The settlement available in a truck wreck case can vary substantially depending on the unique elements of your case. The compensation you could receive depends on:
The injuries you suffered

The severity of your injuries

The level of medical treatment you need

Your estimated future medical expenses

The impact of your injuries on your day-to-day life

How long it takes for you to recover (if ever)

The permanent effects of your injuries

The length of time you are unable to work
If you or someone close to you has been injured in a crash with an 18-wheeler, box truck, or delivery van, you have the legal right to seek compensation for everything from medical expenses to lost wages and pain and suffering.
Do You Need a Truck Crash Attorney?
If a person or organization caused an accident that injured you, then you should absolutely hire a truck accident lawyer. Trucking companies have their own high-dollar defense teams that will do everything they can to reduce the size of your settlement. When it comes to these high-stakes cases, you need robust legal representation.
One look at the Illinois roadway crash data, and you'll see that the ramifications of truck collisions go far beyond a minor fender bender you may have dealt with on your own. A skilled Edwardsville truck accident attorney will know how to effectively evaluate your damages, negotiate with the responsible party, and recover the compensation you are owed. We can help by:
Filing a claim

Negotiating with the insurance companies

Assessing your medical costs and other damages

Ensuring that you receive an equitable settlement for what you've endured
Edwardsville Trucking Accident Lawyers With the Necessary Expertise
Truck accidents are often highly complex because more than one party can be at fault, and insurance companies tend to want to settle for less than an injury is worth. Typically you'll walk away with a much larger settlement if you are represented by a lawyer who regularly practices in your area and is familiar with trucking laws.
Commercial vehicle accident injuries can be devastating, requiring extensive treatment and rehabilitation. If you've been affected by one of these catastrophic accidents, don't sit around waiting for that lowball first offer from the insurance company.
Instead, contact us as soon as possible to discuss your personal injury or wrongful death claim. The Morelli Law Firm serves clients in and around Edwardsville, IL, and throughout Southern Illinois and Eastern Missouri. Our firm has a proven record of getting results for clients, with more than one billion dollars recovered. Reach out today for a free consultation.