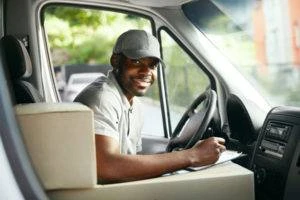 Operating a UPS truck is no easy feat. The difficulty of operating such a vehicle, however, does not excuse negligence behind the wheel. If a UPS truck driver causes a roadway accident, that driver may be held liable for their misconduct and civil court. You, in turn, may request a settlement equal to or exceeding the cost of your UPS truck accident losses.
The question of liability in UPS truck accident cases can be tricky, though. Instead of trying to parse civil law on your own, let an Edwardsville UPS truck accident attorney do the hard work for you. The Morelli Law Firm team can take on your case and fight for your right to post-accident compensation.
What to Do Immediately After a UPS Truck Accident
In the hours and days immediately following your car accident with a UPS truck in Edwardsville, IL, you need to take deliberate action. There are certain steps you can take to make the most of the legal opportunities afforded to you by Illinois civil codes. Specifically, you can:
Contact an Attorney for a Case Evaluation
Navigating the immediate aftermath of the UPS truck accident isn't easy. Police officers, UPS truck drivers, and opposing insurance representatives may all try to misrepresent accident fault as well as your losses. The best thing you can do to effectively contend with these complicating factors is to contact an attorney.
UPS truck accident attorneys in Edwardsville, IL, defend you from the misconduct or untoward intentions of the other parties involved in your accident. We can make sure that you don't say anything that might mitigate your right to compensation or otherwise misrepresent your losses.
The presence of an attorney on the scene can also make it easier for you to ensure that both you and your loved ones receive the medical attention you need after your accident. We can run interference on your behalf and help you alert family members, insurance providers, and other essential parties as to the nature of your accident.
Call Your Insurance Provider
Most insurance providers require you to call them within 24 hours of an accident with another party. This is the case whether or not you are deemed responsible for said accident. Rather, when you get in touch with your insurance provider, you can just guess how your coverage might apply to your immediate losses and related expenses.
An insurance provider may send an adjuster out to your property to take the measure of your losses and provide you with an estimate as to what compensation you may be due, depending on the division of liability in your case. This estimate is not set in stone and can be challenged by an attorney if it seems to undervalue your case.
Gather Bystander Information
The longer you wait to get bystander information after a UPS truck accident, the harder it is going to be to get in touch with everybody who witnessed your losses. While you can reference social media to find people who were there at the time your accident occurred, it's often easiest to gather bystander contact information while you are still at the scene.
Some bystanders may not be willing to provide testimony regarding fault after your accident. It is not your job to convince these people to testify. Rather, give what information you can to the attorney you contact and let that team undertake the process of compiling bystander testimony on your behalf.
The Benefits of Filing a UPS Truck Accident Claim
In the days following an accident with a UPS truck, you may find yourself contending with an onslaught of bills you did not expect. It doesn't seem fair to make you pay for the losses that someone else's negligence forced upon your life.
Fortunately, as a UPS truck accident Survivor, you can file a civil claim demanding a settlement equal to or exceeding the cost of your UPS truck accident losses. When you collaborate with a UPS truck accident lawyer in Edwardsville, IL, you can fight to secure that truck accident settlement through negotiations or a trial.
Civil Claims Hold the Right Party Accountable for Your Losses
Most UPS truck drivers on the road today operate as independent contractors. This means that these parties represent themselves in the wake of an accident, even if they do benefit from the insurance coverage offered through UPS.
That said, if the driver who hit you works as a full or part-time employee under the UPS banner, you may have to hold a different party accountable for your losses. Specifically, UPS, like other companies, may offer its employees legal protection in the wake of an accident. If this is the case, you may have to take UPS to civil court instead of an individual.
Civil Claims Advocate for Comprehensive Accident Compensation on Your Behalf
When you build a civil claim, you bring forward evidence of the negligence that resulted in your accidents as well as the losses that said negligence caused. When you present evidence of your losses, you can argue that you are entitled to both economic and non-economic damages equivalent to those losses' value.
Specifically, UPS truck accident claims may allow you to request compensation for your:
Related medical expenses
Property damage and repair
Lost wages or opportunities to work while recovering
At-home assistance needed to restore your previous quality of life
Emotional distress
PTSD and/or related mental health conditions
Loss of consortium and/or companionship
Stress
Wrongful death and funeral expenses, if appropriate
Stay on Top of Your UPS Truck Accident Claim's Deadlines
If you want to file a UPS truck accident claim with an Illinois civil court, you need to do so within the Illinois personal injury statute of limitations. 735 ILCS 5/13-212 gives accident survivors two years from the day their accident occurs to bring their claim forward. Attempting to bring your claim forward after this deadline passes can see a court to deny your right to compensation.
Let's Discuss Your UPS Truck Accident Today
Don't let an accident with a UPS truck upend your financial future. You can collaborate with a UPS truck accident attorney in Edwardsville, IL, to hold a liable party accountable for their negligence in civil court. Our efforts can see you rewarded with a UPS truck accident settlement offer that covers your recovery's expenses.
Morelli Law Firm stands up for victims of roadway negligence. You can learn more about the legal services we offer to Edwardsville residents during an initial case consultation with our team. Contact us today by calling our office or reaching out online. The sooner you request a case evaluation, the sooner we can bring you justice.