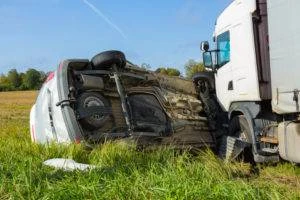 FedEx trucks shouldn't be a danger to the general public. But the shipping giant and its drivers don't always follow the law, and that's when you can get severe injuries or worse if you get hit by a FedEx truck.
Our FedEx truck accident lawyers in Edwardsville, IL, at Morelli Law Firm are here to fight for justice and compensation for your pain. We work hard to make sure that you get the full compensation amount that you deserve.
The Amount of Time You Have to File Your FedEx Truck Accident Claim
Under 735 Illinois Compiled Statutes § 5/13-202, you have two years from the day of the accident to file your claim. If you file after two years, you will not be able to recover any compensation or pursue further legal action.
Our truck accident attorneys recommend that you file your claim as soon as you can. By doing so, you heighten your chances of winning your case and getting higher compensation. You and your lawyer will also have more time to build a stronger case if you file early. You also won't have to worry about gathering all the evidence and testimonies at the last minute.
Even though Illinois' statute of limitations states that you have two years to file your claim, you may have more or less time to file depending on your case's details. The only way to know how long you have to file is to get in touch with one of our FedEx truck accident attorneys.
If you want to know how much time you have to file, we offer a free case evaluation. In addition, we'll also give you an estimate of the damages you are eligible to receive.
Damages You Can Recover in an Edwardsville, IL, FedEx Truck Accident
After an Edwardsville FedEx truck wreck, it can be overwhelming to have to pay medical bills and your usual bills when you're severely injured. With the help of a FedEx truck accident attorney, you can recover various damages to cover your costs.
Depending on the details of your case, you may be eligible for the following damages:
Current and future medical bills
Loss of consortium
Property damage and replacement
Loss of income
Loss of quality of life
Pain and suffering
Transportation costs for traveling to doctor's appointments
Our FedEx truck accident lawyers in Edwardsville are ready to help you recover the damages that you deserve. We'll even recover the damages that FedEx's legal team tries to hide which is a common tactic of theirs.
Common Injuries Associated with FedEx Truck Accidents
FedEx trucks are heavy and can cause serious injuries if they hit you. These injuries may require you to go through a long-term or lifelong recovery. Some of the most common injuries you may have include:
Whiplash
Lacerations
Broken bones
Loss of limb
Internal bleeding
Organ damages
Traumatic brain injury
While this is not the end of the list of injuries that you may sustain as a result of a FedEx truck accident, these are the most common ones our FedEx truck accident attorneys see in cases. If you have an injury that isn't listed above, it likely still qualifies for a FedEx truck accident case.
After the accident, you should immediately seek medical attention so that you are aware of all the injuries that you have. Also, when you get all your injuries diagnosed, you can claim more damages which can increase your compensation amount.
Benefits of Hiring a FedEx Truck Accident Attorney in Edwardsville, IL
Just having a FedEx truck accident lawyer by your side increases your chances of winning your case. One of the biggest benefits of hiring one of our attorneys on your case is our years of experience with corporations and shipping giants like FedEx.
From our experience with corporations, we can help you avoid the common tactics they try to employ, like denying your claim until the statute of limitations runs out. When you have our Edwardsville FedEx truck accident attorneys on your side, you don't have to worry about falling victim to FedEx's legal team's tactics.
We can also help you negotiate with FedEx's insurance company and get you the settlement you deserve. Even though corporations have plenty of money, their insurance adjusters will do everything they can to pay as little as possible or nothing at all. If they keep refusing to budge, we can help you file a lawsuit against FedEx to get the proper compensation you need.
Contact Morelli Law Firm to Get Compensation for Your Edwardsville, IL, FedEx Truck Accident
Getting hit by a FedEx truck in Edwardsville, IL, shouldn't be a fear that residents have. FedEx drivers should be responsible and practice safe driving. But Morelli Law Firm is here to help when they aren't responsible.
Our FedEx truck accident attorneys in Edwardsville, IL, are ready to help you get justice for your pain. Call us or fill out the contact form on our website to start your free case evaluation today.