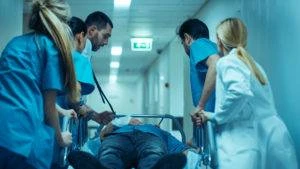 Every day vast quantities of goods are shipped around the world. To facilitate these shipments, the roadways are filled with delivery trucks. An unsurprising side effect of this is that these trucks end up being involved in a significant number of accidents each year. Due to the large size and weight of these trucks, the damage resulting from these accidents tends to be severe.
After suffering an injury in a delivery truck accident, you will likely be faced with a long list of expenses. Covering these costs can range from challenging to impossible without recovering compensation from the liable party. At the Morelli Law Firm, our team of delivery truck accident attorneys in Yonkers, NY, is ready to help get you the money you need after a crash.
Determining Fault Following a Delivery Truck Accident
Before you can recover compensation for damages suffered in a delivery truck accident, you must first identify the liable party. In many cases, proving liability is quite challenging. Fortunately, you do not have to worry about establishing liability on your own. An experienced delivery truck accident lawyer in Yonkers, NY, can help determine fault after a crash.
One of the first steps a lawyer will take after accepting your case is to investigate your case with a focus on proving fault.
Damages You Can Claim After a Delivery Truck Accident
There are several different types of compensation you will likely be able to claim following a delivery truck accident. The particular damages you will be able to pursue vary from one case to another. All compensatory damages are classified as either economic or non-economic damages.
Economic Damages
Economic damages encompass any loss resulting from your delivery truck accident that directly hurts your financial situation. Economic damages are awarded to help victims recover compensation for the money they were forced to spend or income they were unable to earn because of their accident. These damages cover both current and projected future losses.
After a delivery truck accident, some economic damages that are commonly awarded include:
Property damage

Medical bills

Future medical expenses

Lost wages

Lost earning ability
Non-Economic Damages
Non-economic damages is the category used for all other losses resulting from your delivery truck accident. Non-economic damages can be quite diverse. However, most of these damages share the characteristics of being irreversible and irreplaceable. Because of this, the money paid for these losses often makes up the largest part of a settlement or court-ordered payout.
After a delivery truck accident, some non-economic damages that are commonly awarded include:
Diminished quality of life

Loss of consortium

Permanent disability

Emotional distress

Mental anguish

Pain and suffering
When you hire an experienced delivery truck accident lawyer to work on your case, they can help you determine which damages you are eligible to pursue. Beyond the compensatory damages already discussed, your case could qualify you to receive punitive damages.
Punitive damages are reserved for extreme cases. To be eligible to claim punitive damages, the at-fault party must have acted in a criminally negligent manner or with the willful intent of causing harm to others.
Be Careful to File Your Delivery Truck Accident Lawsuit on Time
When attempting to pursue compensation through a delivery truck accident lawsuit, you need to pay special attention to the statute of limitations in your state. New York generally gives accident victims three years to file a lawsuit against the liable party. If you miss the deadline, you will most likely lose your chance to recover damages.
Of course, there are several exceptions to the statute of limitations that could apply to your case. Depending on the specific circumstances of your accident, an exception could allow you to pursue compensation long after the standard two-year deadline has passed.
However, you need to realize that exceptions can work both ways. In some cases, an exception may significantly restrict the amount of time you have to file. To ensure that all of the necessary paperwork is filed on time, it is recommended that you hire an experienced delivery truck accident attorney shortly after your accident.
Don't Trust the Insurance Company
In contrast to the advertisements they show on television, insurance providers are not your friendly neighbors, ready to assist you when times get tough. Instead, the focus of these companies is on protecting their bottom line. These companies will use a variety of tricks to try and devalue or deny your claim.
Unfortunately, accident victims frequently believe the picture created by insurers. This belief makes them susceptible to the tactics employed by these companies. This inevitably leads to accident victims failing to receive the full value of their claim. In some cases, it can even prevent a victim from recovering compensation at all while blocking other paths to recovering damages.
When you hire a delivery truck accident attorney, you can protect yourself against the predatory tactics used by insurance adjusters. Hiring a lawyer prevents the insurer from contacting you directly. When an insurance adjuster is forced to deal with an experienced attorney, they will be unable to employ the tricks they would otherwise attempt to use against you.
Contact an Experienced Yonkers Delivery Truck Accident Attorney Today
When you are looking to hire an attorney to represent you after an accident, it is critical to choose someone with a proven track record of securing significant compensation for their clients. At the Morelli Law Firm, our team of delivery truck accident lawyers in Yonkers has helped countless accident victims get the money they need.
Complete our online contact form or give us a call to schedule a free case evaluation with a member of our legal team.