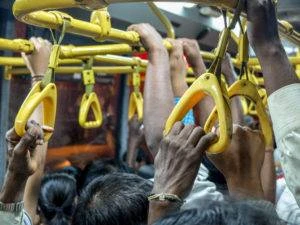 When enormous passenger vehicles come into physical contact with other cars, obstacles in the road, or with pedestrians, people can get hurt. No matter if you were a passenger, cyclist, pedestrian, or motorist involved in a bus accident, you may be entitled to collect compensation for your injuries.
The bus accident attorneys in Clifton at Morelli Law Firm can help you to pursue your case. We understand the complexities involved in bus crash cases and have helped countless personal injury victims to recover significant financial damages.
The Difference Between Public and Private Buses When Dealing With an Accident
New Jersey Transit has a fleet of over 3,000 buses with an average daily ridership of over half a million people each day. With 253 bus routes and over 270 million rider trips per year, there's a lot of potential for an accident to happen.
Dozens of other transit companies, private bus rental companies, tour buses, and long-distance travel carriers operate buses in New Jersey. These buses can be operated by private companies, like Greyhound, or other government agencies, like public school bus transportation.
When you are involved in an accident with a bus that is run by the city or municipal entity, the laws and deadlines for filing a claim are very different. It's important to speak to a bus accident attorney as soon as possible to avoid missing legal deadlines and preserve your right to claim.
Common Causes of New Jersey Bus Accidents
The causes can be complicated and many parties may be involved in the liability of the accident. Malfunctioning traffic signals, poor bus maintenance, faulty parts, other drivers, and many other causes can lead to a bus accident. Your Clifton bus accident attorney will investigate the potential causes and determine all parties that can be held liable.
The causes of accidents cited in bus crash cases can often involve factors such as:
Drivers Disobeying Traffic Laws
Whether a mistake was made by the bus driver or another behaved negligently, drivers failing to observe the rules of the road commonly cause bus crashes.
Driver Distractions
Operating any motor vehicle requires focus. If other motorists or the bus driver are being distracted by their cell phones, text messages, eating, or other passengers it often causes accidents to happen.
Driving Under the Influence
Alcohol, illegal drugs, or even certain medications can hamper your ability to concentrate and impair judgment. When operating a vehicle as large as a bus, using these substances can be disastrous. Driver impairment is a common cause of bus accidents.
Neglecting to Maintain the Bus
Lack of regular maintenance and safety checks can cause the bus to malfunction. If a bus is not properly maintained or is in disrepair, the driver may not have complete control of the vehicle and it can lead to deadly consequences.
Defective Parts and Product Defects
In some occurrences, a defective part can be to blame. Vehicle recalls happen all the time due to parts that do not function properly, and bus parts are subject to the same hazards. If tires or brakes are faulty, a bus accident attorney will have the resources to discover it.
Bus Company Negligence
Even though driving a commercial vehicle is regulated, failures by the bus company can lead to accidents. If they do not screen drivers properly, fail to offer sufficient training, or don't maintain inspections, they may be held liable.
Bus Fires
While bus fires are not as frequent, they do lead to accidents and can have extreme consequences. Escape hatches may be blocked and fumes can overcome people quickly. Engine compartment and tire fires can often be prevented by proper maintenance and safety checks.
It is not uncommon for passengers involved in a bus crash to be unsure of the cause. As passengers, we are often relaxing, working, reading, or simply just unable to see what happened.
If you were hurt and don't remember anything leading up to the accident, you aren't alone. Your bus accident attorney will investigate and determine what happened so that the liable parties can be held accountable.
Bus Accident FAQs
With so many different variables involved in bus accidents, it can be hard to know what to do. We answer some frequently asked questions about the claims process and how to obtain compensation for your injuries.
What Damages Are Considered in a Commercial Bus Accident?
Bus accidents involving commercial entities are generally treated the same as car accidents in the eyes of the law. There can be more and bigger defendants involved in a bus accident case because the bus company is likely to be a factor.
Whether you were a passenger, driver, or bystander the damages you can collect will depend on the details of the case and your individual injuries, costs, and other factors. However, the most common considerations in bus accident cases include:
Medical expenses
Loss of wages
Loss of future income
Cost of future medical treatment
Emotional trauma
Pain and suffering
Property damage
It is important to consider all the costs involved in the accident. The disruption to your life and finances can be significant, and the attorneys of Morelli Law understand the obstacles you may be facing. Our bus accident lawyers in Clifton work hard to ensure that you will be compensated sufficiently to cover any damages you incurred.
What Damages Are Considered After a Public Transit Bus Accident?
Public transit buses, school buses, and other government transit buses are immune to certain types of liabilities. In most cases, you might not be able to seek damages for pain and suffering or other non-economic damages.
The general rule is that you must have experienced permanent injuries, suffered permanent disfigurement, or had an amputation in order to be eligible to pursue non-economic damages.
Because these public entities are somewhat protected, it is important to work with a bus accident attorney in Clifton in order to ensure that all potentially liable parties are identified. This can result in a better chance of recovering sufficient financial resources for your injuries.
Who Will Pay for the Damages from My Bus Accident?
You'll typically be paid by the insurance companies of the liable parties either after a settlement agreement is reached, or if you are awarded damages in court. The people and entities commonly liable for bus accidents are:
City, Municipal, or Other Government Agency
Entities in charge of handling the hiring of drivers, maintenance of the bus, and implementation of the bus line operations can be held accountable. For example, the transit authority, a school district, or a city government.
Bus Driver or At-Fault Drivers of Other Vehicles
If the bus driver or drivers of other cars involved in the accident are responsible, they can be held liable.
Bus Company
Whether you rented a party bus, rode on a travel coach, or even took a privately contracted shuttle to a concert venue from a parking lot, the companies that own these buses can be held responsible.
Mechanical Maintenance Companies
If the bus was in disrepair, improperly maintained, or in need of some service and the maintenance company was negligent in their duties, they can be liable for accidents.
Companies that perform mechanical duties, repairs, and maintenance on the buses can be held liable if maintenance was not performed correctly or the bus was in a state of disrepair.
An example of this would be a mechanic who failed to perform repairs or regular maintenance and sent the bus back out on the road.
Bus Manufacturers
The company that manufactured the bus or the separate parts of the bus can be held liable if defective parts caused the crash.
Should I Accept the Settlement Offer From an Insurance Company?
It's wise in almost any negotiable circumstance to reject the first offer. It's a well-known strategy that taking the first offer will not usually yield the largest benefit. If you have been made an offer, contact a Clifton bus accident lawyer to seek advice.
An attorney can make a conservative estimate of the value of your claim and let you know if their offer seems fair and worth taking. Calling for an initial consultation at our firm is free of charge and we would be happy to help.
Truthfully, the insurance company adjusters are doing their job. They are representing the interests of their employer and often face tremendous pressure to keep the offers as low as possible. They make enormous profits because people simply don't think they have any alternative but to accept what is given.
What if an Insurance Adjuster Contacts Me?
The insurance adjusters employ professionals and train them to speak and behave in a certain way. The adjusters may get you involved in small talk to gain your trust. They can speak quickly at the beginning of the call to let you know you're on a recorded line, hoping you will forget and give a statement.
The best plan is not to give any detailed statements, and not to agree to any recording. Anything you say can be twisted and used against you to devalue your claim and discredit your injuries. This is how their business is run, and it isn't meant to be personal. It is meant to preserve profitability.
If you have a lawyer, tell them you have an attorney and they are welcome to call the law office to have their questions addressed. If you haven't yet hired a lawyer, tell them you can't talk right now. You aren't required to give a recorded statement, so don't do it unless your lawyer advises you to.
Why Should I Consider Hiring a Lawyer for a Bus Accident in Clifton?
Having an attorney can help to maximize the damages you can collect so that you are not left with medical bills or future costs related to the accident.
A personal injury lawyer has the experience and specialized knowledge to navigate the legal system and interpret the laws. This is critical because legal documents need to be filed within set time frames and missing a deadline can mean forfeiting your rights.
Working with the Clifton bus accident lawyers from Morelli Law Firm will provide the following benefits:
Professional economic analysis of the complete value of the current and future possible damages
Communication on your behalf with opposing counsel, insurance adjusters, and other involved parties
Collecting and gathering all evidence to support your injury claims and damages
Completion and filing of necessary legal paperwork in observance of New Jersey legal requirements
Prevention of exploitation by insurance companies
Consult with healthcare providers, medical professionals, and an expansive list of physician contacts to analyze potential costs of future medical treatment
Adept, aggressive negotiation and courtroom representation with courtroom attorneys who possess extensive trial experience covering multiple jurisdictions
Decades of combined experience, and the recovery of over $1 billion in damages on behalf of our clients
Answer all your questions, discuss legal strategy, and keep you informed of the progress of your case
Your attorney can provide you with legal guidance and sound advice after dealing with such a harrowing experience. When you're recovering from injuries, we can take the responsibility of building your case so that you can heal.
Call Our Legal Team Today to Learn How We Help Injury Victims to Maximize Their Claims
To learn more about how our legal team can help you after a bus accident, contact us today to schedule a free case evaluation. Our personal injury attorneys are here to serve you, and our firm believes in the vigorous pursuit of justice through any legal means necessary.
Morelli Law's Clifton bus accident attorneys can walk you through the entire process. We'll answer your questions about everything from collecting evidence to settling your claim or pursuing it in court.