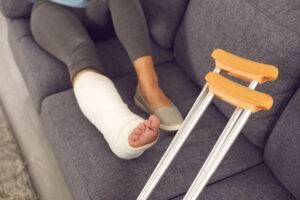 The last thing you want to do after a bus or commercial vehicle accident is deal with the insurance company. However, The Carbondale bus accident lawyers of Morelli Law remain ready to use our strategic skills and experience to get our clients the best possible outcome.
We know that in addition to physical and emotional turmoil, accidents burden victims with mounting costs and confusion over insurance policies. That's why we take fast action. We begin working immediately, leaving no stone unturned, to build an ironclad case on your behalf.
When negligent parties and their carriers understand we will not back down from a fight, they take us very seriously at the negotiating table. With help from our personal injury lawyers in Carbondale, you can be assured your needs remain in sharp focus. Let us put our experience to work for you.
Building an Ironclad Case for Liability
After an incident like this, it's crucial to assemble a comprehensive case that clearly establishes fault. Since you will be dealing with a government transportation entity or a large commercial carrier, there is likely to be pushback about liability.
We begin by conducting a thorough investigation of event details and speaking to witnesses.
Our resources allow exhaustive evidence collection, securing things like surveillance footage, crash reconstructions, and expert accident analyses to bolster your case.
Your bus accident lawyer in Carbondale uses this information to help determine who was negligent and to what degree under comparative negligence laws. Establishing negligence sets the stage for recovering maximum compensation.
Seeking Full Compensation for All Damages
After an injury accident, it's important we consider every aspect of how it could affect you both now and down the road. In addition to current medical bills, these cases often involve costs and challenges that last a lifetime.
Your bus accident attorney in Carbondale understands the importance of calculating losses like long-term medical needs, earnings you might lose if injuries impact your career path, limitations on daily activities from scarring or disabilities, as well as pain and inconveniences you'll face lifelong.
We'll work closely with medical providers and financial experts to give the court a clear picture of everything you'll face financially in the years ahead. Making sure all foreseeable expenses and hardships are addressed is key to achieving a fair settlement.
Some examples of damages you may recover include:
Medical costs related to the injury, both current and future

Property damage for belongings damaged in the crash

Lost wages and loss of future earnings

Pain and suffering

Scarring and disfigurement
Avoiding Insurance Company Runarounds
Dealing with paperwork and procedures is the last thing you need right now. Unfortunately, insurance adjusters sometimes try to slow things down by asking for extra documents or bringing up resolved matters again.
Our team understands these processes inside and out. We know how to properly satisfy requests while also confronting stalling tactics. By meeting deadlines and helping facilitate a smooth information exchange, we can cut through unnecessary hurdles.
If the resolution is delayed, we're also prepared to put the insurance company on notice that legal action could follow if the case is not moved along promptly. Our experience allows us to shepherd the claim through the required steps smoothly and efficiently.
Who Can Be Held Liable for a Bus Accident?
There are a few parties that can potentially be held liable in a bus accident claim:
The Bus Company or Transit Company Operator
As the owner and operator of the bus, the bus company has a responsibility to transport passengers safely. If the accident was caused by negligence of the bus driver or mechanical issues with the bus, the bus company may be liable.
The Driver
As the person physically operating the bus, the driver owes a duty of care to passengers. If the driver caused the accident through reckless or dangerous driving behaviors, they could face individual liability.
State or Local Government
If the accident was caused by unsafe road/traffic conditions under the jurisdiction of the state department of transportation or local municipality, they could share liability for failing to properly maintain infrastructure.
Other Motorists
If the accident involved a collision with another vehicle (e.g., passenger car, truck) and the other driver violated traffic laws or was otherwise at fault, they could be fully or partially liable, depending on fault determinations.
Maintenance Contractors
If inadequate vehicle maintenance by contracted companies contributed to mechanical defects that led to the accident, those maintenance providers may face liability claims.
The specific liable party or parties would depend on the exact cause, circumstances, and jurisdictional laws surrounding a particular bus accident claim. An experienced personal injury attorney in Carbondale can fully investigate to assess potential liability.
Contact a Carbondale Bus Accident Law Firm Today to Learn More in a Free Case Evaluation
When you find yourself dealing with multiple insurance companies and opposing parties, you don't want to go it alone. Our legal team is prepared to use our significant resources and experience to fight for your right to recover full and fair compensatory damages.
You shouldn't have to worry about anything else while trying to get better. If you hire us, we'll work hard to build a strong case for liability and clear the obstacles that are stopping you from getting the settlement you deserve.
We never settle for mediocre results; rather, we strive for the maximum compensation possible. For a no-cost consultation about your legal options, contact us today. Morelli Law is committed to fighting for your interests and needs from the very beginning until the case is resolved.