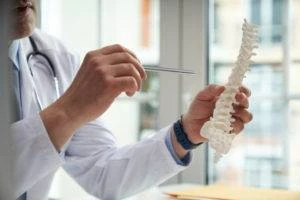 If you or a loved one suffered a spinal cord injury in an accident in Clifton, there might be many medical bills, and the future may seem uncertain. However, you may be able to recover compensation for the injuries and other damages, and Morelli Law Firm can help.
A Clifton spinal cord injury lawyer can evaluate your case at no charge. So, connect with our firm today or keep reading to learn more.
Common Types of Accidents That Cause Spinal Cord Injuries
A spinal cord injury can occur during many kinds of accidents, and the type of injury can vary. Our firm handles various types of accident claims and cases, including:
Car accidents
Slip and fall incidents
Motorcycle accidents
Bicycle accidents
Medical malpractice
Construction incidents
Truck accidents
Bus accidents
And others
You can reach out to us if you were involved in an accident we haven't mentioned. If you believe the accident was someone else's fault, a lawyer from our firm can help you.
Recoverable Damages in Your Spinal Cord Injury Claim
Spinal cord injuries can cause lifelong complications and medical bills, and you may be owed damages that can help relieve these problems. As a result, you'll be able to take care of yourself and your loved ones more easily. The types of damages you may be able to recover can include the following:
Medical Bills
You may be able to recover the costs involved in medical treatments and care related to your injuries and recovery. For example, you could be compensated for the costs of doctor visits, diagnostics, surgeries, rehabilitative care, and more.
Future Medical Care
Since spinal cord injuries can cause lifelong impairments, patients may require long-term treatment and care. However, these patients may qualify to recover the costs involved in future medical care, like at-home care or facility care.
Loss of Income
After the accident, you may have missed work or still be missing work. You may not even be able to work at all if your injuries are especially severe. In situations like these, you may be able to recover the loss of your income, including the loss of your future income.
Pain and Suffering
There are certain non-economic damages you may be able to recover. These damages can include the pain and suffering you endured or may still be enduring.
There may be other, similar types of damages you can recover. We can go over all the damages that may apply to you during a consultation. We will also explain how we can hold the liable party accountable for the costs involved with accident and injuries.
Understanding Liability in Spinal Cord Injury Cases
You must prove the other party's liability in personal injury claims. A party is liable when they had a responsibility to act reasonably but failed to do so, causing an accident, which led to damages. There are four distinct conditions in establishing liability.
Duty of care
Duty of care means a party has a responsibility to act in a manner that's both safe and reasonable. For example, a driver has a duty of care to follow traffic laws and use caution while driving through crosswalks.
Negligence
A party is negligent if they fail to act per their duty of care. For instance, if a driver was driving too fast and sped through a crosswalk, this is negligent behavior.
Causation
This term describes how a party's negligence caused another party's injuries. If a driver sped through a crosswalk and hit a crossing pedestrian, and this caused injuries, then causation can be established.
Damages
If a victim suffered any injuries because of an accident, and proof of the injuries can be provided, this establishes damages. Therefore, you will be entitled any damages established in your case.
How a Spinal Cord Injury Attorney from Our Firm Can Help You
A lawyer from our firm can help you obtain the compensation you need and deserve. They can prove your claim with a very persuasive argument and negotiate with the insurance company on your behalf to arrive at a fair settlement.
If necessary, your lawyer will represent you in court. Our law firm can speak with medical experts and other subject matter experts to substantiate your claim in court. Regardless of the situation, you can be confident your lawyer will fight for your needs and a favorable outcome.
With one of our lawyers represents you and takes care of your legal matters, you will be able to focus on your health and family-related matters. That is all you should have to deal with after a serious injury like a spine injury.
Learn More About Our Law Firm
On our attorneys' page, you can learn all about the attorneys in our office, and on our results page, you can read about the settlements and verdicts we have won for our clients. Then, of course, you can call our firm to learn more about how we can help you.
Deadlines in the New Jersey Statutes of Limitations Will Apply to Your Case
There is a filing deadline for spinal cord injury cases in Clifton, New Jersey. Depending on your case, one of the following statutes will determine your filing deadline:
The personal injury statute of limitations – This is generally two years, per NJ Rev Stat § 2A:14-2
The wrongful death statute of limitations – This is also generally two years from the date of death, per NJ Rev Stat § 2A:31-3
When you get a Clifton spinal cord injury lawyer from our firm right away, you allow us plenty of time to comply with the statute. You also allow us the opportunity to begin collecting evidence before it becomes obsolete.
Get Help from a Spinal Cord Injury Attorney in Clifton Today
Contact an attorney for spinal cord injuries to learn about your rights and legal options available. We can discuss your claim during a free consultation and answer any questions you have.
Call Morelli Law Firm today at (212) 751-9800 if you would like to learn more or set up that consultation with us.