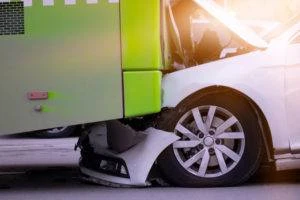 If you were hurt in a bus accident caused by another party's negligence, you may be able to recover compensation in a personal injury insurance claim or lawsuit. How much compensation you may be able to get for a bus accident claim depends on who was responsible for the accident and what type of damages you suffered.
Damages may include things like your medical bills, lost wages, and more. If you decide to work with a lawyer on your case, they can help you identify your damages and calculate their value. A lawyer can also help you collect evidence of the responsible party's liability and manage your insurance claim or personal injury lawsuit.
Potentially Recoverable Damages in a Bus Accident Case
The cost of being in a vehicle accident can add up quickly. Depending on the details of your accident and your injuries, the following damages may be recoverable in a bus accident case:
Medical expenses
Loss of income
Pain and suffering
Medical Expenses
Medical expenses can be any test, treatment, or doctor's visit you have relating to your injury. Your past, current, and future medical expenses may be included in a personal injury claim.
Property Damage
If you were driving in your own car when you were involved in a bus accident, your vehicle was likely damaged. You may be able to get compensation to repair or replace your vehicle. If you were on a bus when an accident occurred, you may be able to receive compensation for any possessions you had with you that were damaged or lost.
Loss of Income
You could be entitled to compensation if you missed hours at work while recovering from your injuries. If the accident forced you to change careers or switch to a lower-paying position at work, this loss may also be added to your claim.
Pain and Suffering
A bus accident can cause both physical and emotional trauma in a person. In some cases, pain and suffering may be recoverable damage.
These are only a few of the types of damages for which you may be able to recover compensation. Depending on the specifics of your case, you may receive money for a number of other losses. A lawyer can help you identify your damages and collect evidence of their value when they represent you.
Hiring a Lawyer Will Likely Lead to Greater Compensation
In most bus accident cases, those who hire legal representation end up in a far better financial situation than those who attempt to represent themselves.
Unlike most other types of lawyers, personal injury lawyers work on a contingency fee basis. That means that they only get paid if they win compensation for their clients. Their fee is then assessed as a pre-agreed-upon percentage of the payment secured for their client. Clients will never pay a single penny out of pocket.
Contingency fees give clients the confidence that their attorney will do everything in their power to ensure they win as much money as possible. The more the client wins, the more money their lawyer receives, so it is in everyone's best interest for the lawyer to fight for every dollar they can get.
Causes of Bus Accidents
Many people all around the country use buses as their main form of transportation. People use buses to get to and from school, work, and appointments. Just like with all other vehicles on the road, bus accidents can happen at any time.
Common causes of bus accidents include:
Speeding
Distracted drivers
Tired drivers
Traffic law violations
Speeding
A speeding bus may not be able to stop in time to avoid a collision. The increased force of a speeding bus can cause serious injuries to other drivers and bus passengers alike.
Distracted Drivers
If a bus driver is not entirely focused on the road, they could cause an accident. Common distractions include texting while driving, eating or drinking, passengers, or checking a GPS device.
Tired Drivers
The main goal of bus drivers is to get the passengers to where they are going safely. However, many bus drivers work long hours for days on end. If a bus driver becomes tired or drowsy behind the wheel, they can make a mistake that causes an accident.
Traffic Law Violations
If a bus driver violates a traffic law and causes an accident, they may be liable for the victims' resultant damages.
Comparative Negligence and the Value of a Claim
Collecting compensation for a bus accident may require proof that the responsible party's negligence caused your injuries. In addition, per New York Civil Practice Law & Rules (CVP) §1411, New York uses a comparative negligence system for personal injury cases. This system means that if you were partially at fault in the accident, your compensation may be reduced.
For example, if a judge decides that you were 25% at fault for an accident and that your damages are worth $40,000, your compensation may be reduced by 25%, to $30,000.
Comparative negligence can play a significant role in how much compensation you may be able to get for your bus accident injuries. A lawyer may be able to collect evidence of the full extent of the responsible party's liability when they represent you.
Statute of Limitations for Filing a Lawsuit
When pursuing compensation through a lawsuit, it is important to be aware of how much time you have to file. CVP §214 sets a general three-year statute of limitations on personal injury lawsuits in New York. However, you should note that under certain circumstances, the amount of time you have to file may be greatly reduced.
Even if you have the full three years, it is always best to get started as soon as possible. Delays can lead to evidence becoming lost or corrupted. Additionally, witness testimony becomes far less valuable the further removed it is from the time of the accident.
Call Morelli Law Firm Today
If you were hurt in a bus accident, Morelli Law Firm may be able to help you fight for compensation. We represent clients throughout the states of New York and New Jersey, as well as in Philadelphia, Pennsylvania.
For a free case review with a member of our team, call Morelli Law Firm today at (212) 751-9800. We encourage you to contact us as soon as possible after your accident so that we can ensure that your claim is filed on time.