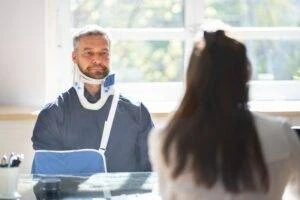 Putting the pieces of your life back together following a bus accident can be challenging. The injuries sustained in these accidents are often severe, and recovering compensation from the liable party can be critical. Fortunately, an experienced Chesterfield bus accident lawyer can help you pursue the money you need from the at-fault party.
At the Morelli Law Firm, we have helped countless bus accident victims recover the compensation they need to get their lives back on track. Our team of experienced Chesterfield personal injury lawyers can help identify what damages you are eligible to claim and get you the money you need. Contact us today to schedule a free initial consultation.
Damages Your Bus Accident Attorney in Chesterfield Can Help You Recover After a Collision
Anyone who suffers damages has the right to pursue compensation following a bus crash. The specific details of your case will determine the damages you are eligible to recover. However, due to the fact that catastrophic injuries are common in these types of accidents, the likelihood of recovering significant compensation is high.
If you were an occupant of another involved vehicle or a pedestrian who was hit by a bus, you will likely be facing severe injuries due to the size and weight of these vehicles. Meanwhile, if injured as a passenger, your damages could be serious due to the lack of seatbelts and the high frequency of rollovers.
Identifying all the damages that apply in your case is vital for securing the full amount to which you are entitled. Beyond the various compensatory damages that will likely apply, the details of your case may also qualify you to pursue punitive damages.
Economic Damages
All the losses resulting from your accident that directly impact your financial situation are classified as economic damages. Economic damages cover not only any money you were forced to spend as a result of your injuries but also any income your accident prevented you from earning.
Some of the economic damages most commonly recovered following bus accidents include:
Property damage

Lost wages

Decreased ability to earn income

Medical bills

Future medical expenses
Non-Economic Damages
Any other loss resulting from your bus accident belongs in the broad category of non-economic damages. Although these damages don't directly impact your finances, their effect on your life is typically far more profound. The majority of non-economic damages are incredibly personal and can not be replaced.
Because these damages tend to be significant, the money awarded for these losses often makes up the largest portion of the settlement or court-ordered payout. Some of the non-economic damages most commonly recovered following bus accidents include:
Mental anguish

Permanent disability

Lowered quality of life

Emotional distress

Loss of consortium
Punitive Damages
Punitive damages differ significantly from the compensatory damages reviewed above. Rather than compensating an accident victim for the losses they incurred, these damages are meant to serve as a form of punishment for the at-fault party.
Punitive damages are reserved for extreme cases where the liable party acted with the intent of causing harm or was grossly negligent.
Be Careful Not to Miss the Filing Deadline When Pursuing a Bus Accident Lawsuit
When working to recover compensation through a bus accident lawsuit, you need to pay attention to the filing deadline. In Missouri, the personal injury statute of limitations is five years. While this may seem like plenty of time, it can pass quickly, and if the filing window closes, you will likely be barred from recovering compensation.
However, even if five years have passed since your accident, you should still contact an experienced bus accident attorney serving Chesterfield. There is always the possibility that the details of your case will provide you with an option for filing a lawsuit outside the typical five-year window.
On the other hand, you may think you still have plenty of time to take legal action but find that the filing deadline in your case is much closer than you think. For example, if you're filing a claim against the government after a city bus accident, you will likely only have a few months to file. Hiring an attorney soon after a crash can help protect against an unexpected deadline.
Taking a Settlement Vs. Going to Court
The majority of bus accident cases are resolved through out-of-court settlements. Settlements tend to be in the best interest of all parties involved for several reasons, including the fact that they enable both parties to avoid putting their fate in the hands of an unpredictable jury.
In addition, taking a settlement deal will mean that the accident victim will recover the money they need more quickly than through a trial, while the defendant won't have to worry about potential media coverage that could come with a court case.
Although most bus accident cases settle out of court, you should still prepare as though your case is going to trial. Being prepared for court will give you more leverage during settlement negotiations and will ensure that you are ready in case you are unable to come to terms on a settlement deal.
Start Working With an Experienced Chesterfield Bus Accident Lawyer Today
Hiring an experienced bus accident attorney serving Chesterfield is the best way to ensure you recover the money you need and deserve after an accident. At the Morelli Law Firm, we have a proven track record of winning big for our clients both in and out of court.
Contact us today by using our chat tool, completing our contact form, or giving us a call to schedule your free case evaluation.