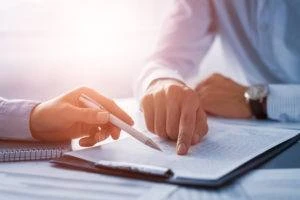 Sometimes, a business needs help to handle a legal dispute. Commercial litigation lawyers help business owners handle these situations. Whether the disagreement is with an employee, another business, or a vendor, our Clifton commercial litigation attorneys can help you.
By reaching out to Morelli Law Firm early, we can help you stop the dispute before it becomes a lawsuit. We can also give you counsel on how to protect your business from legal threats and defend you in court should you get sued.
Even Small Businesses Need Lawyers
From learning how to structure their business to dealing with commercial disputes, businesses of any size may need the help of a commercial litigation lawyer. In fact, consulting with one before you get into a disagreement can protect your business.
A simple example is going over your contracts. Our team can find flaws in your contracts, like missing pieces or poorly worded clauses, that could expose your business to liability. By fixing these, you'll be on better legal footing should you get sued later.
Remember, contracts hold the major rules of business. If you have a bad contract, you could be stuck with the terms. Our firm has helped many businesses in Clifton get their business affairs in order before and during disputes.
Putting Your Commercial Interests First
We focus on commercial litigation for the businesses in our practice area. The types of litigation a business can face are many, including:
Privacy and data security complaints
Intellectual property concerns
Civil rights cases
Product and warranty liability
Consumer and anti-trust litigation
Mass torts
Environmental lawsuits
If you're entering a tricky situation where you could face one of these, we can give you knowledge of the applicable laws and regulations you'll need to watch for. Should someone threaten you with a lawsuit, we can help you defend against the allegations.
Our commercial litigation lawyers in Clifton can also act as your business representative. We can help you negotiate claims involving things like debt collection, fraud claims, forming and dissolving partnerships, dealing with employment issues, and more. Speak to our team to see what we can do for you.
Guiding You Through Commercial Disputes and Litigation
Whenever there is a business dispute, you need a guide. Saying or agreeing to the wrong thing could put you in an unfavorable position, or even a criminal one. The commercial litigation lawyers at our firm will be your guide.
If someone fails to keep up their end of a contract, you have the right to sue them for breach of contract and get compensation. Doing it on your own will pull you away from your business operations. Instead, let us handle the legal matters while you keep your attention on your business. If your case is valid and likely to be recoverable, we will seek full compensation.
We can also help you construct non-competition and non-solicitation covenants to protect your client information from the hands of competitors, including your employees that go independent. If they misappropriate trade secrets as well, we can go after them for damages.
We Can Help You Avoid Going to Court
In many business disputes, neither party wants the case to go to trial. Trials take a long time and can be quite expensive. By the time you win, your business might be out of business. Thus, seeking a remedy outside of court will be the first option from our lawyers. We can represent you in these negotiations.
If you have already received a lawsuit letter, the circumstances are different. You may need to fight as hard as you can to keep your business. We are not afraid to go into the courtroom to protect your rights and business interests.
Paying for a Commercial Litigation Attorney in Clifton
Should you have a situation where you need to pursue damages through litigation, our Clifton commercial litigation attorneys can work on a contingency-fee basis. This means that you do not have to pay us unless you win your case. If you win, we will take a percentage of the final earnings.
However, the fee structure differs when we are called upon to defend your commercial case in Clifton. We can discuss the specifics of that in more detail during a consultation.
Keep Your Business Secure With Morelli Law
Commercial litigation cases can become complex quickly. Turn to one of our Clifton commercial litigation lawyers to take control of the situation. We can give you the representation you deserve in your dispute.
Speak with us so that we can guide you through your legal challenges and protect your business. Call Morelli Law Firm or reach out to us online for a free case evaluation.