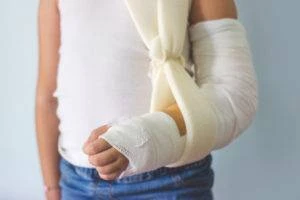 When a child is injured, the whole family is injured. No amount of money can relieve the family's struggling and suffering, but some relief can come from knowing the at-fault party is held accountable.
Furthermore, a personal injury settlement or jury award can cover the economic costs involved, including medical expenses and even a parent's diminished earning potential. A Clifton child injury lawyer from Morelli Law Firm can represent you and your child in your pursuit of compensation.
Compensation in a Child Injury Claim
In New Jersey, if a child suffers an injury due to another party's negligence, the child themself may be able to receive compensation for such damages like pain and suffering, permanent injury, disability, disfigurement, and emotional distress.
Additionally, the injured minor's parents have the right to recover economic damages such as medical or care expenses. These expenses can include future medical and care costs. You may also have a diminished earning capacity due to caring for your child in the future, and there may be other damages to consider also.
How a Child Injury Attorney Can Help You in Clifton
We can quantify the damages you and your child are due. Then, if necessary, we can bring in experts to report on the nature and extent of the damages.
Even though a minor has the right to recover damages due to them, the minor cannot represent themselves and negotiate a settlement. Also, a parent may find it difficult to represent their child alone. Our law firm can step in and represent your child and your best interests. In doing so, we will:
Investigate the nature of your child's accident
Evaluate the extent of your child's injuries
Calculate your child's damages and your damages
Present your damages to the other party's insurer
Negotiate a settlement or, if necessary, represent you in civil court
We Will Communicate with the Insurance Company
Our firm can handle the insurance company for you. Since the company is in the business of selling policies, not paying claims, they don't have your best interests in mind. They also have the motive and the means to deny your claim, undervalue it or delay it. Also, the company will use whatever you tell them against you in your effort to recover compensation. Let our firm handle communications with the insurance company for you.
We Can Help with Wrongful Death Cases
If a child dies from injuries caused by someone else's negligence, a parent has the right to pursue a wrongful death lawsuit. The lawsuit can compensate the family for burial or cremation costs, funeral expenses, and the loss of love and companionship.
The compensation could not possibly absorb the pain of the loss of your child, but it can help to cover certain economic and other costs. It can also help to provide a sense of justice and closure.
Establishing Liability in Your Child Injury Claim
In New Jersey, for a personal injury claim to be successful, there must be proof that the other party was negligent and that this negligence caused another person's injuries. One of our firm's child injury attorneys can construct a case that will satisfy each of the four elements of liability in your claim.
Duty of Care Must Be Established First
It's essential to establish that the other party owed your child a responsibility to act in a way that would keep your child free from harm. For example, a school owes schoolchildren the responsibility of keeping them safe from hazardous areas in the building where construction work is being completed.
Breach of Duty Must Also Be Established
The other party must have violated their responsibility and duty of care. For instance, if a school teacher lets a student walk into a hazardous building area, this is a breach of duty.
Causation Is Established Next
The other party's breach of duty must have caused a child to suffer injuries. An example could be a student walking into a hazardous school area, slipping on a spill, and sustaining a physical injury.
Finally, Damages Must Be Established
A child's injury must have resulted in physical, emotional, and financial losses, like medical bills or the need for ongoing care.
Gathering Evidence to Prove Your Child's Injury Case
One of our lawyers for child injuries will document your version of the events leading to your child's injury. The details you recall will help us construct our arguments regarding duty, breach, and causation.
Your attorney will investigate to uncover evidence to support your claim, by:
Obtaining the police or accident report
Obtaining any camera footage of the incident or student footage
Interviewing any witnesses who saw the incident
Working with specialists in accident reconstruction, if necessary
Collaborating with medical experts, if necessary
There Are Deadlines to File Your Claim in Clifton, New Jersey
Many personal injury cases in New Jersey never go to trial. Instead, both parties settle during negotiations. However, sometimes a lawsuit is necessary, which may be necessary in your case.
Lawsuits are subject to statutes of limitations, so there may be a deadline for filing a lawsuit in your case. Parents have two years from the date of the alleged incident in which to file a lawsuit against another party, per NJ Rev Stat § 2A:14-2.
For wrongful death lawsuits, parents also have two years from the date of the child's death in which to sue, per NJ Rev Stat § 2A:31-3.
Contact Morelli Law Firm to Request a Case Evaluation Today
By immediately contacting our law firm, you allow us to meet the statute that applies in your case. You also provide us the opportunity to start collecting evidence right away before it expires. Some sources of evidence, like a student's cell phone recordings, may be deleted soon, and other sources may not be available much longer.
Call us today at (212) 751-9800 for a consultation. We can discuss the options available to you and provide a case evaluation of your claim. This consultation will be completely free, so you have nothing to lose.