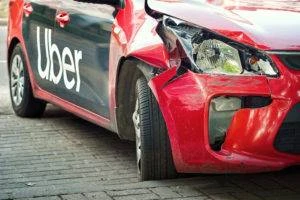 Car accidents occur far too often and can result in devastating injuries. Recovering fair compensation for your damages can be essential to getting your life back on track after an accident. Unfortunately, recouping your costs can often be challenging. This difficult task usually becomes even more difficult if a rideshare driver was responsible for the accident.
Ridesharing is still a relatively new form of transportation, and the laws are still catching up with the changes it has brought to the way people get around. At the Morelli Law Firm, our team keeps up to the minute on changing legislation and how it can affect an accident case. Give us a call or fill out our contact form to schedule a free consultation with a rideshare accident lawyer in Clifton.
When Does the Rideshare Company's Insurance Kick In?
Drivers for rideshare companies like Uber and Lyft are not technically considered employees. Instead, their official designation is independent contractors. This means that the companies are not required to provide them with the same benefits that they must extend to their employees.
That means that these companies do not provide their drivers with health insurance or paid leave. Additionally, the accident insurance provided by the company is limited, and drivers are required to carry their own insurance as well when driving for the company.
The extent of the insurance coverage provided by the company varies depending on the driver's status at the time of the accident.
Maximum Coverage
When a rideshare driver is operating their vehicle with the app turned on, there is some level of coverage from the rideshare company. If they are on their way to pick up a rider, or if they have a rider in their vehicle, then full coverage kicks in. Both Uber and Lyft carry a million-dollar policy for these situations. Some states require a higher level of coverage from these companies.
Minimum Coverage
When the rideshare driver is logged into the app and is waiting for a ride request, the minimum coverage level kicks in. In these situations, both Uber and Lyft offer:
$50,000 per person for bodily injuries
$100,000 per accident for bodily injuries
$25,000 per accident for property damage
No Coverage
When a rideshare driver is operating their vehicle with the app turned off, there is no coverage from the rideshare company. In these cases, the driver is no different from any other passenger vehicle driver, and their own insurance is the only coverage that applies in an accident.
The Statute of Limitations for Filing a Rideshare Accident Lawsuit in New Jersey
Beyond determining who is liable for paying your damages, it is also important to be aware of how long you have to take action after an accident. In New Jersey, the statute of limitations for filing a personal injury lawsuit is generally two years from the date of the accident. However, there are special circumstances that could drastically shrink the window for filing.
Hiring a Clifton rideshare accident lawyer as soon as possible after a collision is the best way to ensure that you don't miss out on your chance at compensation. An experienced attorney will be able to identify if any conditions affect the statute of limitations and can make sure all paperwork gets filed on time.
Hiring an attorney early will also give them a better chance of building a strong case in your favor. The closer to the time of the accident, the more likely it is that your attorney will be able to recover useful evidence to support your claim. Additionally, they will be able to interview witnesses and record depositions while their memories of the event are still fresh.
Recovering Damages After a Rideshare Accident
Accidents that result in serious injuries can leave victims facing significant expenses. Many accident victims are unaware of all of the damages they are eligible to claim. Attempting to calculate the full value of a claim is nearly impossible if you do not have some level of experience assessing the long-term costs of an injury.
Fortunately, an experienced Clifton rideshare accident attorney can take care of everything for you. They can identify all the damages that apply to your case and calculate how much the accident is likely to cost you in the long run. They can then fight to get you the money you need to cover these damages.
Common damages after a rideshare accident include:
Medical expenses
Future medical costs
Property damage
Lost wages
Lowered earning capacity
Diminished quality of life
Permanent disability
Pain and suffering
Mental anguish
Loss of companionship
The above list covers many of the most common damages, but it is far from exhaustive. There are many other less common damages that may apply to your specific situation. Your lawyer should be able to identify all for which you qualify.
Finding the Right Rideshare Accident Lawyer in Clifton for You
There are many things to consider when hiring a personal injury lawyer. However, two of the most important are their history with cases similar to yours and your personal comfort level with the attorney in question. Hiring a lawyer with a record of winning fair compensation for accident victims in situations like yours means they will likely be able to do the same in your case.
Additionally, hiring an attorney that you feel you can trust will make the whole process a lot easier. If you are comfortable with the choice you have made, you can focus your attention on recovering from your injuries, feeling confident that your legal situation is in good hands.
Contact Our Rideshare Accident Attorneys in Clifton Today
At the Morelli Law Firm, we offer free consultations to accident victims with no obligation to retain our services. That means that we will review your case and offer you advice as well as answer any questions you may have risk-free. If at the end of your consultation you feel like it is a good fit, you can retain our services and we will get to work immediately.
Give us a call or fill out our online contact form to get started today.