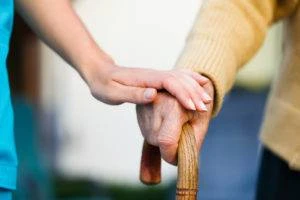 Residents at nursing homes can be vulnerable to abuse, as they may rely on staff to take care of their medical, physical, and personal needs. While some nursing home abuse is the result of understaffed facilities, negligence, or malicious behavior can also occur.
If you believe that your loved one has suffered abuse at their Albany nursing home, contact Morelli Law Firm. An Albany nursing home abuse lawyer from our firm may be able to investigate your case and bring a lawsuit against the responsible party.
Call Morelli Law Firm for a free case evaluation at (212) 751-9800.
How Morelli Law Firm Can Help You
If your loved one was the victim of elder abuse, an Albany nursing home abuse lawyer from Morelli Law Firm can:
Help you report the facility to the New York State Department of Health
Handle all communications, paperwork, and deadlines in your case
Review past complaints against the facility and its staff
Gather evidence to defend your allegations
File a personal injury claim against the nursing home
Negotiate a settlement with the facility
Take your case to trial if they are not willing to make you a fair settlement offer
To learn more about our legal services, call Morelli Law Firm today.
Types of Nursing Home Abuse
Nursing home abuse occurs when a nursing home resident is the victim of physical, emotional, or financial abuse. It can also be the result of neglect.
Physical Abuse
Physical abuse that occurs at nursing homes can involve staff members assaulting residents, which can leave visible marks such as bruises. Nursing homes must ensure their staff is supporting your loved one and treating them with respect.
Verbal Abuse
Verbal comments that are dehumanizing, threatening, or offensive are considered forms of verbal or emotional abuse.
Financial Abuse
Another form of nursing home abuse involves financial fraud. Financial abuse can involve extortion or scams, or unauthorized use of credit or debit cards. Residents at nursing homes may have ailments that limit their independence, such as mobility restrictions or language limitations. Residents with neurological and cognitive issues, such as dementia, may be targeted for financial abuse.
Neglect
Neglect can be just as damaging as physical abuse, as bedsores can lead to medical problems. If your loved one needs medications, staff failing to administer them properly can cause your loved one's medical condition to decline.
If your loved one has been abused in their nursing home, or if you suspect abuse may have occurred, call Morelli Law Firm today at (212) 751-9800 for a free case evaluation with a member of our team.
Signs of Nursing Home Abuse
Even if you visit your loved one regularly, signs of nursing home abuse can be concealed. Depending on the situation, your loved one may be scared or unable to share their concerns with you.
Signs that your loved one is being abused in their nursing home may include:
Cuts, scrapes, or bruises on their body
Bedsores or other physical injuries
Unexplained weight loss
A messy appearance
Loss of enjoyment in activities
Reports of verbal abuse
If your loved one is in a nursing home, it is important to treat any signs or allegations of abuse seriously.
Liability for Nursing Home Abuse
Elder abuse claims that involve care rendered at nursing homes can create individual and third-party liability.
The nursing home is responsible for monitoring their employees. If residents complain about a staff member failing to provide proper care, and the nursing home refuses to correct the behavior, they may be liable for their negligence.
Nursing homes must train their staff and ensure that their licenses are current. If a staff member is working in a field that requires a license and their license expires, it can demonstrate the facility is improperly caring for residents.
If a staff member has a history of abusing patients from a prior position, the nursing home may be liable for negligent hiring practices.
In some cases, a third-party may be liable for nursing home abuse, such as a nursing home visitor or another resident.
An Albany nursing home abuse lawyer from Morelli Law Firm can investigate your case to determine who is liable for your loved one's injuries. We are willing to pursue any and all parties who are liable for injuring your loved one when we represent you.
Damages in a Nursing Home Abuse Case
New York does not cap the amount of damages you can recover in a personal injury claim. The following damages may be available in a nursing home abuse case:
Medical bills
Pain and suffering
Loss of enjoyment
Mental anguish
And more
If elder abuse causes your loved one to suffer anxiety, trauma, or depression, it can lead to a diminished quality of life. Physical abuse that results in permanent injuries can restrict the activities you engage in.
Juries may consider how the abuse impacts the victim's past, present, and future when awarding non-economic damages.
Statutes of Limitation in Nursing Home Abuse Cases
New York requires most personal injury claims to be filed within three years, per CVP §214. There could be some circumstances in your case that effect this deadline.
If this statute of limitations expires before you take legal action, it could prevent you from recovering compensation via a lawsuit.
Morelli Law Firm can discuss what specific deadlines pertain to your case when you call our firm for a case evaluation.
Call Morelli Law Firm Today
If your loved one was abused in their nursing home, an Albany nursing home abuse lawyer from Morelli Law Firm may be able to help your family recover compensation from the responsible parties.
To schedule a free case evaluation, call Morelli Law Firm today at (212) 751-9800.