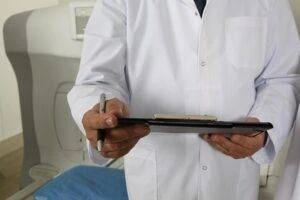 The immediate and most pressing question every client has when they come to a medical practice attorney is "do I have a case?" The answer is not always "yes," but if you do have a case, our attorneys will help you bring it to court. What is required to begin a medical malpractice case? Setting aside the most obvious (damages you have sustained), there are many things that you will need to bring your case to court. Our attorneys are highly experienced and can help you with even the smallest details of your case, from research to expert witness testimony, and more.
If you or a loved one has been injured, made sick, or had a condition worsened because of the actions of a doctor or team of doctors, you have the minimal basis for a medical malpractice case. However, there are a few other key pieces that you'll need to prove your case.
A Doctor-Patient Relationship
When a physician enters into a relationship with the patient, they legally owe that patient what is known as a duty of care. This duty of care comes with standards that need to be met based on your specific medical situation. The first thing that needs to be proven in your case is that you had a relationship with your physician and they owed you a duty of care that is normally accepted by the medical community based on the conditions you are suffering from. Proving this in court can rely on expert testimony from medical professionals in the same field as the defendant, who can testify about the details of the standard of care in that particular medical field.
Our attorneys can help source expert witnesses for your case that can testify on behalf of what the standard of care is in regard to patients just like you.
Are You Within the Statute of Limitations?
The statute of limitations for medical malpractice cases in New York is two years and six months (30 months) from the date of the alleged malpractice or from the end of the continuous treatment. If you have a child who was a minor at the time of the alleged malpractice, you have until three years after they turn 18 years of age. However, the date of the negligent actions must have been committed within the last 10 years.
If you are uncertain about the dates in your case and whether they meet the statute of limitations, our attorneys can assist you to determine if they fall within the legal range of action.
Establishing a Deviation from the Standard of Care
Once it has been established that you had an official relationship with the physicians caring for you, it's essential to show that the treating physicians failed to meet the standard of care. This typically involves demonstrating how a reasonable and competent physician would have acted in the same circumstances, then showing that the treating physicians deviated from that set standard. This could be the result of negligence, recklessness, or general disregard for your safety and wellbeing.
Some examples of medical malpractice cases include:
Misdiagnosis or delayed diagnosis of a medical condition.

Surgical errors, such as wrong-site surgery or leaving foreign objects in the patient's body.

Medication errors, including prescribing the wrong medication or incorrect dosage.

Anesthesia errors, such as administering too much or too little anesthesia.

Birth injuries, which can occur during childbirth or pregnancy due to medical negligence.

Infections acquired in a healthcare facility due to poor hygiene or sanitation.

Failure to obtain informed consent from the patient before a procedure.

Negligent post-operative care, leading to complications or infections.

Failure to monitor a patient's condition properly.

Inadequate communication among healthcare providers, leading to errors in patient care.

Neglecting to provide appropriate follow-up care.

Failure to order necessary tests or imaging studies.

Inadequate or negligent treatment of a medical condition.

Failure to recognize and respond to deteriorating patient conditions.
A direct link between the physician's actions (causation) must be shown with direct or circumstantial evidence. It can also be shown that, because the injury or outcome is so unexpected and unusual that it would not have occurred in the absence of negligence (this is a common law doctrine known as res ispa loquitor, which is often used in medical cases where direct evidence is not available).
Damages Must Have Been Sustained
Once it has been demonstrated that there was a deviation from the standard of care , it must be shown that you have suffered some form of damage as the result of the physician's negligence or actions. These damages can include:
Physical harm or wrongful death

Worsening medical conditions

Emotional distress

A reduced quality of life or loss of enjoyment

Additional medical costs

Long-term medical care

Loss of wages

Disability or impairment

New or worsening psychological issues

Rehab or therapy

Loss of consortium

Permanent scarring
Building a Strong Medical Malpractice Case for You
At Morelli Law, we have worked with victims of medical malpractice, helping them build strong cases that result in definitive judgments or favorable settlements. We are more than a strong presence in court; we help our clients with every single aspect of building their cases. From gathering evidence to expert testimonies, representation in negotiations, and evidence assessment, we are with you from start to finish. If you have a solid medical malpractice case, you can rest assured that we will represent you with aggression while treating you and your family with compassion. We are here to help.
If you or a loved one has suffered due to some sort of medical mistake, get in touch with Morelli Law today to find out if you have a medical malpractice case.