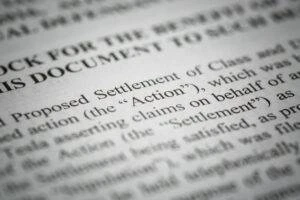 Holding a large corporation accountable for its actions can seem impossible. However, if you and a group of people start a class action lawsuit, you have a much higher chance of winning. Our Chesterfield class action lawyers can help you build your case.
Our personal injury lawyers in Chesterfield can help you hold the liable parties accountable for the damage they've done. At Morelli Law Firm, we have over 25 years of experience fighting for people who have been injured.
What Is a Class Action Lawsuit?
A class action lawsuit allows for a large group of similarly harmed or injured people to pursue legal action collectively against a defendant. Rather than requiring thousands of separate lawsuits, a class action enables one or more representative plaintiffs to file a single case on behalf of all affected individuals. This greatly improves efficiency within the court system.
Ultimately, class actions aim to enable access to justice, facilitate cost-sharing among plaintiffs, and ensure defendants are held accountable when widespread wrongdoing occurs.
For example, Elon Musk's attempt to make Tesla a private company resulted in a class action lawsuit between Musk and shareholders of Tesla stock. The case argued that Musk tried to artificially inflate the stocks, which would make shareholders lose profits.
Different Types of Class Action Lawsuits
There are several types of class action lawsuits you can start or join if you've been affected by a negligent party's actions. Some of the most common types of class action lawsuits include:
Antitrust suits allege anti-competitive business practices that violate antitrust laws.
Consumer class action lawsuits claim harm from fraudulent, deceptive, or unfair business conduct against consumers.
Data breaches involve class actions filed after a company suffers a data breach that compromises customers' private information.
Environmental harm cases are filed on behalf of people affected by pollution or other environmental damage.
Personal injury class actions involve numerous people who sustained similar physical or emotional injuries from a negligent party.
Product liability class actions claim defective products caused injuries or financial losses for groups of customers.
Workers' rights class actions address the denial of wages, benefits, or other workplace rights for employees.
Steps of Building a Successful Class Action Lawsuit in Chesterfield
Representative plaintiffs must carefully follow the necessary steps to build a strong class action case. A Chesterfield class action lawyer can provide invaluable guidance at each phase of the process, which includes:
Identifying the Class
The first step involves carefully defining the class of people the defendant allegedly harmed. Representatives and our Chesterfield class action attorneys determine common issues of fact and law, uniting class members' claims. We also research to estimate the likely size and scope of the affected group.
As a representative plaintiff, you work with our team to ensure all criteria for class certification are met. The harm the people have suffered as a whole must be similar and cannot have damages that are too broad to specify.
Selecting Representative Plaintiffs
Ideally, representatives closely resemble average class members and have no prior personal involvement with the defendant. Our class action lawyers in Chesterfield will vet representatives' backgrounds and reliability to avoid conflicts.
If you are a representative plaintiff, you must be willing and able to guide major strategic decisions, sit for depositions, and actively represent the class's best interests throughout the litigation. Good communication and trust between representatives and our attorneys are vital.
Filing the Class Action Complaint
The complaint clearly defines the class and identifies representatives. It outlines the harms you and other members of the class experienced, relevant laws allegedly violated, and remedies sought on behalf of the class.
Our team will identify strong evidence to support the substantive legal claims actively. Motions plan to counter expected defense challenges and strategically move the case toward certification.
Achieving Class Certification
Court certification is essential for proceedings. A variety of experts may analyze common issues and injury size and scope to determine the certification.
Persuasive legal arguments illustrate how the proposed class meets certification requirements. Denial allows individual continuation; certification permits proceeding as a class action.
How Is a Class Action Settlement Divided Between People?
When negotiating a class action settlement, an experienced class action attorney ensures a fair process is established for dividing funds among class members. Our class action attorneys in Chesterfield at Morelli Law Firm will guide you through the settlement process steps:
Court Approval of the Overall Settlement
The first step is gaining court approval of the overall class action settlement. This ensures the settlement is fair, reasonable, and in the best interests of the entire class. We will file formal motions detailing the extensive negotiation process and how the proposed terms adequately compensate class members.
The defendant also provides information supporting the settlement's merits. After reviewing submitted materials and arguments from both sides, the judge will determine if court approval is warranted to allow the settlement distribution process to commence.
Development of the Distribution Plan
Once approved, the attorneys and defendants work collaboratively to create a comprehensive settlement distribution plan. We will outline the various categories of harm experienced, such as physical injury levels or financial losses.
Eligibility requirements are also established, confirming class membership. The parties then determine equitable allocation formulas that will guide how funds are divided amongst qualifying claimants. The resulting plan aims to justly repay each class member commensurate with their circumstances based on the harms alleged in the initial complaint.
Submission and Review of Claims
As a class member, you may need to submit a claim packet providing documentation of injuries and receipts. Claims administrators are selected to oversee this process objectively. They design standardized claim forms for class members to complete with the required proof.
The administrators will review every claim. Through this evaluation, some claims may require supplemental evidence, while others are rejected for insufficient documentation or establishing ineligibility. Class members are notified of determinations and given chances to remedy issues to qualify for an award possibly.
Determining Individual Settlement Awards
Taking into account each approved claimant's circumstances and evidence of experiences, the administrators allocate settlement funds according to the court-approved distribution plan. Those with the most severe harms, like the worst injuries or highest financial losses, usually warrant larger individual payouts.
Standard awards are also distributed to all legitimately injured class members. The administrators perform complex calculations to ensure full and fair distribution of the total settlement amount among all validated claimants.
Reallocation of Remaining Funds
It is common for some portion of settlement funds to remain unclaimed after the initial disbursement process. This occurs when class members pass on submitting claims or cashing settlement checks.
The settlement plan outlines what happens next, which results in reallocating these surplus funds to already approved claimants for a secondary award or donation to a related cause. The court must vet and greenlight any final allocation to validly conclude the settlement distribution in its entirety.
Contact Us to Start Your Chesterfield Class Action Case Today
At Morelli Law Firm, our class action attorney in Chesterfield, is ready to help you get the compensation you need along with the other plaintiffs. Our law firm offers a free consultation so you can get a review of your case and determine whether you're eligible.
Contact us today to schedule a free consultation with us.