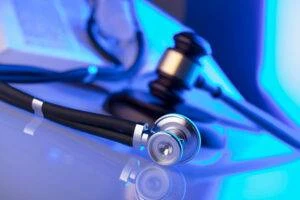 Experiencing medical malpractice is a harrowing ordeal. It can deeply affect not only the victim but also their family, making it crucial to have a dedicated Mt. Vernon personal injury lawyer by your side.
At Morelli Law, we're committed to helping you navigate this challenging time. Our team is here to assist, ensuring you get the compensation you deserve and helping you get your life back on track. This article will guide you through the intricacies of medical malpractice in Mt. Vernon, IL, and when it's time to get a Mt. Vernon medical malpractice lawyer.
Medical Malpractice in Mt. Vernon, IL
Medical malpractice occurs when a medical professional acts carelessly, either via deed or through omission, causing harm to a patient. This can include a doctor, nurse, or other healthcare worker. Errors in diagnosis, treatment, aftercare, or health management could be the cause of this neglect.
Some examples of common medical malpractice claims include:
Misdiagnosis or delayed diagnosis leading to worsened health conditions.

Surgical errors, such as operating on the wrong body part.

Medication mistakes, like administering the wrong drug or dosage.
The Impact of Medical Malpractice
Medical malpractice can lead to a range of severe health consequences. Some of these include:
Brain injuries:

These can result from errors during surgery or improper management of a patient's condition.

Birth injuries:

Mistakes during childbirth can lead to conditions like cerebral palsy or Erb's palsy.

Infections:

Unsterile conditions or equipment can introduce harmful bacteria into the body.
Beyond the physical toll, medical malpractice can also bring about significant financial burdens. Patients might face mounting medical bills for corrective treatments. Lost wages from time off work can strain family finances. Additionally, there might be long-term costs for rehabilitation or ongoing care.
How a Mt. Vernon Medical Malpractice Lawyer Can Assist You
There's a big difference between medical malpractice and negligence, and that's why a lawyer is important. When you bring your case to us, we're not just offering legal representation; we're providing a commitment to safeguard your rights and interests.
Case Evaluation
First and foremost, we initiate a comprehensive assessment of your case. This involves:
Meeting with you to discuss the details of the incident.

Consulting with medical professionals to gauge the extent of malpractice.

Analyzing the potential long-term implications of the injury or negligence. By doing this, we can determine the viability of your claim and chart the best course of action.
Evidence Collection
A strong case is built on solid evidence. To ensure we present the most compelling case possible, we:
Obtain and review all relevant medical records to pinpoint where the negligence occurred.

Interview witnesses, which can include medical staff, other patients, or anyone else who might provide insights into the incident.

Collaborate with medical experts who can testify on the specifics of the malpractice, providing a clearer picture of how the negligence directly impacted your health.

Document any physical evidence, like faulty equipment or medication, that might have played a role.
Negotiation & Litigation
Our goal is to get you the compensation you deserve without dragging you through a lengthy court process. To achieve this:
We engage with the opposing party, aiming to negotiate a settlement that adequately compensates for your suffering and losses.

If negotiations stall or the offer isn't satisfactory, we're fully equipped to escalate the matter to court.

In court, we'll present your case with clarity and conviction, ensuring the judge and jury grasp the full extent of the malpractice and its repercussions on your life. Throughout this journey, our attorneys remain steadfast in their dedication to securing the best possible outcome for you.
Potential Compensation for Medical Malpractice Victims
When you're a victim of medical malpractice, you may be entitled to various forms of compensation. These compensations aim to cover the damages you've endured due to the negligence of a healthcare professional.
Economic Compensation
Economic damages are tangible costs you've incurred. They include:
Medical bills, both past and future.

Lost wages from missed work.

Costs of rehabilitation or ongoing care.
Non-Economic Compensation
Non-economic damages cover intangible losses. These might encompass:
Pain and suffering due to the injury.

Emotional distress from the ordeal.

Loss of enjoyment of life.
Punitive Damages
In some cases, punitive damages are awarded. These aren't about compensating you. Instead, they aim to punish the negligent party and deter similar behavior in the future.
Illinois Statute of Limitations for Medical Malpractice Cases
Time is of the essence when considering a medical malpractice lawsuit in Illinois. The law sets specific time frames for filing such cases. In general, the statute of limitations on Illinois medical malpractice lawsuits is two years from the date of injury.
But there's a catch. If you discover your injury later on, you may have up to four years to file a lawsuit. However, waiting too long can jeopardize your chances of receiving compensation.
Why Hire a Mt. Vernon Medical Malpractice Lawyer
Facing the aftermath of medical malpractice is daunting. You're dealing with health issues, emotional stress, and financial burdens. So, why hire a Mt. Vernon Medical Malpractice Lawyer? Here's why:
We know the legal landscape.

Navigating the complexities of medical malpractice claims requires knowledge and experience.

We're your advocate.

Our attorneys will fight for your rights, ensuring you get the compensation you deserve.

We handle the heavy lifting.

From gathering evidence to negotiating with insurance companies, we've got your back.
Contact a Mt. Vernon Medical Malpractice Attorney Today
Medical malpractice can turn your world upside down. The emotional, physical, and financial toll can be overwhelming. But you don't have to face it alone. Immediate action is crucial, especially considering the time-sensitive nature of these cases.
Don't let the clock run out on your chance for justice and compensation. If you or a loved one has been a victim, contact us. At Morelli Law, we're here to help and guide you every step of the way.