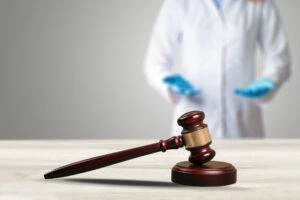 When medical malpractice happens, it's like a storm cloud settling over your life and the lives of your loved ones. The physical pain is just one layer; emotional trauma and financial stress pile up quickly. Plus, medical malpractice cases are complex, and you'll need a St. Louis personal injury lawyer to help you navigate them.
We're a law firm with a proven track record in medical malpractice cases. We're here to help you get the compensation you deserve and to help you find some sense of normalcy in your life again. The information in this article will help you know when to hire a St. Louis medical malpractice lawyer.
What Is Medical Malpractice?
Medical malpractice is a legal term that refers to professional negligence by a healthcare provider, leading to patient harm. Keep in mind that Missouri law treats medical malpractice and medical negligence as distinct issues.
While medical malpractice implies a level of intent or gross misconduct, medical negligence occurs when a healthcare provider fails to meet the standard of care but without malicious intent.
Common Examples of Medical Malpractice
Medical malpractice manifests in various ways. Here are some common examples of medical malpractice claims to paint a clearer picture:
Misdiagnosis:

A doctor wrongly identifies a patient's illness, leading to incorrect treatment and worsening the actual ailment.

Surgical Errors:

A surgeon leaves a piece of medical equipment inside a patient's body or operates on the wrong body part.

Medication Errors:

A nurse administers the wrong drug or the wrong dosage, causing adverse effects.

Birth Injuries:

A healthcare provider's oversight leads to injuries to a newborn or the mother during childbirth.
In St. Louis, these circumstances could lead to a prolonged hospital stay, unnecessary treatments, and astronomical medical bills. It's an awful chain of events that could have been avoided.
Navigating St. Louis Medical Malpractice Laws
Navigating through Missouri's medical malpractice laws can feel like a maze, but there are a few basics you should know about. A critical piece of legislation to know about is Missouri medical malpractice limits as laid out in Senate Bill 239, signed into law in 2015. This law sets caps on non-economic damages that a plaintiff can recover.
For "non-catastrophic" injuries, the initial cap was set at $400,000. For "catastrophic" injuries, it rose to $700,000. Another noteworthy point is Section 538.210.8, which outlines an annual 1.7% increase in these caps.
What's considered catastrophic? Missouri law defines it as quadriplegia, paraplegia, loss of two or more limbs, significant cognitive impairment, irreversible organ failure, or a significant loss of vision.
Statute of Limitations in St. Louis Medical Malpractice Cases
Time is not on your side if you've suffered from medical malpractice. In Missouri, the statute of limitations for these cases is two years. That means you have just two years from the date of the incident to file a lawsuit.
If you discover the malpractice later, the clock starts ticking from that discovery date. But there's a limit here too. You cannot file a lawsuit more than ten years after the date of the harmful act.
Why Hire a St. Louis Medical Malpractice Lawyer
You may think you can handle the process yourself. It's a risky gamble. Lawyers with experience in medical malpractice know how to fight for your rights. Our lawyers will guide you every step of the way. They help gather evidence, consult medical experts, and navigate the complex legal world. Plus, they know how to deal with insurance companies that don't want to pay up.
Think about what you're up against:
Medical records have to be examined.

Witnesses must be interviewed.

Legal documents need filing.
It's overwhelming. Hiring a skilled lawyer takes the burden off your shoulders. You can focus on your health and recovery. We will focus on getting you the compensation you deserve.
Evidence Needed for a Successful Case
Proof is crucial. In medical malpractice cases, you need to show that the healthcare provider was negligent. You'll need:
Medical records

Witness testimonies

Expert opinions
Collecting this evidence is no small feat. You'll need someone who knows what to look for and where to find it. Get your hands on the medical records that show the mistake. Find witnesses who were there and can back up your story. Use expert testimony to show how the healthcare provider failed to meet the standards.
Proving Fault
Finding evidence is one thing. Proving fault is another ball game. You must demonstrate that the healthcare provider's actions directly led to your injury. You have to show they failed to meet the standard of care.
That's where a sharp legal mind makes all the difference. A lawyer can pick apart the other side's arguments. Our team knows how to present a case in the best possible light. You're not just another file to us. You're a person in need, and we'll fight for you.
How to File a Lawsuit in St. Louis
Filing a lawsuit is more than just showing up at a courthouse with your evidence. There are legal procedures to follow. Forms must be filled out correctly and documents have to be filed in a timely manner. Make one mistake and you could lose your case before it even starts.
Knowing when and how to file is crucial. It involves several steps:
Pre-litigation investigation

Filing a petition

Serving the defendant
Contact a St. Louis Medical Malpractice Attorney Today
This is a serious situation, and it should be dealt with in a serious manner. You've read about the complexities, the tight deadlines, and the uphill battle to prove fault. If you've been a victim of medical malpractice, don't wait another day.
Time is ticking, and the sooner you act, the better your chances for justice and compensation. Our lawyers are ready to give you the help you need. Don't try to go it alone. Contact us. We're here for you.