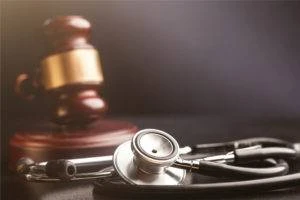 According to the National Center for Biotechnology Information (NCBI), the most common medical malpractice claims include:
Overlooked diagnosis
Diagnoses made too late
Incorrect diagnoses
Concealing patient information
Surgical errors and mishaps
Use of faulty medical equipment
Inaccurate or misinterpreted test results
Prescription and other medication errors
If you were a victim of medical malpractice, a lawyer in your area may be able to help you file an insurance claim or lawsuit for medical malpractice. They can help determine if someone's negligence led to the medical error that injured you or if other forms of malpractice came into play.
Do Not Wait to Seek Compensation for Your Current Medical Condition
Most civil lawsuits have a time limit on when you are still legally able to file. Plaintiffs must file their civil lawsuit on time if they want to pursue compensation. If you miss the filing deadline, you might not be able to compel financial compensation from the at-fault party, and the full financial burden of your injuries will become yours.
Complying with the state's statutory deadline means understanding it. The New York Civil Practice Law & Rules (CVP) §214-A generally gives you two years and six months from the date of your injury to seek compensation with a medical malpractice lawsuit. Depending on your injuries and how they occurred, it can be difficult to gauge the time limit.
Do not put your claim to financial compensation at risk because the timeline is difficult to determine. Your lawyer can help you understand the date that will determine the statute of limitations and ensure your lawsuit is filed on time.
Have You Been Injured In An Accident? Contact Morelli Law
877-751-9800
A Lawyer Can Advocate for You After a Medical Injury
The lawyer you choose to represent you in your pursuit of compensation may help you build a medical malpractice case against the at-fault party who is responsible for your injuries. Your lawyer may ask you for the following items to help build your case:
Medical records, medical bills, and proof of the income you lost and will lose
Name and location of every health care facility where you received care
Contact information for every health care provider involved in your care
Your initial and current diagnosis, treatment plan, and prognosis
Your lawyer may request additional documentation if necessary.
After receiving information about your case, your lawyer may determine the cause of your injuries and the financial impact of your damages on your life. Your lawyer and their legal team may do the following to reach these conclusions:
Consult medical experts to establish the accuracy of your current diagnosis and future prognosis
Interview hospital personnel and health care team members about the care you received
Review your medical records
Assign a value to your compensation claim
Negotiate with the at-fault party and their insurance provider
Regularly update you as your case progresses
The goal of a medical malpractice claim is to ensure the cost of your injuries is covered by the at-fault party. You may review your medical malpractice claim with your lawyer to calculate the financial value of your damages, including damages that might not immediately have a monetary value. Your lawyer may carefully review your list of damages so that nothing is overlooked when calculating the value of your claim.
You Might Be Entitled to These Recoverable Damages
When you seek medical care, you generally do not expect to feel worse after receiving it. If the medical care you received had a negative impact on your health, you might be entitled to collect compensation for your damages. These damages may include:
Past and future medical expenses
Loss of income, including income you expect to lose
Pain and suffering
Physical impairment
Physical disfigurement
Mental distress
Emotional trauma
Your lawyer may help you determine the range of your recoverable damages. Your lawyer may also consult other experts to confirm that you are not omitting any compensation you might be entitled to receive for your injuries. If the medical care you received was substandard or faulty due to negligence or intentional malice, our team wants to help you fight for justice and financial compensation.
Let Morelli Law Firm Lead Your Medical Malpractice Case
If you or someone you love was injured because of a medical mishap, you might be eligible to file a medical malpractice claim or lawsuit. Feel free to call our law firm to learn more about what the most common medical malpractice claims are and how you can file a claim for medical malpractice. You can contact our legal team at Morelli Law Firm by calling (212) 751-9800 today.