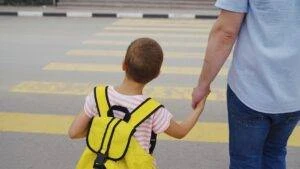 Pedestrians like you benefit from an elevated duty of care. Cars, trucks, buses, construction crews, and all other parties need to take extra care when interacting with you on the road. Parties that don't can put you in immediate danger. Fortunately, you can take legal action against the parties who choose not to prioritize your safety.
Morelli Law Firm and its pedestrian accident attorneys in Mount Vernon, New York, can help you address dangerous negligence in civil court. With our help, you can advocate for your right to a fair pedestrian accident settlement. Our team can always make an effort to prioritize your comfort in the wake of an accident.
You can contact our Mount Vernon personal injury lawyers today to book your first free case evaluation.
Your Right to Address a Pedestrian Accident
If you want to appropriately respond to a pedestrian accident, you need to determine what percentage of fault another party bears for your losses. You must prove that:
An offending party owed you a duty of care
That party engaged in preventable and unreasonable negligence
Said negligence resulted in your accident
You, a pedestrian, sustained economic losses due to that negligence
If you can make the aforementioned points, you may have the right to address your accident in one of two mediums: through an insurance provider or through New York's civil court system.
Taking Up a Complaint With an Insurance Provider
New York requires all of its drivers to maintain the state's minimum liability coverage if they're going to operate on state roads. Likewise, construction crews and other motorists must have insurance to protect them from accidents. If you get into a pedestrian accident with these parties, you may have the right to file a claim with their providers for support.
Unfortunately, you have to be careful when communicating with an insurance provider and its insurance claims adjusters. These parties have their own bottom lines in mind. They may attempt to preserve those bottom lines by undervaluing your pedestrian accident losses. Some providers may deny pedestrian accident claims outright.
There's good news, though. You can bring unjust denials or insufficient settlement offers to our team's attention. We, in turn, can step in and make sure that an insurance provider takes your pedestrian accident losses seriously.
Going to Civil Court With a Pedestrian Accident Claim
You can instigate a lawsuit against the party liable for your recent pedestrian accident by taking a personal injury claim to civil court. Your claim needs to outline the nature of your accident, what evidence you have of liability, and what damages you would like for your losses.
You need to bring a pedestrian accident claim forward well within New York's statute of limitations, as outlined in New York Civil Practice Law & Rules section 214. This statute of limitations limits your actionable time, or the amount of time in which you can investigate your losses, to three years.
Those three years can go by more quickly than you want them to, particularly if you're contending with severe injuries on top of your economic losses. No one's making you work on your claim alone, though. You can call on the professional services of Mount Vernon pedestrian accident attorneys to stay on top of your deadline.
Have You Been Injured In An Accident? Contact Morelli Law
877-751-9800
How to Fight For Fair Pedestrian Accident Compensation
If you want to fight for fair pedestrian accident compensation in civil court, make sure that you:
Meet New York's Burden of Proof
You have an obligation to bring forward enough evidence to prove that someone else's negligence resulted in your pedestrian accident. In other words, New York civil courts require you to meet the state's burden of proof if you want your case to move forward.
How can you gather the evidence you need to make your case, though? When in doubt, call on a Mount Vernon pedestrian accident lawyer. Our team can return to your accident scene to assess your circumstances and gather what physical debris might have been left behind. We can also work with Witnesses and nearby storefronts to bring forward video and photo evidence.
Most importantly, we can call on our vast professional network. We can pull expert Witnesses into your case, ensuring that parties like accident recreationists or medical professionals can comment on the nature of your losses. In doing so, we make it easier for you to meet the state's burden of proof.
Determine How You Want to Approach Your Case
You have a choice, after submitting your claim, to either go to trial or negotiate for a pedestrian accident settlement out of court. Neither process is better than the other, nor can you get more money out of one process than the other. Rather, the approach you take to your case should depend on your specific circumstances and wants.
You can work with an attorney ahead of time to weigh the pros and cons of each approach. If necessary, our team can even pivot between approaches on your behalf.
Calculate Your Possible Damages Ahead of Time
As mentioned, you have an obligation to meet New York's burden of proof If you want a civil case to move forward. You have to prove more than your right to a case, though. You also have to prove that you have accurately calculated the value of the damages you are demanding from a liable party.
The good news is that the evidence you use to prove liability can pull double duty. This evidence can also help you prove the value of your economic and non-economic pedestrian accident losses. These losses can oftentimes include your:
Pedestrian accident property damage
Emotional distress
Lost wages
Lost opportunities to pursue employment
Emergency medical care and long-term medical expenses
Mental anguish
Stress
If you are representing a party who died in a pedestrian accident, we can also help you demand damages based on the value of your loved one's wrongful death and funeral expenses.
Working With a Mount Vernon Pedestrian Accident Lawyer Can Make Your Recovery Easier
You don't have to try and tackle the aftermath of a pedestrian accident alone. Our pedestrian accident lawyers in Mount Vernon want to help you fight for the compensation you need to recover from your losses. Whether you want to take your case to court or negotiate for a settlement privately, our team is on your side.
Are you ready to learn more about the Civil process and your right to pedestrian accident compensation? You can contact our team today to book your free case evaluation. These case evaluations do not commit you to legal action. Instead, they let you get to know our team and let us better assess the circumstances that led to your accident.
Reach out to Morelli Law Firm today and get the representation you deserve.