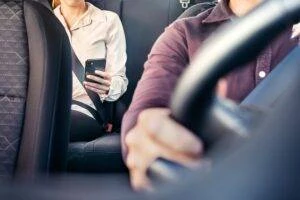 Rideshare services have become a popular mode of transportation in Mt. Vernon. However, accidents involving rideshare vehicles can result in serious injuries and complex legal issues.
This article explores the importance of hiring a dedicated Mt. Vernon rideshare accident lawyer with Morelli Law Firm to navigate the intricate web of rideshare regulations and maximize your compensation. By contacting a Mt. Vernon personal injury lawyer, you can protect your rights and secure the justice you deserve.
The Importance of Hiring a Mt. Vernon Lawyer for Your Case
The hiring of a Mt. Vernon rideshare accident lawyer is of utmost importance in ensuring legal protection and securing fair compensation for all parties involved.
Rideshare accidents can be complex, involving multiple parties and insurance companies. Without proper legal representation, victims may find themselves at a disadvantage when navigating the legal process and negotiating with insurance companies.
A skilled rideshare accident lawyer in Mt. Vernon has the expertise and experience to handle all aspects of the case, from gathering evidence to negotiating with insurance companies and representing clients in court if necessary. They can also help victims understand their rights and ensure they receive the compensation they deserve for their injuries, medical expenses, lost wages, and other damages.
Understanding Rideshare Regulations in Mt. Vernon
When operating within Mt. Vernon, it is crucial to understand the current rideshare regulations in place. Rideshare services have gotten much more popular in recent years because they provide a convenient and affordable transportation option for many residents and visitors.
However, to ensure the safety and well-being of passengers, as well as the fair treatment of drivers, the city of Mt. Vernon has implemented certain regulations for rideshare companies to follow. These regulations typically include requirements for driver background checks, vehicle inspections, insurance coverage, and licensing fees.
It is important for both rideshare drivers and passengers to familiarize themselves with these regulations to ensure compliance and to protect their rights in the event of a car accident or dispute.
Common Causes of Rideshare Accidents in Mt. Vernon
Although rideshare accidents in Mt. Vernon can occur due to various factors, there are certain common causes that are frequently observed.
Distracted driving: Rideshare drivers often have to navigate through unfamiliar streets while simultaneously managing their GPS devices and interacting with passengers. This can lead to distractions and a lack of focus on the road,

increasing the risk of accidents

.

Fatigue: Rideshare drivers often work long hours to maximize their earnings, leading to exhaustion and impaired judgment.
Aggressive driving: Driving behaviors such as speeding, tailgating, and abrupt lane changes are also prevalent causes of rideshare accidents in Mt. Vernon. These behaviors can escalate situations on the road and result in collisions.
It is important for both rideshare drivers and passengers to be aware of these common causes and take necessary precautions to prevent accidents.
How a Rideshare Accident Lawyer Can Maximize Your Compensation
One way a rideshare accident lawyer can help maximize your compensation is by thoroughly investigating the accident scene and collecting all relevant evidence. This includes gathering police reports, witness statements, and any available video footage from the rideshare company. By examining these pieces of evidence, a skilled lawyer can build a strong case on your behalf and prove the liability of the responsible party.
In addition to collecting evidence, a rideshare accident lawyer can also:
Determine the full extent of your injuries and losses: A lawyer will work with medical professionals and experts to assess the physical, emotional, and financial impact of the accident on your life.
Negotiate with insurance companies: An experienced lawyer knows how to navigate the complex insurance claims process and negotiate with insurance adjusters to ensure you receive fair compensation.
Represent you in court if necessary: If a fair settlement cannot be reached, a lawyer will advocate for you in court and present your case to a judge and jury.
First Steps Take After a Rideshare Accident in Mt. Vernon
After a rideshare accident in Mt. Vernon, it is crucial to promptly seek medical attention and report the incident to the appropriate authorities.
Get Medical Attention
The first priority should always be your health and well-being. Even if you don't feel immediate pain or have visible injuries, it is important to get checked by a medical professional as some injuries may not be immediately apparent.
Seeking medical attention will not only ensure that you receive the necessary care, but it will also create a record of your injuries, which can be crucial for any future legal claims.
Report the Accident
Additionally, it is vital to report the accident to the appropriate authorities, such as the local police department or the rideshare company. This will help ensure that an official report is filed, which can be important for insurance claims and legal proceedings.
Contact a Rideshare Accident Lawyer in Mt. Vernon Now
Hiring a Mt. Vernon rideshare accident lawyer is crucial for maximizing compensation after an accident.
Taking prompt legal action after an accident can help protect your rights and increase the chances of a successful claim. If you believe you have a claim, contact Morelli Law Firm for a free case evaluation.