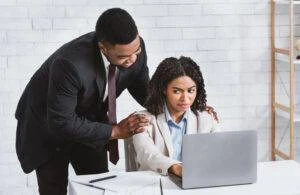 Did you know you can sue your employer if you've suffered sexual harassment at work? Sexual harassment and discrimination are illegal and you don't have to take it. Hold your abusers accountable by contacting a Mt. Vernon personal injury lawyer.
We will listen to your story and explain the federal and Illinois regulations against sexual harassment to you. Our team can report what happened to your employer and to regulators, protect you from retaliation, and help you get compensation for the harm you've suffered.
What Qualifies as Sexual Harassment?
According to the Illinois Human Rights Act, sexual harassment in the workplace is defined as any unwelcome sexual advances, requests for sexual favors, or any conduct of a sexual nature when:
Submission to such conduct is made a term or condition of employment, and your response to the conduct is used as a basis for making decisions about employment (quid pro quo), OR

Such conduct creates a hostile, intimidating, or offensive work environment, or interferes with your job performance.
This conduct doesn't have to be physical. It can be visual or audio as well. Sexual harassment isn't limited to actions by men toward women. Any gender can sexually harass any other gender and successfully file a complaint and get compensation.
Why Should I Report Sexual Harassment to My Workplace?
It's important to report instances of sexual harassment to your manager or HR team for several reasons. First, it gives them a chance to take action to stop it. Second, they must create an official record of the harassment report by law. If they don't stop the problem, they can be held negligent for what happened to you.
To meet certain legal deadlines, report your harassment within 180 days of the last time it happened. However, we understand it may be frightening to give a report, especially if it's a supervisor or someone protected by your company culture.
Let us be your guide through the process. Our sexual harassment lawyers in Mt. Vernon can help you write up your complaint, protect you against retaliation, and serve as your legal shield. If your employer refuses to fix the problem or punishes you, we'll be ready to sue them so you can get compensated for what happened to you.
What Is Retaliation?
Retaliation is any action intended to stop you from complaining about sexual harassment or filing a sexual harassment report, or working with authorities in an investigation against your employer by the Illinois Department of Human Rights or a similar authority.
Filing a complaint doesn't shield you from discipline or termination, but the company will have to show it was motivated by non-retaliatory and non-discriminatory reasons. They cannot take action against you because of your complaint.
Examples of retaliation include:
Formal reprimands

Getting performance reviews that are lower than should be

Transfers to a less desirable position

Physical or verbal abuse

Threatening to or making reports to the authorities against you

Spreading false information

Treating family members in the same organization negatively

Making your work more difficult (i.e., changing your schedule to deliberately conflict with your other responsibilities)

Increased scrutiny of your work
Illinois Has Strong Sexual Harassment Laws
The Illinois Human Rights Act, along with regulations from the Equal Employment Opportunity Commission, form the foundation for sexual harassment claims. Illinois extends protections to more employees than the EEOC regulations do.
As long as an employer had one or more employees during 20 or more weeks preceding the violation, a victim can make a sexual harassment claim. The federal laws apply to companies with 15 or more employees, so this protects victims of small businesses.
If you have experienced sexual harassment, you may have a claim. Find out how you can hold your employer accountable by contacting Morelli Law to speak with a Mt. Vernon, IL, sexual harassment lawyer.
What Are the Damages in a Sexual Harassment Claim?
There are three types of damages in sexual harassment claims, economic, non-economic, and punitive. Your case may qualify for any of these, but it will depend on the circumstances of your case. Depending on the damages, you may reach damage caps set by federal or state law.
Economic Damages
If the actions by your employer affect your ability to earn income, you could earn back pay and/or front pay as economic damages. If you were physically assaulted or need mental health treatment, these are additional economic damages you can demand in your lawsuit.
In brief, back pay makes up the difference between what you should have been paid and what you were paid when your employer changed your pay because of sexual harassment. Front pay is future pay you're owed because the employer can't or won't rehire or reinstate you.
Non-economic Damages
Going through sexual harassment can leave lasting pain and suffering and mental trauma. You can get compensation for the humiliation you've experienced at the hands of a harasser. You need a sexual harassment lawyer in Mt. Vernon to help you argue for the full value of these damages.
Punitive Damages
State and federal regulators can punish employers who do not take sexual harassment claims seriously or who retaliate by levying punitive damages. This is an additional financial penalty against your employer for not following the law. As the victim, you will receive this money.
Fight Back by Hiring a Sexual Harassment Lawyer from Morelli Law
Our firm has gone up against some of the most powerful companies in the country with sexual harassment suits and won. We famously won against Fox News and Bill O'Reilly for sexual harassment, and we'll help you win, too.
The first step is to contact our sexual harassment lawyers for a free consultation. We will listen to your story with compassion, help you understand the laws, and guide you through the process of suing your employer for what you've experienced.
Show your employer that you won't tolerate sexual harassment. Call or email us now for a free consultation.