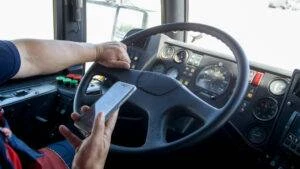 A bus accident attorney can help you if you are in an accident in the quiet city of Mt. Vernon. The physical and emotional toll, combined with the looming medical bills and property damage, can be overwhelming. In such challenging times, understanding your rights and legal options is not just a necessity; it's your path to recovery and justice.
The legal maze of seeking compensation can be daunting for someone facing the aftermath of a traumatic event. That is why our dedicated Mt. Vernon personal injury lawyers are here to answer your questions and guide you through these trying moments.
The Importance of Hiring a Skilled Bus Accident Attorney for Pursuing Damages
You may be grappling with catastrophic injuries, medical bills, and emotional distress, and you may wonder if it's worth getting a personal injury lawyer. However, it's crucial to understand the significant role a skilled bus accident attorney plays in pursuing damages and securing your future.
Professional Legal Advice
Bus accidents involve a web of complexities, from identifying the liable party to navigating insurance companies and understanding the unique laws governing public transportation. A practiced bus accident lawyer brings invaluable knowledge to the table, ensuring that your rights are protected.
Navigating Liability
Determining liability in a bus accident isn't always straightforward. It can involve multiple parties, from the bus driver to the transportation company and even third parties like vehicle manufacturers.
Maximizing Compensation
A bus accident can lead to extensive damages, from medical bills and lost wages to property damage and emotional distress. An attorney specializing in bus accidents can help you seek the maximum compensation possible, ensuring that you're not burdened with the financial aftermath of the accident.
Identifying the Negligent Party Responsible for an Injury
To pursue damages after a bus accident in Mt. Vernon, it's essential to identify the negligent party responsible for your injury. That often involves a thorough investigation of the accident, collecting evidence, and analyzing the circumstances that led to the accident.
Skilled personal injury attorneys have experience in this process, enabling them to pinpoint the party or parties at fault. However, in most cases, liability depends on the type of bus accident.
Types of Bus Accidents and Liability
Bus accidents can encompass various scenarios and involve different types of buses, each with its unique set of liability factors. Let's explore some common types of bus accidents and the liability associated with each:
Public Transportation Accidents.

These accidents involve city buses, commuter buses, or public transportation systems like light rail and subways. Liability typically falls on the

Illinois Department of Transportation

or the government entity responsible for operating public transit.

School Bus Accidents.

Accidents involving school buses are more complex, as they may involve liability on the part of the school district, the bus driver, or even other drivers on the road.

Charter Bus Accidents.

These accidents involve private bus companies or individuals who rent buses for specific purposes. Liability can extend to the bus company, the bus driver, or third parties if the accident is due to the negligence of another driver.

Tour Bus Accidents.

When a tour bus is involved in an accident, liability may extend to the tour company, the driver, or third parties who contributed to the accident's occurrence.

Shuttle Bus Accidents.

Often seen at airports, hotels, or event venues, shuttle bus accidents can be complex. Liability can involve the entity operating the shuttle, the driver, or other drivers if they caused the accident.
It's worth noting that in some cases, more than one party might share liability, adding complexity to the legal process. A Mt. Vernon bus accident attorney can conduct a thorough investigation to establish liability and build a strong case on your behalf.
Compensatory Damages for a Bus Accident in Mt. Vernon
If you've been involved in a bus accident in Mt. Vernon, Illinois, and suffered injuries or damages, you may want to know how much compensation you will get for a bus accident. Damages are designed to provide financial compensation for the losses you've incurred due to the accident. Here are the types of compensatory damages commonly pursued after a bus accident:
Medical expenses

Property damage

Lost wages

Pain and suffering

Disability and disfigurement

Loss of vonsortium
It's important to note that the specific damages you can pursue can vary widely depending on the circumstances of your case. To ensure you're seeking the maximum compensation available, it's essential to consult with an experienced Mt. Vernon bus accident lawyer.
Statute of Limitations for a Bus Accident Injury in Mt. Vernon
In the wake of a bus accident, your focus should primarily be on your recovery. However, it's essential to be aware of the legal time constraints, also known as the statute of limitations, that govern personal injury claims. In the state of Illinois, including Mt. Vernon, there are time limits for filing a lawsuit related to bus accidents.
In Illinois, the statute of limitations for personal injury claims, including those arising from bus accidents, is generally two years from the date of the incident. However, it's vital to consult with a bus accident attorney promptly. The specifics of your case could affect these deadlines.
Talk to an Experienced Mt. Vernon Bus Accident Lawyer Today
We understand that dealing with the aftermath of a bus accident can be overwhelming. From medical bills to property damage, the financial and emotional toll can be immense. At Morelli Law, we are committed to providing the highest level of legal representation to victims of negligence and accidents in Mt. Vernon.
If you've been involved in a bus accident in Mt. Vernon, contact us for a free consultation. You're under no obligation, and this conversation can be the first step toward finding the justice and compensation you deserve. Your well-being matters to us, and we're here to help you through this challenging time.