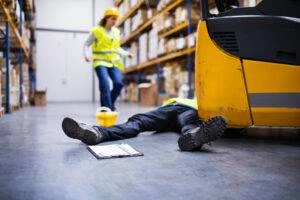 OSHA violations, negligent workers, and other unsafe conditions can lead to serious forklift accidents and injuries. If you've been injured in a construction accident or workplace incident involving a forklift, Morelli Law can help you pursue compensation for your medical expenses and other accident-related losses.
A Mt. Vernon forklift accident lawyer from our firm can investigate your accident, build an evidence-based claim on your behalf, and fight for the settlement or jury verdict you need to pay your bills and get your life back on order.
Forklift Accident Injuries that a Mt. Vernon Lawyer Can Help You Recover from
Whether you were injured in a construction accident, warehouse incident, or workplace accident involving a forklift, you could be dealing with a variety of severe health outcomes. The good news is that our forklift accident lawyers in Mt. Vernon have seen nearly every type of injury imaginable and know what must be done to get compensation for your medical bills.
We have the knowledge, resources, and legal skill necessary to help you recuperate from any of the following conditions:
Fractures

Amputations

Lacerations

Burns

Eye injuries

Musculoskeletal injuries

Internal injuries
How Our Team Can Help You Recover Compensation
If you've been injured in a forklift accident, there are a lot of actions you'll need to take to recover financial remedies. Depending on the severity of your injury, you might not have the strength or ability to file a successful claim. Pursuing a claim without help from a seasoned attorney can also end poorly, leaving you without the compensation you're owed.
To give yourself an excellent chance at obtaining maximum compensation, you'll want to work with an experienced forklift accident attorney from Mt. Vernon. They'll take the following steps to make your case as successful as possible:
Investigate the Incident
First, your lawyer will collect evidence from the scene of your forklift accident as well as other sources. They'll use accident reports, photos, security camera footage, eye-witness testimony, and other forms of evidence to build a bulletproof case for your compensation.
Calculate How Much You're Owed
In addition to investigating your accident and preparing your claim, a forklift accident lawyer from Mt. Vernon will also calculate how much you need to pay your medical bills and cover other losses you've incurred due to the incident.
They'll review your medical expenses, assess your other financial losses, and work directly with you to determine how much your claim is worth. Depending on how the accident has impacted your finances and daily life, your lawyer may pursue the following damages on your behalf:
Current, ongoing, and future medical expenses

Cost of rehabilitative therapy and assistive medical devices

Lost wages

Decreased earning ability

Physical pain and suffering

Emotional distress

Loss of enjoyment of life
Determine Your Best Course of Action
If you were injured in a forklift accident that occurred at your place of work, an attorney might advise you to pursue a workers' compensation claim. However, depending on the unique circumstances of the incident, your legal counsel may also recommend filing a personal injury suit.
Either way, you can count on our Mt. Vernon forklift accident lawyers to make the right choices for you and protect your best interests at all times. They'll assess the details of your incident and advise you on your best course of action moving forward.
Fight for the Damages You Deserve
Whether your attorney files a workers' comp claim or a civil suit, they'll work tirelessly until they've obtained the damages you need to treat your injuries and manage the other challenges you've been burdened with. Here's what they'll do to get you the damages you deserve:
Negotiate with the insurance company to obtain a fair settlement

Take your case to trial, if necessary

Use evidence and strong legal arguments to convince the jury that you deserve a high-value award
Your Time to Take Legal Action Is Running Out
After a serious workplace accident, you might feel compelled to focus on your physical recovery and put off filing a claim or civil suit. This is one of the worst mistakes you can make after an accident, and it can actually cause you to miss out on the compensation you need to pay your bills.
That's because the state of Illinois has a statute of limitations that all personal injury plaintiffs must comply with. According to the statute, you have two years from the date of your forklift accident to file a lawsuit. If your suit is submitted after the two-year mark, you won't be able to collect the compensation you need to get your life back on track.
Instead of risking your compensation, reach out to our forklift accident attorneys in Mt. Vernon today!
Our Legal Team Has What It Takes to Win Your Case
The Mt. Vernon forklift accident attorneys at Morelli Law have been representing individuals like yourself for over two decades. During that time, we've recovered a number of impressive case results, allowing our clients to get the resources and financial support they need to improve their lives.
Throughout our careers, we've always prioritized our clients, and it shows when you read the testimonials we've received. Once you've taken the time to look through the praise we've received from past clients, you'll realize why so many injured workers trust our team to get them the results they need.
Schedule a Free Case Evaluation With a Skilled Forklift Accident Attorney
A bad forklift accident can leave you with serious health conditions, chronic pain, and emotional challenges. To get the compensation you need to cope with your injuries and get back to work, you'll need to work with an experienced personal injury lawyer from Morelli Law.
Contact our firm today to schedule a free case evaluation with one of our trusted attorneys. During your case evaluation, a Mt. Vernon forklift accident lawyer from our firm will ask you about your incident and help you determine your best course of action moving forward.