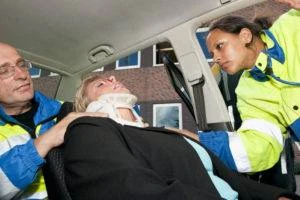 A spine injury is a devastating type of injury that can result in the victim having lifelong disabilities, pain, and suffering. If someone else's reckless behavior left you with a spine injury, count on a Jersey City spinal cord injury lawyer from our team to work hard to seek compensation on your behalf.
According to the World Health Organization (WHO), most people with spinal cord injuries experience chronic pain. The amount of compensation you may receive will depend on the severity of the injury to the spine and the level of disability or pain you may have going forward. Our job at Morelli Law Firm is to help you achieve the settlement amount you deserve.
How Do You Know If You Have a Spinal Injury Claim?
Filing a claim after you suffer an injury to your spine can be complex. Your spinal cord injury attorney in Jersey City, New Jersey can walk you through the steps, including determining whether you have a case.
Showing That Another Party Caused Your Injury
To collect an award, you must be able to show that another party committed an error or behaved recklessly, leading to an accident and your spine injury. If someone else purposefully assaulted you, creating your spinal cord injury, this would also show fault.
Some of the potential causes of spinal cord injuries include:
Motor vehicle accidents
Pedestrian or bicycle accidents
Slip or trip and fall accidents
Fall from height accidents
Work-related accidents
Sports-related accidents
Violent assaults
Even if your spinal cord injury did not occur in an accident on this list, as long as we can show that another party caused the injury, our Jersey City personal injury lawyers can represent you and seek a claim from the negligent party.
Showing That You Have Suffered Financial Losses
If your spinal cord injury is so mild that you do not have medical bills, do not miss work, and have no lingering pain, you would not be able to file a claim. You must show financial losses before filing a claim. The idea behind filing a claim is to reimburse you for losses you suffered in an accident that someone else caused.
If you suffer an injury to your spinal cord, however, you will likely have significant medical bills and other financial losses. Even minor spinal injuries can lead to long hospital stays. Spinal injuries can leave the victim with paralyzation and lifelong disability.
Receiving a Diagnosis From a Medical Professional
When you suffer a spine injury, you will need to have a doctor's opinion about the level of your injuries and the type of recovery process you will require.
An insurance company will not pay you a settlement for an inability to work for several years into the future simply on your testimony that you cannot work. Instead, the insurer will need to hear a doctor testify that you will not be able to work for several years before it will consider paying your settlement.
How Much Can You Win After a Spine Injury Accident?
Our Jersey City spinal cord injury lawyers cannot guarantee that you will win a certain amount. However, we can try to estimate the amount you could win based on the facts in your particular case.
Those who suffer spinal injuries that lead to long-term disability, ongoing medical care, and an inability to return to work will likely have the opportunity to win a larger settlement than someone who returns to work after a few weeks.
Will My Spinal Injury Case Go to Trial?
Many personal injury cases that involve spinal trauma end with a negotiated settlement between the victim and the insurance company. However, if the insurer refuses to negotiate in good faith, the case may go to trial.
Benefits of a Negotiated Settlement
In most cases, we will try to win a negotiated settlement for you, as this process is generally faster and easier than going to trial. A negotiation also helps you receive your settlement payment earlier than going to trial.
Benefits of Going to Trial
The insurance company may refuse to offer you the amount you deserve based on the severity of your injuries. If that happens and we decide to take your case to trial, the outcome and judgment award rest in the hands of a judge or jury.
If we decide to go to trial, you can be certain that we will represent you to the best of our ability in court. We appreciate the chance to tell your story.
As the negotiations progress, we will recommend how to proceed, including whether we believe we should take the case to trial. However, the final decision always rests with you.
Don't Delay Getting Started on Your Case
When filing a personal injury claim related to a severe back injury, you must follow the state of New Jersey's statute of limitations. NJ Rev Stat § 2A:14-2 gives accident victims up to two years to start the process of filing a claim.
Although there are some situations in which the statute of limitations may be extended, receiving an exception is rare. Since it can take a long time to build a solid case, if you do not start the claim process well before the deadline, your chances of filing a successful claim become slim. As long as you contact us early enough, we will keep your case on track.
You Can Afford to Hire Our Jersey City Spinal Cord Injury Attorneys
Because our team at Morelli Law Firm works on a contingency fee basis, you do not have to pay us anything ahead of time to secure our representation. Our fee comes from a percentage of the final settlement.
For a free review of your case, contact our team today at (212) 751-9800.