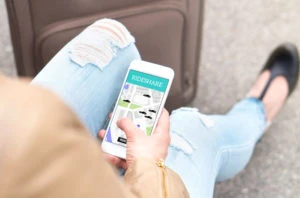 Rideshare services have become the preferred mode of transportation for many Americans over the past decade. The market for these convenient and easy-to-use services blew up quickly after they were introduced and is continuing to grow today.
While ridesharing may be simplifying the way that many people are getting around, it is having the opposite effect on how people recover compensation after an accident. When people are hurt in an accident involving a rideshare vehicle, securing compensation can be incredibly challenging.
At the Morelli Law Firm, our car accident attorneys keep up to date on the changing legislation regarding ridesharing services and how accidents involving these vehicles are treated by the law. We know how these cases are handled and have a proven track record of getting positive results for our clients. Give us a call or fill out our contact form to schedule a free consultation.
How a Driver's Status Affects Insurance Coverage
There are laws that require rideshare companies to carry a certain amount of insurance in case of accidents. In addition to this, these companies require their drivers to carry their own insurance on their vehicles. What insurance applies depends largely on the status of the driver at the time of the accident. There are three main scenarios.
Logged in and Transporting a Passenger or on the Way to Pick One Up
When a driver is logged into the ridesharing app and either transporting a passenger or on the way to pick up a rider, the insurance policy of the rideshare company is in full effect. Both Uber and Lyft carry $1,000,000 in coverage for these situations.
Logged in and Waiting for a Ride Request
When a driver is logged into the app and is waiting for a ride request, the coverage from the rideshare company is more limited. In this situation, Lyft and Uber both offer:
$50,000 per person for bodily injury
$100,000 per accident for bodily injury
$25,000 per accident for property damage
Not Logged In
When the driver is not logged into the app, they are considered to be on personal time. Because of this, there is no insurance coverage provided by the rideshare company and the rideshare driver falls under the same category as all other standard road users.
Rideshare Drivers Are Independent Contractors
Both Uber and Lyft operate their businesses in a manner where their drivers are not true employees of the rideshare company for which they work. Instead, drivers for these companies are treated as independent contractors. As such, they do not receive many of the benefits that they would be entitled to as employees.
Under this system, these companies do not have to provide their drivers with health insurance or paid leave. Additionally, these companies are often able to avoid paying out on claims after a driver accident due to this loophole.
The pockets of these companies are far deeper than those of the rideshare driver involved in the accident. When you have suffered a serious injury in a rideshare driver accident, an experienced rideshare accident lawyer can help ensure that you recover the compensation to which you are entitled.
Statute of Limitations for Filing a Lawsuit
When attempting to recover compensation after a rideshare accident, it is important to be aware of how much time you have to take action. The state of New Jersey gives accident victims a total of two years from the date of their injury to pursue a lawsuit against the at-fault party.
It is always best to get started as soon as possible. Hiring a personal injury lawyer shortly after your accident ensures that you are in the best position to recover fair compensation and meet all your deadlines. Your Jersey City rideshare accident attorney can identify if there are any special circumstances that apply to your case which may limit the amount of time you have to file your lawsuit.
Additionally, your Jersey City rideshare accident lawyer will be in a better position to represent you if they can start as quickly as possible because they will be able to gather evidence that may later become unavailable. They can also speak with witnesses when their memories are fresher.
Recovering Damages After an Accident
There are many damages you will likely be eligible to recover compensation for after an accident. The particular damages you can claim will depend upon the specifics of your situation. An experienced rideshare accident attorney in Jersey City can help you identify which damages apply to your case and evaluate the full value of your claim.
Common damages in a rideshare accident include:
Property damage
Medical bills
Future medical expenses
Permanent disability
Lost wages
Diminished earning potential
Pain and suffering
Mental anguish
Loss of companionship
Wrongful death
The above list is far from exhaustive. Consult with an attorney to find out what other claims you may be able to make.
A Law Firm Representing Rideshare Accident Victims in Jersey City
When selecting a rideshare accident lawyer in Jersey City to represent you, it is important to find an attorney with a proven track record in cases similar to yours. At the Morelli Law Firm, we have a history of getting positive results for our clients.
Fill out our contact form or give us a call today to schedule a free consultation. A Jersey City rideshare accident attorney will review your case and answer all of your questions. There is no obligation to retain our services, so contact us risk-free. We believe that all accident victims should be able to secure experienced legal counsel.