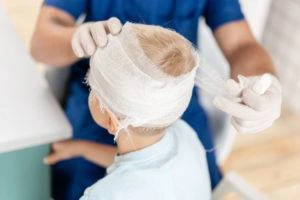 Children require extra protection and care because they can be so vulnerable. Adults, manufacturers, drivers, and other companies should work to safeguard children and their well-being. Unfortunately, people can act carelessly or negligently, leading to a child suffering injuries.
If your child was injured in a negligent accident, a Jersey City child injury lawyer at Morelli Law Firm can explain your legal options for your child's recovery. If we take your case, we will collect evidence to establish liability, evaluate the full extent of your and your child's damages, and fight for compensation.
Possible Damages You Could Recover in a Jersey City Child Injury Case
Our firm has achieved successful outcomes for our child injury clients. One of them includes a $2.65 million award after a young boy suffered severe injuries in a motor vehicle collision.
We cannot say how much you can recover for your case, as each case is different. Still, typical forms of compensation child injury victims can seek are:
Lost income: If you or your partner had to take time off work to take care of your child
Reduced earning capacity: If you or your partner have to quit your job because your child requires 24/7 care
Pain and suffering: If your child's injury has caused them debilitating pain or discomfort
Mental anguish: If your child's injury has taken a toll on their mental well-being
Past and future medical care costs: If your child requires medical devices, pain killers, diagnostic exams, emergency or hospital care, surgeries, or physical therapy
Wrongful death damages: If your child passed away from their injuries and you need assistance covering their burial and funeral costs and final medical bills
A lawyer with our firm will review your case and evaluate each of your losses according to how they have affected you and your child.
Hiring a Child Injury Lawyer With Our Firm to Handle Your Claim or Lawsuit
Morelli Law Firm works to provide quality care for all of our clients. We will update you on any changes in your case and quickly answer any questions you have. In doing so, we will also handle the legalities of your case, which include:
Compiling an evidence file that comprises relevant photographs, medical testimony and records, eyewitness accounts, videos capturing the accident, the incident report, and any other supporting documentation
Proving that the negligent party should be held accountable for your damages
Communicating with other parties – whether that be via phone call or email
Evaluating your damages, demanding that amount from the liable insurance company, and negotiating a settlement until we agree on a figure
Arguing your case in a trial if they cannot reach a fair settlement with the insurance company
You won't have to worry about doing any of these tasks. Instead, worry about taking care of your child. They need you now more than ever.
Affording Our Lawyer Serving Jersey City to Take Over Your Child Injury Case
Some injury victims are hesitant to hire legal representation because of the high costs. When you have Morelli Law Firm working for you, that should be the least of your concerns. We want to help lighten the financial burden you and your family are carrying, so we will take your case on a no-win, no-fee basis. That means:
One of our team representatives will offer you a free case review that comes with no risks or obligations.
Your lawyer won't ask you to pay them by the hour.
We won't require any upfront or out-of-pocket fees.
This payment structure allows us to get started on your case right away. Also, your attorney won't take payment unless and until they procure compensation for you. Basically, you have nothing to lose when you select Morelli Law Firm to aid you throughout the legal process.
New Jersey Imposes a Statute of Limitations for Child Injury Lawsuits
You don't have forever to take legal action following a child injury accident. According to NJ Rev Stat § 2A: 14-2, there is generally a two-year time frame in which you must file a personal injury lawsuit. However, since your child is a minor, they may qualify for an extension to start their case on their 18th birthday.
A lawyer on our team can help you figure out how much time you have to file suit, but make sure you reach out to us soon. Failure to comply with the deadline – regardless of the strength of the case – may lead the court to throw your case out of court. In that event, you and your family would be the ones to cover all of your child's damage, as the liable party would no longer be responsible for compensating you.
Common Ways Child Injury Accidents Occur
Our firm can lead your case if your child was involved in one of the following accidents:
Defective products
Drowning
Suffocation
Motor vehicle accidents
Bicycle accidents
Birth injuries
Medical malpractice
Pedestrian accidents
Birth injuries
Slip or trip and falls
How can we prove that your child suffered and is entitled to collect damages? We would need to establish that the other party was negligent in that:
They owed your child a duty of care.
They failed to uphold this duty of care by acting negligently or recklessly.
This negligence led to your child's accident.
Your child's injuries have caused your family financial, emotional, and physical hardships.
We may find that more than one party is responsible for harming your child. In that case, we would pursue each party for the compensation your child needs to get their life back.
Reach Out to Morelli Law Firm Today for Your Free Case Review
We must work to keep everyone, especially children, safe from harm. Whoever breaches this obligation should be held accountable for any repercussions. If your child was hurt due to another party's negligence in Jersey City, allow a lawyer from Morelli Law Firm to step in.
To learn more about how we can help in a free consultation, dial (212) 751-9800.