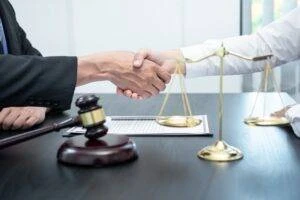 Whether you're involved in a legal dispute with a supplier, customer, competitor, or other business entity, you need a Cape Girardeau personal injury lawyer on your side who understands the intricacies of commercial litigation and will fight aggressively for your interests.
At Morelli Law, we provide aggressive and solutions-oriented representation in complex business matters. Our commercial litigation lawyers in Cape Girardeau have extensive experience and resources to handle all types of business disputes.
Whether the issue involves a breach of contract or intellectual property infringement, we'll zealously advocate for your rights. But we don't just fight – we'll explore all resolution options to best get things back on track. With a proven track record, you can feel confident putting your trust in us. We're ready to get to work for you.
Commercial Litigation Attorneys Help Reduce the Risks and Overcome Challenges
Businesses involved in litigation face risks, including significant legal costs, uncertain outcomes, potential damages or penalties, and negative publicity that can damage reputations. The process can also be lengthy, creating operational and financial uncertainties. It may damage important business relationships and partnerships.
However, retaining an experienced commercial litigation lawyer in Cape Girardeau can help minimize these challenges. We can advise on stronger strategic positions to improve outcomes. We can manage discovery and drive the process efficiently.
An attorney well-versed in commercial litigation practice can help settle disputes on terms that better protect your interests. We aim to provide you with the information you need to address vulnerabilities and limit adverse effects on company finances, reputation, and future success.
Commercial Litigation Can Encompass a Wide Range of Issues and Disputes
Commercial litigation refers to legal disputes between businesses or between a business and individual(s) related to a commercial transaction or relationship. Common causes of commercial litigation include:
Breach of Contract Claims
One party alleges the other did not fulfill their contractual obligations. This can involve disputes over non-payment, failure to deliver goods or services as outlined, violation of exclusivity terms, or other breaches.
Settling contract disputes usually involves analyzing the contract language and whether obligations were reasonably met.
Intellectual Property Issues
Companies may sue competitors for patent, trademark, or copyright infringement, alleging the unauthorized use of protected logos, designs, inventions, or original works.
Trade secret misappropriation is also prevalent, such as claims that confidential processes or customer lists were stolen. Intellectual property litigation often involves demonstrating ownership and determining whether infringement occurred.
Unfair Competition
Allegations that a competitor has engaged in unethical business practices like false advertising, corporate espionage, anticompetitive tying arrangements, or predatory pricing. Proving unfair competition generally requires showing that illegal conduct caused economic harm in the marketplace.
Real Estate Disputes
Disagreements over commercial property leases and sales, such as regarding maintenance, repairs and other lease terms.
Shareholder or Partnership Conflicts
The unauthorized removal of firm property or funds is one example. We deal with these kinds of problems all the time. Non-linear issues can also develop, such as a disagreement between two parties about one party's desire to leave the organization.
Debt Collection
Efforts to recover unpaid debts from customers and clients can result in commercial litigation if the amount is large enough.
The litigation process is often lengthy, complex, and costly. Having an experienced Cape Girardeau business litigation lawyer can help make the process more efficient. We explore all options for negotiating before we proceed with litigation to help avoid this expense.
Why Work with a Cape Girardeau Commercial Litigation Attorney
Here are some of the benefits of working with a lawyer:
Knowledge of Local and Federal Courts
Our firm has regularly appeared before courts in Cape Girardeau and surrounding areas. We understand the procedures, expectations, and procedures of the courts that your case may come before. This helps us build the strongest arguments and strategy.
Resources to Match Large Firms
As an established New York law firm with a track record of success and many decades of combined experience, we have the expertise and capabilities to take on complex cases and level the playing field against even the largest national law firms. Our team has handled antitrust, securities, and other sophisticated litigation.
Aggressive and Strategic Approach
We use meticulous pre-trial preparation and discovery to build leverage and control the narrative. Many cases are resolved before trial, but we are fully prepared to take your case to verdict if necessary.
Focus on Practical Solutions With Aggressive Representation
While fully ready for trial, we look for opportunities to resolve cases favorably and efficiently through motions, mediation, or settlement negotiations. Our goal is to put business operations back on track. However, the attorneys of Morelli Law are litigators. We are ready to fight for you whenever the need arises.
Contact a Commercial Litigation Law Firm in Cape Girardeau Today
Resolving commercial litigation disputes requires skill, experience, and dedication to finding the optimal outcome for your business. For years, the lawyers at Morelli Law have successfully helped hundreds of clients facing a wide range of legal issues.
We understand the importance of aggressively pursuing the strongest possible arguments while also considering practical resolution paths. Our personalized approach ensures you have an experienced legal partner focused solely on your case's unique details and goals.
Whether you need to enforce a contract, settle an IP issue, or respond to unfair competition, contact us today. We're ready to use our expertise to fight for your business's best interests while exploring whatever alternatives may suit your needs. Your success is our priority.