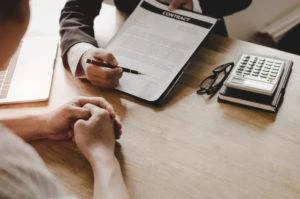 If a business dispute is taking its toll on you and your work, Morelli Law Firm may be able to help. It takes a lot of hard work and perseverance to achieve the goal of business ownership, and when you do, you do not want to suffer any setbacks.
That is why it is crucial to protect yourself and your business interests from any disputes that arise. If you are dealing with issues involving a commercial dispute in New Rochelle, a lawyer at Morelli Law Firm may be able to help you with commercial litigation. You can speak with our team today to learn more.
Our Commercial Litigation Team Can Help You and Your Business
At Morelli Law Firm, we will provide you with a free assessment to determine the nature of your case and how we may be able to help. We will go over your options for solving the dispute, possibly including legal action. You can have peace of mind with the right legal team on your side.
With our team working for you, you will not have to worry about dealing with all the tasks required to reach an agreement or file a lawsuit. You can count on your attorney to manage everything from start to finish, allowing you to move forward with your work and run your business.
The tasks your attorney may manage on your behalf include:
Preparing necessary motions for the court
Formulating responses to the other party's motions or counter motions
Preparing information for the other party during discovery
Gathering documents for evidence in the case
Planning a strategy
Negotiating with the other party's lawyers
Presenting the case in court if needed
We know you are facing a disagreement or the possibility of litigation, so our team is ready to get to work on your case. Let us help you find a satisfactory resolution to your dispute.
We will look at every aspect of your case to identify and build a strategy to give you the best opportunity to get favorable results. Get in touch with us to learn more. We may be able to help resolve any business disputes you are facing without going to court. We can also represent you in litigation as needed.
We will provide you with a free, no-obligation consultation if you contact us today.
What Type of Commercial Litigation does Morelli Law Firm Handle?
Commercial litigation cases always revolve around business disputes. They often involve B2B players. However, they can involve employees or consumers as well. This may occur in product liability or harassment cases.
Some types of commercial litigation cases we help business owners navigate include:
Partnership disputes: When people go into business together, there might be a dispute about particulars concerning the company. When there are disagreements about operations and one person takes things in a different direction, sometimes the only way to resolve it is through the courts.
Intellectual property disputes: If you own the intellectual rights to something, then you have the right to allow or not allow someone else to use it. If anyone violates that right, you can sue them.
Breach of contract: Whether it is a written or verbal contract, it could be binding. If one party fails to hold up their part of the bargain, you could have cause to support legal action.
Employee disputes: Some employers have a dispute with an employee due to something like a non-disclosure agreement. However, employees may also have a case against their place of business for harassment, early termination, or hazardous working conditions.
It might help you to have a commercial litigation lawyer on your side in any of these circumstances. At Morelli Law Firm, we may be able to review your case and go to work advocating for your best interests today.
Building a Legal Case for Your Business Dispute
Your Morelli Law Firm commercial litigation lawyer will gather the evidence to build a case on your behalf. They will follow the proper protocol to prove you are in the right and reach an agreeable solution or take the case to trial.
Developing this type of case may require evidence that includes:
Transcripts
Contracts
Witness statements
Transactions
Other evidence
When possible, we will negotiate with the other party to try to settle your litigation outside of court. This may involve an agreement or a settlement to compensate you fairly. Sometimes, however, the other party might not negotiate in good faith. In these cases, our commercial litigation lawyers can prepare your case and argue on your behalf at trial.
What is the Goal of Business Litigation?
Operating your own business comes with many high points and rewards. However, it also comes with stress and, sometimes, disagreements. These disputes can cost you thousands of dollars in some cases. What damages can you recover in a commercial litigation case? That all depends on the exact nature of the case.
Some potentially recoverable compensation includes:
Financial losses
Incidental damages
Punitive damages
The cost of your legal fees
The team at Morelli Law Firm might be able to pursue not only an agreement but also the appropriate damages. This could include a wide array of benefits, such as payments for the use of your intellectual property, part of the proceeds they gained from it, and other penalties for using it without permission, for example.
To learn more about what you can expect from a successful outcome in your case, we can discuss your options with you today. You can speak to someone from our office during a free, no-obligation consultation.
Statute of Limitations on Commercial Litigation in New York
You can file a lawsuit based on breach of contract, fraud, debt collection, or any other business dispute you are experiencing in New York. There is a statute of limitations, depending on which litigation issue fits your case.
For example, CPLR § 213 states that you have up to six years to file a case based on breach of contract. The deadline is the same for cases involving fraud.
According to the New York State Unified Court System, other types of litigation disputes have their own timelines. Check with our team of attorneys for exact details. You can feel confident that our New Rochelle commercial litigation team will handle your case as quickly and accurately as possible if you work with us.
Speak with Our Team about Your Commercial Litigation Concerns Today
Reach out to us today to see how a lawyer from Morelli Law Firm may be able to help you with commercial litigation. We have team members standing by, ready to discuss your case with you free of charge. We can manage your case with diligence and integrity.
Do not delay in contacting our litigation attorneys to help you resolve your issue. Get in touch with us today by calling (212) 751-9800.