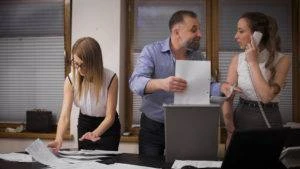 Owning a business means facing many challenges, but there's one set of challenges that you shouldn't face alone. These are legal challenges. For those, turn to an expert in commercial litigation like the team at Morelli Law Firm.
If you live in Long Beach, NY, and own a business, you owe it to yourself to speak with a commercial litigation attorney about your business contracts and legal questions. You can also get help with starting a commercial lawsuit, or get help to defend yourself from one.
The Types of Commercial Litigation We Handle
There are several ways your business could be harmed, which means there are many kinds of commercial litigation disputes. Here are a few of the commercial litigation situations we handle:
Breach of confidentiality
Breach of non-competition and non-solicitation covenants
Misappropriation of trade secrets
Intellectual property infringement
Fraud
Shareholder and partner disputes
Our firm handles commercial litigation on both sides of the courtroom. If you wish to pursue a case or need to defend yourself against an accusation, we can help you. We also represent people facing state and federal business charges.
We offer our services to businesses of any size, from sole proprietors to enterprise corporations. Our goal is to minimize the financial and reputation risks you face from your dispute and bring the matter to a swift and satisfactory conclusion.
Negotiate a Resolution Outside the Courtroom
In most cases, both sides wish to avoid the problems of litigation. Even if you have a chance of winning in court, the financial costs could make it hard to run your business. According to the American Bar Association, most parties in a dispute find a way to settle out of court.
Our commercial litigation attorneys in Long Beach, NY, can help you get an out-of-court resolution and represent you during the negotiations. We can tell you if a proposed settlement offer is fair, or if we need further action to reach a better result.
Once a case gets to where you've received a notice of a lawsuit, that's the time we fight as hard as we can. At that point, negotiations are broken, and we must turn to the legal system to protect your business interests and minimize the risks.
Start Your Case to Avoid the Statute of Limitations
Under New York law, the statute of limitations for most commercial litigation is six years from discovery. However, there are some exceptions. The reason this is important is that this law sets a deadline to start your case.
If you try to bring up a dispute to the court after this time has passed, the court will deny your case. Statutes of limitations protect everyone's right to a speedy trial, as stated in the Sixth Amendment. However, by working with an attorney, we can pause the clock to let the court know you have a case.
From there, we can work on your situation for as long as it takes to solve it. Don't let a matter hang over your head for too long without speaking with a lawyer. You do not want the clock to run out on your chance to have your case heard in court.
We Use Contingency Fees
Many businesses don't have the reserves to mount a long legal fight. Therefore, Morelli Law uses contingency fees for many of our business cases where a plaintiff stands to win compensation. Under this system, you do not have to pay us any fees unless you win your case.
After you win, you will pay us a percentage of the total award you receive. We set this percentage during your consultation. If you do not win, you do not have to pay us for our services. This enables all business owners to get legal representation.
Not all of our commercial litigation services will qualify for contingency fees. But if you are seeking financial damages, there is a good chance. To learn more, call us for a consultation. Initial consultations about business matters are free and without obligation.
Call Morelli Law Firm to Get Started
It's easy to get a free consultation with Morelli Law Firm. If you live or do business in the area and need qualified legal representation, call our Long Beach commercial litigation lawyers at the number on your screen. You can also use our free case evaluation form to schedule an appointment with our team. Your initial consultation is free and without obligation.