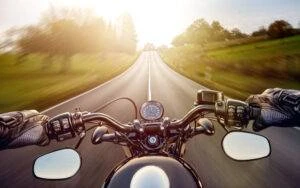 Riding your motorcycle through Chesterfield is a fast way to travel and a joyful experience. However, if you don't pay attention to other drivers' negligent behavior, you could suffer severe injuries. If you've been in an accident, our Chesterfield motorcycle accident lawyers can help.
At Morelli Law Firm, our personal injury lawyers in Chesterfield can help you recover the losses you've suffered. We offer a free case consultation to all new clients.
What Injuries Can You Suffer in a Motorcycle Accident?
Motorcycle accidents are more likely to cause severe and even catastrophic injuries due to the lack of protection you have. Some of the most common injuries you can suffer include:
Spinal cord injuries

Accidental amputations

Broken bones

Muscle tears

Internal bleeding

Traumatic brain injuries

Road rash
After you've been injured, you need to seek medical care and have a doctor diagnose your injuries. By doing so, you'll gain a better perspective of the medical treatment you need and all the damages you can recover.
What Damages Can You Recover After a Motorcycle Accident?
After you've suffered injuries, you've likely suffered losses that have affected you financially and emotionally. Fortunately, our Chesterfield motorcycle accident lawyers can help you recover losses. There are two types of losses we can help you recover, they include:
Economic Damages
Economic damages aim to fairly compensate for real financial losses incurred as a direct result of accident injuries. This includes:
Medical Expenses
This includes all past and future costs for medical treatment directly related to injuries from the accident. It covers expenses like ambulance transport, emergency treatment, hospital stays, surgeries, prescription drugs, physical therapy, rehabilitation, and any lifelong medical needs. You can be compensated for deductibles, co-pays, and any out-of-pocket costs not covered by insurance.
Lost Wages
If you missed time from work due to accident injuries, lost income from missed paychecks can be recovered. You'll need documentation like pay stubs or employer letters to support claims for lost wages during your recovery.
This documentation should itemize your pay rate, average hours worked, and dates you missed work. It is important to gather these records as close to the accident date as possible.
Lost future earning potential may also be included if your injuries will long-term impact your ability to work or advance in your career as you could have before the accident. An economic expert can assess potential lifetime income reductions using data like your work history, education level, projected salary increases over time, and life expectancy. They will estimate specific dollar amounts to reasonably compensate you for long-term financial losses.
Property Damage
Expenses that you incurred from damaging your motorcycle in the crash, like repair bills or the fair market value of the vehicle, if deemed a total loss, can be claimed. It's best to gather written estimates of repair costs when possible to substantiate these expenses. For a totaled bike, you may provide purchase or title records along with industry guides showing the vehicle's fair market value just prior to the crash.
Personal property inside the motorcycle may also be included in your claim if damaged or destroyed in the accident. Keep receipts for any gear, electronics, or other items to prove replacement costs. Insurance adjusters may fight some property damage valuations, so comprehensive documentation is important to receive full compensation owed.
Non-Economic Damages
Non-economic damages account for the losses you've suffered that don't affect your financial situation but rather the long-term effects your injuries have on you. Here are some of the non-economic damages we can help you recover:
Pain and Suffering
No financial award can truly erase the physical and emotional suffering caused by your injuries after a motorcycle accident. However, non-economic damages aim to acknowledge the hardships you endured.
This includes accounting for any acute pain experienced immediately following the crash or during medical treatment and recovery. It also addresses long-term chronic pain and health problems resulting from the accident.
Loss of Enjoyment of Life
If the accident has left you with permanent physical limitations or it prevents you from fully engaging in hobbies, recreation, and experiences you once enjoyed, you could be eligible for compensation.
Can you no longer live alone, travel freely, or care for yourself without help? An assessment of how daily life and social interactions have changed compared to precrash functioning can help to rightfully compensate you for losses of this kind.
Disfigurement or Scarring
Permanent disfigurements like scarring, missing or replaced limbs, amputations, and other lasting signs of injury undermine self-image and confidence. The visible nature of disfigurements may also hurt future employment prospects or social engagement.
Their prominence in exposed areas intensifies these impacts, so location is a factor. Independent of financial losses, these types of life-altering consequences of injuries deserve additional consideration for fair and just damages.
How Long Do You Have to File a Personal Injury Claim in Missouri?
According to Missouri code § 516.120, you have five years from the motorcycle accident date to file your injury claim. But it's optimal to file your claim as soon as you can. By doing so, you give yourself and your Chesterfield motorcycle accident lawyer more time to build a successful case.
You also increase the chances of winning your case and recovering the maximum compensation. But if you don't file your motorcycle injury claim within five years of your accident, you won't be eligible to recover any compensation.
How Can a Chesterfield Motorcycle Accident Attorney Help You After a Motorcycle Crash?
After you've been injured in a Chesterfield motorcycle accident, our team of Chesterfield motorcycle accident attorneys at Morelli Law Firm are here to help you build a case and recover your losses. Here's how we can help you:
Free Case Evaluation
The first step of determining if you have a valid motorcycle crash case is having a lawyer review your case. Our team of Chesterfield motorcycle accident attorneys can give you a free case evaluation.
In the evaluation, we can answer any questions you have and tell you what damages you could collect. Then, if you have a case, we can help you start building it.
Gathering Evidence
Another way we can help you after your accident is by gathering relevant evidence to prove your case. We have several methods we use to gather evidence that can help you be successful in your case. Some of the evidence we can collect includes:
Police report: A

police report

provides official documentation of facts like location, road conditions, injuries, and witness statements.

Photos and videos: They can capture damage, roadway, traffic signals, signs, positioning of vehicles, and marking debris.
Medical records: These document the nature and extent of injuries, treatment plans, and prognosis.
Witness statements: These can provide first-hand accounts of how an accident occurred.
Expert analysis: Reconstruction of accident, causation determinations, and safety standards assessments can help your case be successful.
Maintenance records: Record can show that your motorcycle was in proper working order without mechanical defects.
Insurance liability information: This can show coverage limits, responsibility admissions,  and liable party details.
Insurance Company Negotiation
We can help you negotiate with the insurance company of the at-fault party. Meeting with the insurance claims adjuster can be an intimidating experience, but it's an important step. We'll go with you and stand up for your rights to compensation.
Our team will protect your settlement from the insurance adjuster's tactics and make sure that you recover all the damages you're eligible for. We'll do so by presenting strong evidence to show that you are eligible for damages.
Contact Us Today After Your Chesterfield Motorcycle Accident
At Morelli Law Firm, we understand how the aftermath of a motorcycle crash can be stressful. That's why our team of Chesterfield motorcycle accident lawyers is here to help you.
Contact us today for a free case evaluation.