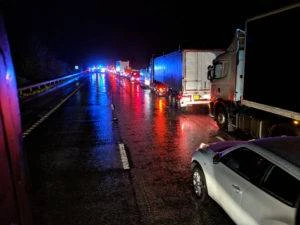 Large commercial vehicles weigh far more than regular cars and trucks, which means it takes them longer to stop in an emergency. Unfortunately, truckers don't always exercise the caution needed to keep those around them safe. If a big rig driver's negligence led to your injuries or the death of a loved one, a Chesterfield 18-Wheeler accident attorney might be able to help.
Through hard work and skilled negotiation, our truck accident lawyers have obtained numerous settlements on behalf of accident victims and their loved ones, and this includes multi-million dollar payouts. Of course, every case is different, and results will vary, but we are dedicated to helping you get the maximum compensation for your losses.
Pursuing an 18-Wheeler Accident Claim in Chesterfield, MO
While any motor vehicle accident could result in serious injury or death, the damages are often more severe when the collision involves a large commercial truck. Medical bills pile up fast, and you may also be missing work and struggling emotionally. Someone's negligence has put you in a tough spot, and you have a right to seek legal compensation through the court system.
Before proceeding with a personal injury lawsuit, it is necessary to determine fault, so you know who to file against. This can be complicated. So, if you or a loved one has been a victim of this type of crash, you should consider consulting a St. Louis County truck accident lawyer for advice.
Is Hiring A Truck Accident Lawyer Necessary?
Not only are injuries likely to be more severe in a truck accident, but there might be more than one responsible party. This is why it is vital to have an experienced truck accident lawyer on your side who has represented others in similar situations.
At Morelli Law, we want you to get the medical treatment you need without stressing about the cost. We also want you to recoup lost wages from the time you are off work and get compensation for pain and suffering. Lastly, we want to ensure that you and your family are well provided for after an accident.
How Quickly Should I Hire a Chesterfield Lawyer?
Defendants and insurance companies often try to get ahead of a claim by shifting blame onto the victim. A Chesterfield truck accident attorney can work quickly to obtain police reports and interview eyewitnesses while the accident is still fresh in their minds. It is an attorney's job to work fast to build a case against the negligent truck driver, and whoever else may be liable.
Who Could Be At Fault in a Trucking Accident?
Plaintiffs who successfully prove their case are entitled to compensation for all of their damages, including medical bills. In addition, comprehensive damages can also include mental anguish and economic losses.
In fact, the indirect damages resulting from a truck collision may end up being worth more than the medical bills. And typically, plaintiffs who have legal representation are awarded significantly larger settlements.
Determining Fault After a Truck Collision
It can be challenging to determine fault in a commercial vehicle crash since parties not physically present can still be responsible for causing an accident.
A truck accident lawyer can help you determine fault. Together, you will gather evidence, including pictures of the damage and your account of the events.
How Your Lawyer Might Help Determine Fault
An experienced truck accident lawyer may be able to inspect the vehicle involved in the accident and even retrieve black box data. Trucking companies sometimes attempt to destroy this kind of evidence since it can prove their liability in the collision. Your attorney may need to file an injunction to ensure the black box data is preserved.
The following parties may be found at fault either individually or collectively:
Truck driver

Trucking company

Parts manufacturer

Truck designer

Owner or recipient of the goods being shipped
In many cases, the at-fault party's insurance company will attempt to undermine your story and blame you for the collision. That's where having a good lawyer comes into play.
Calculating Damages in Truck Accident Cases
Due to the size and weight of large semis, the consequences of truck accidents can be catastrophic for the drivers and passengers of smaller vehicles. People may suffer devastating injuries such as brain or spinal cord damage that could result in permanent disabilities.
The damages that injured parties can pursue following a collision vary depending on the specifics of the individual case. In addition to medical costs and property damage to vehicles, other possible losses in a motor vehicle accident claim might include:
Pain and suffering, including emotional distress

Permanent impairments

Scarring and disfigurement

Costs of future medical treatment and assistive medical devices

Funeral expenses
In cases where accident victims are left with a permanent disability that makes it impossible to resume their careers, individuals can add a claim for damages related to the loss of future income.
Trucking Laws in the State of Missouri
The commercial trucking industry is governed by various federal regulations, which the FMCSA helps enforce. The State of Missouri also has rules, such as requiring oversize overweight permits. When truck drivers and trucking companies violate these regulations or break other applicable laws, they may be held responsible for the resulting accident.
Some common regulation violations related to truck collisions involve:
Work hours and required rest periods of drivers

Maintenance of applicable logs

Individual standards that drivers must meet to keep their commercial licenses
A thorough investigation of a commercial vehicle accident may include an examination of current and past compliance with federal regulations. Trucking companies with a history of failing to follow these regulations could be assigned higher responsibility for the accident. An accident lawyer well versed in federal and local trucking laws could be a valuable ally following a crash.
Working with a Chesterfield 18-Wheeler Accident Attorney
When a commercial truck causes an accident that results in injury or death, getting proper legal representation is of the utmost importance. A local truck wreck attorney could evaluate your situation and fight to get you a fair settlement.
As experienced attorneys who regularly deal with truck wrecks, we do our best to hold truckers and their employers responsible for their actions. Contact a Chesterfield 18-wheeler accident lawyer from the Morelli Law Firm today for a free consultation.