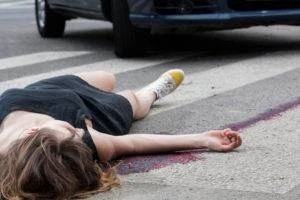 Obtaining fair compensation after a pedestrian accident can be critical to recovering from your injuries and getting your life back on track. Pedestrian accidents result in serious injuries and deaths at a high rate because of the lack of protection pedestrians have when struck by motor vehicles.
At the Morelli Law Firm, our team of pedestrian accident lawyers in Long Beach is dedicated to helping accident victims recover the compensation they need and deserve. We will do everything we can to maximize your payout either through a settlement or a court award.
How a Pedestrian Accident Attorney Can Help
Hiring a Long Beach pedestrian accident attorney after you suffer a serious injury is likely going to be the best thing you can do, both for your health and your financial wellbeing.
When you hire a pedestrian accident lawyer, they will take over all aspects of your personal injury case. This will leave you free to focus on recovering from your injuries without the added stress of trying to build a case on your own to secure the necessary compensation.
One of the first things your lawyer will do is investigate your accident. The two primary purposes of this inquiry will be to establish liability and gather evidence in support of your compensation claim. There are several steps your attorney is likely to take, including:
Visiting the accident site, taking photos, and collecting evidence
Interviewing any potential witnesses
Consulting experts
Securing a copy of the official accident report filed by the police
Reviewing your medical records as they relate to the injuries you suffered
After wrapping up their investigation, your attorney will use the data they have assembled to calculate the full value of your damages. They will then speak with you and advise you about the strength of your case and your options for moving forward. After that, they will likely either file a lawsuit with the court or submit a claim to the liable party's insurer.
If you decide to pursue a personal injury lawsuit against the liable party, your attorney will then begin the steps of the pretrial process, in preparation for fighting your case in court. At each step of the way, your lawyer will be in negotiations with opposing counsel, attempting to reach a fair settlement deal that can get you paid quickly and help you avoid the uncertainty of a trial.
The Statute of Limitations for Pedestrian Accident Lawsuits in New York
If you are filing a lawsuit after a pedestrian accident in Long Beach, it is critical that you pay attention to the statute of limitations. Failing to file on time will likely mean that you are out of options for recovering compensation for your injuries.
In general, the statute of limitations for pedestrian accident lawsuits in New York is three years. However, special circumstances may apply to your case that alter the amount of time you have to file. The best way to ensure that you don't miss your deadline is to hire a pedestrian accident attorney as soon as possible after you get injured.
Damages You Can Recover in a Pedestrian Accident Lawsuit
When you get injured in a pedestrian accident, you will likely be eligible for several types of damages. The specific damages you can claim will depend on the particulars of your case. The losses you suffer can be divided into the broader categories of economic and non-economic damages.
Economic Damages
Simply put, economic damages are the losses you suffer that cost you money. These damages can include both money you have to spend and money that you fail to earn because of your accident. Economic damages include both current and future losses. Common economic damages you may be eligible to claim after a pedestrian accident include:
Property damage
Medical expenses
Future medical costs
Lost income
Diminished earning ability
Non-Economic Damages
Non-economic damages tend to be far more profound than economic damages. These are the losses you suffer that can not be easily replaced. Non-economic damages are often substantially compensated. In a pedestrian accident, you will likely be eligible to recover some or all the following non-economic damages:
Pain and suffering
Permanent disability
Diminished quality of life
Loss of consortium
Punitive Damages
Under certain circumstances, your case may also qualify for punitive damages. Punitive damages do not focus on the losses suffered by that accident victim. Instead, these damages are all about punishing the liable party for their actions. Punitive damages are only awarded in cases where the defendant was criminally negligent or acted with intent to cause harm.
The Cost of Hiring a Pedestrian Accident Attorney
When hiring a pedestrian accident attorney in Long Beach, you will likely be worried about the cost. Fortunately, pedestrian accident lawyers (and personal injury lawyers in general) typically work on a contingency fee basis. These lawyers don't get paid based on the hours they spend working on your case but rather based on the results they get for their clients.
Your pedestrian accident attorney will collect their fee as a predetermined percentage of the compensation you receive from the liable party. That means that the more money you get, the more your lawyer receives, and if you don't collect damages, your lawyer doesn't get paid.
Since your lawyer collects their fee directly from the money paid to you by the liable party, you will never have to worry about receiving a bill from your attorney. With this system, all accident victims can afford to hire an experienced pedestrian accident lawyer, regardless of their financial situation.
Consult a Pedestrian Accident Lawyer in Long Beach Today
At the Morelli Law Firm, we are dedicated to helping accident victims retake control of their lives after an injury. Our team of pedestrian accident lawyers in Long Beach has a proven track record of recovering significant compensation for our clients.
Fill out our online contact form or give us a call today to schedule a free, no-obligation consultation with a member of our legal team. We will evaluate your case and advise you of your legal options.