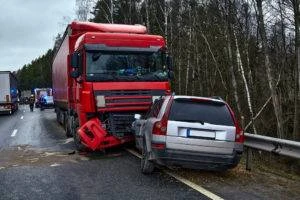 Any car accident can result in serious injuries, significant financial costs, and even death. However, when a commercial truck is involved, the potential for disaster increases significantly. Due to the large size and weight of these vehicles, truck accidents are rarely minor.
If you have been involved in a crash with a large truck in New York, you are likely wondering who is responsible for paying the damages. Determining liability is vital in these cases. Before you consider a lawsuit, though, you must keep in mind that New York is a no-fault state. Consult with an experienced truck accident attorney to determine if filing a lawsuit is an option.
New York's No-Fault Laws
New York is one of a handful of states that operate on a no-fault system when it comes to car accidents. Under this system, drivers are expected to file a claim against their own insurance company after a collision. The aim of these laws is to simplify the claims process and reduce the number of personal injury lawsuits that must be processed by the court each year.
All drivers in New York are required to carry personal injury protection (PIP) insurance. This insurance covers the driver for injuries sustained as well as lost wages and non-economic damages. However, there are many situations in which this insurance is not enough to cover all of the damages done.
This is especially true in truck accident cases, as the damage is often significant. Many people carry the minimum coverage amount of $50,000, which can easily be surpassed in accidents involving large trucks. When a driver suffers a serious physical injury, and their PIP is not enough to cover the damage, they can file a lawsuit against the liable party.
Determining Liability in A New York Truck Accident
When looking to file a lawsuit after a truck accident, the first step is to identify the liable party. You can't file a truck accident lawsuit if you are unclear about who to file the claim against. When you hire a truck accident lawyer, one of the first actions they will take is to launch an independent investigation into the circumstances surrounding your accident.
The initial focus of this investigation will be to determine who is responsible for causing the accident. Once your lawyer knows who to file against, they will build a case proving this party's liability.
There are many potentially liable parties in a truck accident case, and proving who was truly at fault can prove difficult. Some commonly liable parties include:
The truck driver
The trucking company
The truck manufacturer
The maintenance company responsible for servicing the truck
The party responsible for loading the truck
A third party driver, whose actions directly led to the truck colliding with your vehicle
These parties will often try to shift the blame around onto each other. Having an experienced truck accident attorney on your side can prove invaluable when taking on a large company with significant financial backing.
The Statute of Limitations for Filing a Lawsuit in New York
The statute of limitations for a personal injury lawsuit in New York is three years from the date of the accident. However, there are certain circumstances in which this window to file a claim can be far narrower. In order to ensure you don't miss your chance to recover the compensation you need, it is always best to contact a lawyer as soon as possible after an accident.
A truck accident lawyer can make sure that you meet all deadlines, and that you have the best chance at recovering fair compensation for your injuries.
No matter how much time you have to file, it is always best to get started as soon as possible. Even if a delay doesn't interfere with your right to file, it can still hurt you in many ways. Witness testimony becomes less reliable the further removed from the event. Additionally, evidence can often become lost or corrupted over time.
Taking on a Big Trucking Company
Large trucking companies typically deal with dozens if not hundreds of truck accident lawsuits every year, depending on their size. These businesses have teams of high-priced lawyers who have vast experience trying to find loopholes to keep their clients from having to pay out the money they owe.
It is critical that you level the playing field by bringing in an experienced legal team of your own. At the Morelli Law Firm, our team of truck accident lawyers has plenty of experience fighting the big trucking companies. We know the tactics they will attempt to use against you and the legal maneuvering necessary to counter their approach.
Reach Out to Our NY Truck Accident Attorneys for Help Today
Give us a call or fill out our online contact form to schedule a free case review. A member of our team will look over your case and advise you of all your legal options for obtaining the compensation you deserve. There is no obligation to retain our services after your case review, so feel free to contact us today to learn more about your legal rights.