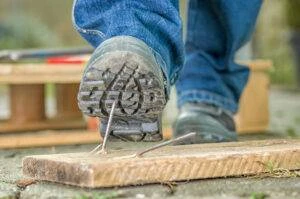 Construction sites see injuries all the time. It's a dangerous profession, one of the most dangerous in the nation. Safety regulations prevent a lot of accidents, but it takes just one negligent act to create one that devastates a worker's future. Morelli Law can help you secure compensation after a construction accident.
If you've been the victim of a construction accident, our O'Fallon construction accident attorneys can help you with your workers' compensation claim. Your case may also qualify for a personal injury lawsuit, which could get you money beyond what workers' compensation will give you.
Workers' Compensation for Construction Accidents in Illinois
States have workers' compensation programs to help workers get quick compensation without the need to sue their employers. You do not have to prove fault; just prove your injuries and your employment status. Employers are required to have insurance to cover the cost of workers' comp claims.
However, some limits to the system could prevent you from getting all that you deserve. There are minimum and maximum benefit ranges for different injuries. Death benefits are also limited; you cannot sue for non-economic damages like pain and suffering.
The insurance adjuster is under no obligation to cover your injuries. Your claim could get denied or your benefits reduced. If this happens to you, it's time to get an O'Fallon construction accident lawyer with experience in construction accidents to fight back.
Can I Sue a Third Party?
Construction sites rarely have just a single employer on-site at a time. If someone outside of your company injures you, you could hold them responsible for your injuries and sue outside of the workers' compensation system.
Some examples of a third party could be another contractor, a driver bringing materials from a distributor, or the manufacturer of a defective tool or product. Morelli Law can help you sue these parties to increase your compensation beyond what workers' comp will provide.
You can pursue both kinds of claims when there is a third party. Call Morelli Law and get a free consultation to find out if your case may qualify for a lawsuit.
When Can I Sue My Employer for a Construction Accident?
There are two situations where you can sue your employer for a construction accident. The first is if they intentionally harmed you. Workers' compensation does not cover deliberate harm by an employer.
The second is if your employer does not carry workers' compensation insurance. This also violates Illinois law. Your employer will face massive fines and open themselves up to liability if you get hurt and they don't have it.
How Long do I Have to File for Compensation in Illinois?
The Illinois Workers' Compensation Commission states you have 45 days to notify your employer of your injury after you've been hurt or discovered your injury. If you miss this deadline, your claim for workers' compensation could get denied.
If you are suing, there is a two-year statute of limitations for covering personal injury cases. Your lawsuit must start before this deadline, or the court will deny your case. That's why it's imperative to speak with a construction accident attorney in O'Fallon as soon as you've been hurt.
You can comply with all legal deadlines and give your lawyer the time to build a strong case by starting early. The longer you wait, the harder it gets to preserve evidence.
How Much Compensation Could I Get?
This depends entirely on the facts of the case and your legal situation, so it's impossible to give an accurate number until we see all of the evidence. However, our O'fallon construction accident attorneys may give you an estimate based on previous construction accident cases during your consultation.
Some factors that affect how much you could get include:
The nature and severity of your injuries

How likely you are to heal completely

How much money you earn at your job

If there was a third party involved

The actions of all parties after the injury (e.g. did you see a doctor immediately or not?)

The decisions of the insurers and any evidence they have to limit or deny your claim
Morelli Law has a record of success with construction accident cases. Some of our biggest results involving construction accidents include:
$102 million for a worker that fell from a booth under construction after a forklift crashed through the bottom

$62 million for a construction worker that fell off a roof and suffered traumatic brain injuries

$1.5 million for a carpenter who sliced his arm with a circular saw

$1.4 million for a restaurant maintenance worker that fell from a ladder
Do I Have to Pay a Construction Accident Lawyer Up Front?
Construction accident lawyers only get paid when you get paid for your construction accident. This is called working on contingency. This system lets anyone get access to legal representation after a construction accident, regardless of their financial situation.
We will discuss the fees we take out with you during your consultation. They vary depending on the complexity of your case and whether you'll need to go to trial. We encourage you to ask questions about our fees so there are no surprises.
This also means that if you lose your case and get nothing, you will owe us nothing for our services. Consultations help you decide if we're the lawyer for you, and they help us decide if you have a case and what your odds of success are.
Contact Our Construction Accident Attorneys in O'Fallon, IL
Morelli Law has helped secure over a billion dollars for our clients and has decades of collective legal experience. Put our skills to work for you after your construction accident. With our help, you can pay for the medical care you need and get your family back on their feet.
Schedule your free consultation today by calling our offices or clicking the request case evaluation button. Let's discuss your options for financial recovery, whether through workers' compensation, a lawsuit, or both.