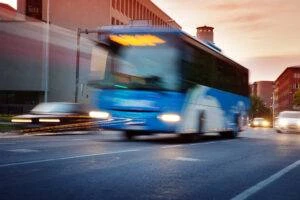 A bus accident lawyer can help if you've been involved in an accident in O'Fallon, Illinois. We understand the impact on your life can be overwhelming, especially considering the injuries and medical bills you might be facing. In such trying times, understanding your rights and having the right legal guidance is paramount.
An experienced O'Fallon personal injury lawyer can explain the types of injuries that may result from such accidents, the compensation you might be entitled to, and the critical elements needed for a successful personal injury claim. Morelli Law is here to help you navigate this challenging journey towards recovery and justice.
Types of Bus Accidents in O'Fallon and Their Legal Implications
Bus accidents in O'Fallon can vary in nature, and their legal implications depend on the circumstances surrounding the incident. Here are some common types of bus accidents and their legal implications:
School Bus Accidents.

Accidents involving school buses can be particularly distressing because they often carry children. If your child is injured in a school bus accident, you may have a legal claim against the bus driver, the

O'Fallon School District

, or another party responsible for the accident.

City Bus Collisions.

Accidents involving city buses can lead to complex claims, with the potential for legal action against the city or a government agency.

Tour Bus Accidents. O'Fallon sees its fair share of tourists. Accidents involving tour buses can involve multiple parties, such as the tour company, driver, or even a third party.

Commercial Bus Crashes.

Commercial buses, like those used for long-distance travel or private charters, can lead to severe accidents.

Shuttle Bus Accidents. Shuttle buses for hotels, airports, and events are prevalent in O'Fallon. Accidents involving shuttle buses may involve the shuttle company, driver, or others.
Identifying the responsible parties and understanding the extent of your losses is crucial in pursuing a successful personal injury claim. If you've been involved in any bus accident, consult with an O'Fallon bus accident lawyer to evaluate your legal options, understand your rights, and seek the compensation you deserve.
Injuries You Can Sue for After a Bus Accident in O'Fallon
Bus accidents often result in various injuries and even catastrophic injuries with life-altering consequences. Here are some common injuries you can take legal action for after a bus accident:
Spinal Cord Injuries
Broken Bones and Fractures
Internal Injuries
Whiplash and Neck Injuries
Lacerations and Bruises
Emotional Distress
Wrongful Death
The legal process for pursuing compensation after a bus accident involves demonstrating that these injuries were a result of the accident and determining who was liable. That's why it may be necessary to talk to an experienced personal injury attorney first.
Compensation for Your Injuries and Damages After a Bus Accident in O'Fallon
After a bus accident, the physical, emotional, and financial toll can be overwhelming. You may be dealing with extensive medical bills, lost wages due to your injuries, and the emotional trauma of the accident. Here's what you can claim compensation for:
Medical Bills.

This includes hospital stays, surgeries, doctor visits, prescription medications, rehabilitation, and any other expenses related to your injuries.

Lost Wages.

If you've had to take time off work or are unable to work due to your injuries, you can seek compensation for your lost income.

Pain and Suffering.

It can encompass pain, anxiety, depression, and more.

Property Damage.

If your personal belongings, such as your vehicle or other possessions, were damaged in the accident, you can claim compensation.

Wrongful Death.

If you lost a loved one in a bus accident, you can pursue a

wrongful death claim

to cover funeral expenses, lost financial support, and the emotional suffering you've endured.

Loss of Enjoyment of Life.

If your injuries have significantly reduced your quality of life or limited your ability to participate in activities you once enjoyed, you may seek compensation for this loss.

Scarring and Disfigurement.

If the accident has left you with visible scarring or disfigurement, you can pursue compensation for the emotional and psychological impact this has on your life.

Loss of Consortium. Spouses or family members of injured individuals can seek compensation for the loss of companionship, affection, and assistance due to the injuries.
An O'Fallon bus accident attorney will assess the unique circumstances of your case, gather evidence, and build a strong argument to help you get the financial relief you deserve.
Elements Needed for a Successful Personal Injury Claim After a Bus Accident in O'Fallon
Navigating the complexities of a personal injury claim after a bus accident in O'Fallon might seem daunting, especially when you're dealing with injuries and mounting medical bills. Here's what you need to know:
Duty of Care.

Every bus company and driver owes a duty of care to their passengers and others on the road. That duty includes ensuring safe operation, regular maintenance, and adherence to traffic laws.

Breach of Duty.

That could result from reckless driving, inadequate bus maintenance, or other actions that led to the accident.

Causation.

It's essential to prove that the breach of duty directly caused the accident and, consequently, your injuries.

Documented Damages.

Collect medical records, treatment receipts, photographs, accident reports, and any other relevant evidence to demonstrate the extent of your damages.

Evidence.

This may include accident reports, witness statements, photos of the accident scene, and even surveillance footage if available.
By partnering with an experienced attorney, you'll have the expertise to build a strong case and work toward the compensation you deserve.
Seek Legal Representation After a Bus Accident Claim
At Morelli Law, we understand the complexities of bus accident cases and the unique challenges they pose. Our experienced O'Fallon bus accident lawyers are here to guide you through every step of the process, ensuring your rights are protected and that you have the best possible chance of obtaining the compensation you deserve.
Remember, your well-being and financial security matter. You shouldn't have to bear the burden of your injuries and losses alone. Contact us today, and let's discuss your case and find answers to your legal questions in a strategic consultation free of charge.