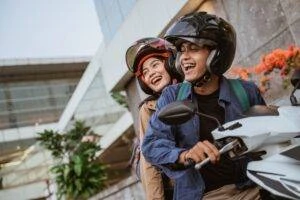 Getting in a motorcycle accident can be painful and traumatizing. And you need an experienced O'Fallon personal injury lawyer to help you recover the damages you've suffered.
If you've been injured in a motorcycle accident, our O'Fallon motorcycle accident lawyers at Morelli Law Firm can help you build a case. We offer a free consultation to all new clients to determine if you have a valid case.
Why Do You Need a Motorcycle Accident Attorney in O'Fallon?
When you work with a motorcycle accident lawyer after a crash, you gain an advocate and a professional with a wealth of knowledge to help you through your case. Here are a few ways an O'Fallon motorcycle accident lawyer can help you:
Determining the At-Fault Parties
We can help gather evidence and use that evidence to determine what parties are liable for your accident and injuries. We'll gather evidence like photos and videos of the crash, eyewitness statements, and traffic cams to determine which of the following parties are responsible for your injuries:
Another negligent driver

Vehicle manufacturer

A government entity

A pedestrian

Property owners
Negotiate With the Insurance Company
Another reason you should hire a motorcycle crash attorney is to face the insurance company without fear. Our team has over 24 years of experience dealing with insurance companies after accidents.
We'll accompany you to the meeting with the insurance adjuster and advocate for you and the damages you qualify for. Many insurance companies try to minimize your injuries and what they're worth, but we won't allow that.
We'll be ready to show strong evidence of your injuries and damages and how they've affected your life. You don't have to worry about being taken advantage of when you hire the Morelli Law Firm for your case.
What Losses Can an O'Fallon Motorcycle Accident Help You Recover?
After a motorcycle accident, you've suffered financial and non-financial losses. Fortunately, our team of O'Fallon motorcycle accident attorneys can help you recover damages such as:
Medical expenses

: This covers all past and upcoming payments for clinic bills, physician consultations, operations, prescribed drugs for

conditions such as PTSD

, physical therapy, rehabilitation, and other treatment costs.

Lost wages

: If the collision prevents you from working or caused ongoing incapacity to work, compensation for the income you lost is recoverable.

Pain and suffering

: No monetary sum can compensate for enduring physical and emotional distress, but this damage attempts to provide you with sufficient compensation.

Property damage

: The liable party may be held responsible for repairs to a totaled motorcycle and replacing any harmed gear.

Wrongful death

: If the accident resulted in a fatality, families may recover burial costs and dependency claims for financial assistance.

Loss of consortium

: A spouse may claim damages for loss of companionship due to their partner's injuries.
What Types of Injuries Can You Suffer in a Motorcycle Accident in O'Fallon?
When you suffer injuries in a motorcycle crash, they're usually more severe due to the lack of protection. Some of the most common types of injuries you could suffer from a motorcycle accident in the O'Fallon area include:
Head and Brain Injuries
A collision without a helmet can easily cause traumatic brain injuries when your head impacts the vehicle or roadway. Significant force and rotation during sudden deceleration events commonly lead to concussions or contusions impairing brain function.
Skull fractures are also a serious risk whenever a motorcycle accident results in your head striking another object, as penetrating shards of bone can severely damage your delicate brain tissue and vessels.
Spinal Cord and Back Injuries
Your spinal cord is vulnerable to trauma during an accident where you may be thrust off your bike violently or have your spine twisted or compressed on impact. Even a relatively minor wreck can potentially lead to catastrophic injuries such as spinal injuries like herniated discs or pinched nerves causing chronic pain.
Fractures, disc damage, and neurological deficits are all possible results of spinal trauma that may limit your mobility or functional ability for the rest of your life if you don't treat them properly through rehabilitation.
Extremity Fractures and Other Bone Breaks
It isn't uncommon for the force of collision during falls from motorcycles to induce fractures of your arms, legs, hands, or feet as you and your bike tumble unprotected on the roadway. Compound fractures penetrating your skin pose serious infection risks, too.
Motorcycle crashes can equally cause fractures of your pelvis, ribs, or other weight-bearing bones depending on the dynamics of impact, potentially leaving you hospitalized for extensive recovery times.
Soft Tissue Damage
Without heavy clothing to prevent road rash, the friction burn injuries you could sustain by falling off your motorcycle can be quite severe, damaging your skin and muscles down to the bone in some cases.
Internal injuries are also prevalent from blunt force trauma jarring your torso, such as bruised or ruptured organs like your liver, spleen, or kidneys that may not outwardly bleed but still threaten your life.
Understanding Motorcycle Accident Liability in Illinois
To establish liability in a motorcycle accident case, an O'Fallon motorcycle lawyer must prove the four elements of negligence. The elements include:
Duty of care

: All drivers must operate their vehicles safely and prudently according to traffic laws.

Breach of duty

: The defendant breached that duty of care by committing an unsafe act, such as speeding, running a red light, or engaging in distracted driving, that caused the accident.

Causation

: The defendant's breach, such as failing to yield, was the direct and sole cause of the accident and resulted in injuries. Their actions must be shown to have factually caused the collision.

Damages

: Due to the defendant's breach, you suffered quantifiable financial losses like medical bills, lost wages, property damage, and physical and emotional injuries.
Contact Our O'Fallon Motorcycle Accident Attorney Today
At Morelli Law Firm, we care for our clients, and we're ready to do everything possible to help you recover financially so you can recover from your injuries. We can help you with all the aspects of your case.
Contact us to schedule a free consultation.