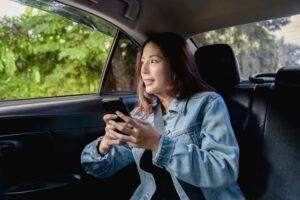 Rideshare companies like Uber and Lyft transport passengers across O'Fallon and many other cities. What should you do if you're in one and your driver gets into an accident? You call the rideshare accident lawyer team at Morelli Law.
We will help you sort through the aftermath of a rideshare accident and make sure you get access to any insurance policies carried by the rideshare companies. You may have much more coverage than you know, so speak with an O'Fallon personal accident lawyer today to learn your legal options.
How Are Rideshare Accidents Different from Other Car Accidents?
In a normal car accident, there are usually only two insurance policies involved, your own and the other driver's. In a rideshare accident, there are at least three involved because the rideshare companies carry their own policies.
This is good for victims because it means there are more policies to draw from for compensation. However, the insurers may argue about which insurers must pay and how much. The insurers will try to pass the bill onto each other.
By hiring a rideshare accident lawyer, you can cut through the red tape. We know the details of rideshare insurance policies, how they apply to Illinois law, and how to process your claim efficiently so you can move on after what happened.
What to Do After a Rideshare Accident
You never expect your driver to get into a crash, but you should know what to do if you're ever in an accident with an Uber. Here are some things to do if you've been in one of these accidents. These actions can raise your chances of fair compensation.
Report What Happened to the Police
Don't rely on the driver to report what happened. Call the police yourself. Without a police report, it will be hard to prove that you were in a car accident to the insurance companies. After you call, a police officer will come to investigate what happened, see if any laws were broken, and write an official report.
Get Medical Care as Soon as Possible
If you've suffered severe injury, they have taken you to the hospital after your crash. But if you haven't yet, then see a medical professional as soon as possible. Some injuries don't show symptoms until days after your accident, including serious ones like brain damage.
Waiting to go puts your health at risk, and it puts your compensation at risk. An insurer may claim that something else caused your injury if you wait too long to go. You should see a doctor before you call an O'Fallon rideshare accident lawyer. It's that important.
Gather What Evidence You Can
Get the contact information of all the drivers involved in the accident if you can, along with the contact information of all witnesses. We can use that to investigate what happened. You can also use your phone to take photos of your injuries, the vehicles, and the scene.
Speak With Your Insurer
If you were a driver in your accident, you will need to report what happened to them so they can investigate. It's part of your insurance coverage. Honestly explain what happened, but do not make any admissions about fault or make statements that could put the blame on you.
If a different insurance company calls you, be very careful. They are looking for information to minimize how much they'll have to pay you for your injuries. If you have a lawyer, you can tell them you have legal counsel and send them their contact information.
Contact an O'Fallon Rideshare Accident Lawyer
Once your immediate medical issues are taken care of, it's time to contact a rideshare accident lawyer to discuss your compensation options. Most times, an insurance settlement will cover your needs, but there is also the possibility of compensation through a personal injury lawsuit.
Common Rideshare Accident Scenarios
There are several kinds of rideshare accidents, and each type may involve different insurance policies. Here are three common scenarios we see after rideshare accidents.
Rideshare Passengers
If you're a rideshare passenger, then you have access to insurance policies carried by the responsible driver and by the rideshare company. Uber and Lyft have policies that provide at least $1 million in coverage. This is more than sufficient for most rideshare accidents, and it starts from the moment you match with a driver and lasts until the ride is over.
Drivers or Passengers in Other Vehicles
If the rideshare driver had a passenger, then the $1 million policy may also cover people in this category. If this isn't the case, it will depend on the status of the driving app at the time of the crash. For example, if the rideshare driver wasn't actively working, then your crash is handled like a normal accident.
If they were working and didn't have a passenger, the rideshare company may have limited coverage options. You can still pursue a claim against the driver's personal insurance, though it may not cover you if they haven't purchased personal rideshare insurance. Our rideshare accident lawyers will find out.
Bicyclists and Pedestrians
Your options may be limited if you are hit by a rideshare operator while you're on a bike or on foot. It will depend on the insurance policy. That said, Morelli Law will know what to do to confirm which policies cover you and how to get the most out of your claim. If an insurer tries to deny you compensation, call us immediately.
Schedule Your Free Consultation with Morelli Law
Our O'Fallon rideshare accident lawyers are ready to discuss your case with you 24/7. Call us at the number on your screen to set up a free case evaluation and consultation. You can also email us through our contact page.
Morelli Law has helped accident victims get the compensation they need for decades, with over $1 billion recovered so far. Let us put our skills to work for you. There is no financial risk; if you lose your claim, you will owe us nothing for our help.