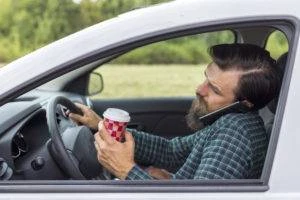 A New Rochelle distracted driving accident lawyer from Morelli Law Firm can represent you and pursue compensation on your behalf if you suffered serious injuries in a collision caused by a texting or distracted driver. Our team wants to make it easier for you to focus on finishing your treatment by handling your insurance claim or lawsuit for you.
Let a team member from Morelli Law Firm assess your options today during a free case consultation. We will discuss your collision, injuries, prognosis, and more during your complimentary accident review. Learn more about your legal rights now by calling (212) 751-9800.
Distracted Driving Causes Thousands of Collisions in New York State Each Year
There is a distracted driving epidemic in New York. According to the New York State Police, distracted driving is the top cause of injury and property damage accidents in the state. In 2018, distracted driving and driver inattention were the listed factors in 87,728 crashes statewide.
Cell phone use and texting are significant contributors to distracted driver accidents, but they are far from the only cause of these collisions. Anything that takes the driver's full attention from the road or tasks related to driving can cause an accident. This includes mental distractions, manual distractions that take a driver's hands off the wheel, or distractions that require them to look away from the road.
Eating, programming the radio or a GPS device, talking to passengers, checking on children in the backseat, picking up dropped items, and roaming pets are also common distractions.
It can be difficult to prove some types of distractions since they may only last a split second or are entirely inside the driver's mind. This means the numbers reported by the New York State Police are not likely to include all of the accidents that occurred because of a distracted driver.
If you believe a distracted driver caused your New Rochelle collision, contact Morelli Law Firm today. You can call (212) 751-9800 and speak to a member of our team for free.
Morelli Law Firm Represents Accident Victims with Serious Injuries
New York State mandates that all drivers carry Personal Injury Protection (PIP) insurance, a type of no-fault policy covering medical care, and some amount of lost wages following a collision. A New Rochelle distracted driving accident lawyer from Morelli Law Firm can help you file your PIP claim.
In addition, we also help many of our clients file a fault-based claim to hold the distracted motorist accountable. This may be possible if a client suffered "serious" injuries under New York Insurance Law (ISC) §5102(d) or met another exception to the no-fault law.
Morelli Law Firm reviews cases to determine if an accident victim can seek fault-based compensation, including pain and suffering damages. We represent victims in New York City, in New York State up to Albany, and on Long Island.
It is also important to know that we may not have to prove the driver was distracted to recover compensation in a fault-based claim. For example, if you believe the driver was texting and this caused them to run a red light, but they only received a ticket for running the red light, we can still hold them accountable in a fault-based insurance claim since their disregard of the traffic signal was a negligent act on its own, even without proof of their distracted driving.
When we file a liability insurance claim on behalf of our clients, we are often able to settle with the insurance company out of court. When we do need to take the case to trial, we have a deadline set by New York Civil Practice Law & Rules (CVP) §214. Because of this deadline, we recommend that you call us to discuss your case with you as soon as your injuries are stable and your treatment allows you to reach out.
Damages Available in a New Rochelle Distracted Driving Case
The compensation you can recover in a successful New Rochelle distracted driving accident claim depends on the damages you suffered and whether or not you can pursue a fault-based claim. Your no-fault coverage will only pay the basic losses you experienced, including:
Medical bills up to policy limits
Up to 80% of your missed wages, with a $2,000 per month payment cap
However, there are many additional expenses and losses that accident victims may experience. Most of these are only recoverable by filing a claim based on the distracted driver's auto liability insurance policy and recovering the compensation from their insurer or winning a court award. If you suffered permanent or long-term injuries or missed a considerable amount of time away from work or your normal activities, you may be able to recover compensation for your intangible losses, as well.
If you qualify, our team will put a value on your pain and suffering, emotional stress, and other non-economic losses and demand a fair payout from the insurance company representing the at-fault driver.
Call Today for Your Free Case Review
If you were hurt in a collision caused by a distracted driver, a New Rochelle distracted driving accident lawyer from Morelli Law Firm may be able to help. Let the team from Morelli Law Firm discuss your case with you today. We can explain your rights and the options available to you for seeking compensation.
We not only provide free consultations, but we also handle cases based on contingency. Call (212) 751-9800 now to talk to a team member about your collision and claims.