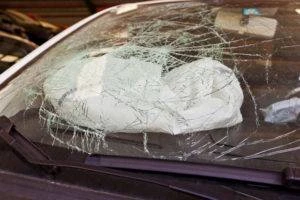 If you or a loved one was involved in a head-on collision in New Rochelle, a lawyer from Morelli Law Firm can help you pursue the financial compensation you are entitled to for your medical bills and other losses.
Call our office at (212) 751-9800 today for a free consultation with an attorney from our car accident team.
When to Hire an Attorney for a Head-On Collision
You should consider hiring an attorney immediately after a car accident, especially a head-on collision, which often results in more extensive damage and injuries.
The fact of the matter is, the clock on filing your lawsuit begins to run the moment your accident happens. Any delay in filing can have a negative impact on your case.
You may be wondering why that is. Simply put, if you delay filing your lawsuit, the jury may not believe your damages were as extensive as you say.
Filing your lawsuit immediately and gathering the strongest evidence you can are your best options for collecting your maximum damages award.
The Statute of Limitations on Head-On Collision Cases in New York
If you are considering filing a lawsuit for a head-on collision, it is important to act quickly.
The statute of limitations for personal injury lawsuits in New York is three years, per New York Civil Practice Law & Rules (CVP) §214.
The statute of limitations for wrongful death lawsuits is two years, per New York Estates, Powers & Trusts (EPT) §5-4.1.
However, certain factors can reduce the amount of time you have in which to file your lawsuit. We can help you, but you must act quickly.
Recoverable Damages in a New Rochelle Head-On Collision
The term "damages" is used to describe the losses a person sustained because of an accident. You may be entitled to compensation for your financial losses as well as your non-economic damages.
What follows is an outline of some of the damages you can include in your personal injury claim. If you're not sure which of these apply to your case, our Morelli Law Firm team can review the facts of your case and advise you on how best to proceed.
Medical Expenses
Being paralyzed, losing a limb, suffering a broken bone, or otherwise being severely injured in a car accident is not only painful but, as you know, can also lead to exorbitant medical bills. You shouldn't have to pay for emergency surgery, an extensive hospital stay, physical therapy, and other costly medical treatments that could have been avoided if the accident had never occurred.
When you file a lawsuit, you can include the medical treatments you have already received for your injuries, as well as future medical expenses you expect to incur as a result of the accident.
Compensation for medical equipment, such as a prosthetic limb or wheelchair, may also be recoverable. If you were disabled in the accident, you can also seek compensation for the costs you incurred in making your home or vehicle more accessible.
Lost Income
Following your head-on collision, you may be unable to work in the same capacity due to your injuries. You can file for compensation for lost income, diminished earning capacity, and work benefits you have already lost, as well as that which you may lose in the future if you are unable to continue working in your current role.
You may also file for compensation for work you expect to miss in the future as a result of ongoing medical appointments and treatments for your injuries.
Non-Economic Damages
Non-economic damages refer to intangible losses. Depending on the severity of your injuries, you may be entitled to financial compensation for disfigurement, loss of enjoyment of life, psychological effects, and other non-economic damages.
Wrongful Death Damages
If your loved one was killed in a fatal head-on collision, you can file a wrongful death claim. This claim holds the liable party accountable and allows you to recover compensation for the financial harm caused by your loved one's death. Examples of costs you can add to your claim include:
Funeral and burial costs
Medical bills
The loss of the deceased person's support
The deceased person's pain and suffering
Loss of parental guidance to children
Lost inheritance
If you're unsure of what to include in your wrongful death claim, our attorneys can help.
Types of Claims You Can File
After a head-on collision, you can file a Personal Injury Protection (PIP) claim, a fault-based claim, or, in some situations, you can file both. We can help you determine which claim best suits your needs.
Personal Injury Protection (PIP) Claims
Because New York requires most drivers to carry no-fault insurance, your first claim may be made through your Personal Injury Protection (PIP) policy.
PIP policies typically only cover medical bills, lost wages, and some out-of-pocket expenses up to the limits of the policy.
However, if your injuries are serious, as defined by New York Civil Insurance (ISC) §5102(d), or if your damages exceed the limits of your PIP policy, you may be able to pursue additional compensation in your claim against the responsible driver.
Fault-Based Claims
To be successful on a fault-based claim, you must be able to prove the following elements:
That the defendant owed you a duty of care
That the defendant breached that duty of care
That your injuries were caused by the defendant's breach of care
That you sustained damages because of an injury or the wrongful death of a loved one
Head-on collisions caused by the negligent actions of other drivers make up the most common fault-based claims. For example, you can sue the other driver if he or she was guilty of drunk driving, driving under the influence of drugs, reckless driving, or distracted driving.
If your head-on collision occurred because of an incident that was not the direct result of another person's actions—such as inadequate road signs or a malfunctioning traffic signal—then you can pursue a claim against the government entity responsible for maintaining that equipment.
These claims are more complicated, and so we strongly recommend you seek a lawyer's help with this kind of claim.
The Morelli Law Firm can help you whether you need to file a PIP or fault-based claim. For a free case review with one of the attorneys on our staff, call (212) 751-9800 today.
Contact Morelli Law Firm for Help with Your Head-On Collision Claim
If you were hurt in a head-on collision in New Rochelle, Morelli Law Firm can help. We can work with you to identify liability for your accident, then file a claim and pursue the compensation you deserve. Call Morelli Law Firm at (212) 751-9800 today for a free case assessment.