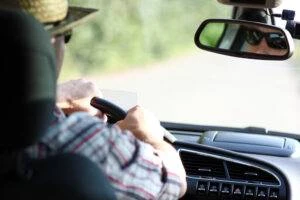 Accidents, especially those involving rideshares, can turn lives upside down. The emotional, physical, and financial toll can be overwhelming, emphasizing the need for a Marion car accident lawyer.
At Morelli Law, we're committed to standing by your side, helping you navigate the aftermath and working diligently to get your life back on track. This article will shed light on the intricacies of rideshare accidents and how a Marion rideshare accident lawyer can assist you every step of the way.
Rideshare Accidents in Marion, IL: A Brief Overview
Rideshares in Illinois are a popular way to get around, but they can be dangerous. Rideshare accidents involve vehicles from platforms like Uber and Lyft. These incidents can occur due to various reasons, from driver negligence to vehicle malfunctions.
Common causes of these accidents include:
Distracted driving

Speeding

Mechanical failures
The convenience of rideshares has made them a popular choice in Marion. However, with more rideshare vehicles on the road, the chances of accidents have inevitably grown.
The Aftermath of a Rideshare Accident: Medical Costs and Potential Compensation
So what happens if you're in an accident involving a car from Uber, Lyft, or some other company? The aftermath of a rideshare accident isn't just about vehicle damage. Victims often grapple with injuries, trauma, and a whirlwind of emotions. The complexity of these accidents, given the involvement of rideshare companies, can add to the stress.
A passenger in a rideshare accident can sue, but there are complications. Rideshare accidents aren't like typical car accidents. They come with their own set of legal challenges:
Determining Liability:

With rideshares, multiple parties could be at fault. It could be the driver, the rideshare company, or even another third party.

Insurance Issues:

Rideshare drivers might use personal insurance, which may not cover commercial activities. On the other hand, rideshare companies have their own policies, which come into play under specific conditions.

Contractual Challenges:

When you use a rideshare service, you agree to their terms of service. These agreements can sometimes limit or dictate how and when you can file a claim.
Accidents can lead to a range of injuries. Some might need immediate medical attention, while others require long-term care. From fractures to whiplash, the medical journey post-accident can be long and arduous.
Victims might be eligible for compensation to cover medical bills, lost wages, and pain and suffering. Determining the amount hinges on the accident's specifics, the injuries sustained, and the legal complexities surrounding rideshare companies.
How a Marion Rideshare Accident Lawyer Can Assist
When you're in the midst of a rideshare accident's aftermath, you need someone who knows the ropes. Our team doesn't just scratch the surface. We dive deep into the details of the accident, ensuring every aspect is thoroughly examined.
Evidence Collection:

From accident scene photos to witness statements, we ensure all pieces of evidence are meticulously gathered. This evidence can be pivotal in building a strong case.

Insurance Liaison:

Navigating insurance claims, especially with rideshare companies, can be a maze. We liaise with insurance companies, ensuring your rights are upheld and you get the best possible settlement.

Court Representation:

If negotiations don't yield results, we're prepared to represent you in court. We'll advocate fiercely for your rights, ensuring your voice is heard.
When you decide to trust us with your case, we hit the ground running. Our approach is systematic and thorough:
Review the Accident Details:

We start by getting a clear picture of what happened. This involves understanding the sequence of events, identifying all parties involved, and pinpointing potential causes.

Gather Necessary Documentation:

Medical records, police reports, rideshare app data, and more. We ensure all relevant documents are in place, painting a comprehensive picture of the incident.

Engage with All Involved Parties:

This isn't just about the other driver. We communicate with witnesses, insurance adjusters, and even rideshare company representatives. Every interaction is a step towards building a robust case.
Accidents are chaotic. The aftermath? Even more so. With legal complexities, insurance jargon, and the emotional toll, it's easy to feel overwhelmed.
That's where we come in. Our lawyers are well-versed in rideshare accident cases. We guide you through the process, shoulder the legal burdens, and fight for the compensation you rightfully deserve.
Understanding Your Compensation: What Are You Entitled To?
Rideshare accidents can lead to various losses. Victims might be eligible for:
Medical bill coverage

Compensation for lost wages

Pain and suffering damages
The amount of compensation hinges on several factors. The severity of injuries and the accident's impact on one's ability to work play a role. So does the extent of emotional trauma.
Illinois Statute of Limitations for Rideshare Accident Cases
In Illinois, there's generally a two-year time limit to file a lawsuit after a rideshare accident. This time frame is crucial for victims seeking justice.
The clock starts ticking from the accident date. Missing this window can mean losing the right to sue. It's vital to act promptly.
Lawsuits have deadlines. Our attorneys are well-versed in Illinois laws. We ensure your case gets filed on time, preserving your right to seek compensation.
Contact a Marion Rideshare Accident Attorney Today
Rideshare accidents can disrupt lives. The emotional, physical, and financial aftermath can be daunting. Immediate action is paramount.
At Morelli Law, we stand ready to assist. If you or a loved one has been affected by a rideshare accident, contact us. Let's work together to get your life back on track.