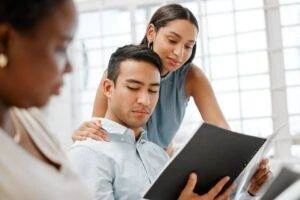 Sexual harassment makes victims feel demeaned, or even in danger for their lives and their income. You may not know where to turn to for help. Turn to our personal injury lawyers in Marion and explain what happened. We can help you fight back.
Our legal team will tell you if your case meets the criteria for unlawful sexual harassment and what your legal options are. Your lawsuit could bring you compensation to pay for what you've experienced, and it can bring legal punishment against your abusers and the company that protected them.
Three Types of Sexual Harassment
Sexual harassment isn't limited to physical acts. The law also prohibits harassing acts that are verbal and visual as well. If someone has subjected you to any of the following, then you have experienced sexual harassment and may have a claim:
Coercion for sexual acts, especially as a condition of employment or for benefits (quid pro quo)

Sharing or displaying pornography around the office

Making inappropriate or sexual gestures

Forced groping or touching

Sexual comments or jokes
These aren't the only acts that qualify. If you are unsure, talk with our sexual harassment lawyers in Marion. We can help you understand your rights and explain how you can hold your employer responsible for stopping the harassment and compensating you for what you've experienced at work.
What Must I Prove to Win a Sexual Harassment Claim?
Illinois has very strict sexual harassment laws. If a supervisor in your organization sexually harasses you, then you have a "strict liability" claim. These are much easier to win. As long as you can prove the harassment happened, there's no need to prove negligence.The same applies if employees harass non-employees, which includes contractors and consultants.
If a coworker or a non-employee harasses you, then the employer only becomes liable if they're negligent. This is why reporting sexual harassment to your HR team or a manager is so important. It creates evidence that puts your employer on notice that harassment is happening. If they ignore what's happening after your report, then you can hold them liable.
The sex or gender of the individuals involved does not matter. Sexual harassment can happen between any two people. A male supervisor who cracks sexual jokes and makes male subordinates uncomfortable could face a lawsuit from them.
When Must I File a Sexual Harassment Claim?
If you plan to sue your employer, you must do it before 300 days have passed after the last time a violation happened. This is the same statute of limitations as the federal laws under Title VII. However, which acts fall within the statute and which don't can get complicated.
If harassment has happened for years, then older acts may no longer be valid for a claim. This is why you should report harassment to a supervisor as soon as possible after it happens, then contact a sexual harassment lawyer in Marion for further advice.
If you fear filing a claim because of retaliation, we can help you report your harassment and protect you from their actions. Should they try to fire you, reduce responsibilities, or do things to make you leave or drop your suit, you can claim a much greater amount of compensation for your case.
Reporting Your Sexual Harassment Claim to HR
Here are some things you can do to document what happened to you and support your claim of sexual harassment. First, look at your company handbook and look up the reporting process for sexual harassment claims at your workplace.
Once you know how to report, you'll need evidence. Record details of all conversations and actions involving your harassment, along with discussions from other employers who may have experienced harassment from the same party. However, do not record events or conversations because Illinois is a two-party consent state.
Once you report, your company is legally obligated to stop the harassment. If they do not, then you can contact the IHRC hotline to report it to the state, or file a complaint with the EEOC. This is also the time to speak with a Marion sexual harassment lawyer for advice on proceeding with a lawsuit.
Getting Support After Harassment
Sexual harassment can affect your mental and physical health. We encourage you to reach out to your support network to help you process what happened. In our experience, many victims feel better when they can explain what happened to a sympathetic ear.
At Morelli Law, our compassionate lawyers have heard many stories of sexual harassment from clients. Many of these stories have led to lawsuits that gained clients large settlement amounts. In fact, Morelli Law holds the record for the highest successful single-plaintiff sexual harassment claim.
How Much Can I Get From My Sexual Harassment Claim?
This depends on the harm you've suffered because of your sexual harassment. You could receive economic, non-economic, or even punitive damages. Common economic damages are receiving back pay or front pay, depending on how your employer's actions affected your past or future income.
Non-economic damages, like pain and suffering and harm to reputation, can make up a large part of your settlement as well. The court may also decide to punish your employer through punitive damages, which is extra money given to you to punish the defendant.
If you are filing federal charges, you're limited to between $50,000 and $300,000 in damages depending on how many employees there are, but Illinois may have higher caps depending on your situation. Speak with our Marion sexual harassment lawyers for more information.
Protect Yourself From Sexual Harassment
You don't have to tolerate sexual harassment in the workplace. The law is on your side. Morelli Law can help you make a report, protect you from retaliation, and help you file for compensation with state and federal regulators. Your actions can protect yourself and protect others in your workplace from harm.
Start your claim now by contacting our offices by phone or email. We're available 24/7 to listen to your story and help you understand your legal options after experiencing sexual harassment.